Found January 10, 2013 on The Other Paper:
Kevin Garnett might have said Carmelo Anthony's wife LaLa tasted like Honey Nut Cheerios, but the Knicks forward probably wishes she was a box of Lucky Charms after the NBA suspended Melo one game for confronting Garnett for Monday's post-game skirmish. The suspension will be served tonight against the Indiana Pacers at the Bankers Life Fieldhouse. Anthony defended his actions after Monday night's loss — when he confronted Garnett in the parking garage by the Celtics' team bus — by claiming his foe crossed the line with his trash talk and he just wanted to clear the air.  Video showed that the two players almost came to blows and had to be separated by Madison Square Garden security guards. The Knicks star didn't think he should be suspended. NBA disciplinarian, Stu Jackson,  saw things differently and benched Anthony one game.  He will be docked 1/110th of his $19.5 million salary — which boils down to $176,000. Anthony flew to Indianapolis with the team because the NBA's ruling wasn't announced until late Wednesday.  He will not be permitted inside the arena tonight. "There are no circumstances in which it is acceptable for a player to confront and opponent after a game," said Jackson.  "Carmelo Anthony attempted to engage with Kevin Garnett multiple times after Monday's game and therefore a suspension was warranted." Anthony would not go into details about what was said during or after the game but an Anthony confidant said the Knicks player had "a very good reason" to go after Garnett. "That's over with, "said Anthony. "As far as what happened with me and Kevin, that's settled, done and over with.  I don't want to keep talking about the same thing and beating a dead horse, no disrespect." Last night, Garnett walked out his postgame interview against the Suns after the Celtics forward was asked about the confrontation.  He was not disciplined. The next meeting Jan. 24 in Boston should be magically delicious.
Original Story:
http://ihatelupica.blogspot.com/2013/...
THE BACKYARD
BEST OF MAXIM
RELATED ARTICLES
Ballertainment Kevin Garnett hurled fighting words at Carmelo Anthony during a Knicks-Celtics game If you have not heard by now, Carmelo Anthony was pushed to his limits Monday night when Kevin Garnett allegedly made disrespectful remarks about Melo's wife, La La Anthony. Carmelo was seen standing outside the Celtics team bus "waiting" for KG to exit the locker room. Many...
New video has appeared which shows that Carmelo Anthony and Kevin Garnett did meet up outside after Monday night's Knicks-Celtics game and looked more ready to tangle than just talk. TMZ posted a video of Garnett approaching Anthony inside the Madison Square Garden tunnel where the Boston team bus was waiting and its pretty clear both men were ready to take it to another level...
TMZ posted a grainy video of Carmelo Anthony and Kevin Garnett, completely surrounded by security personnel, exchanging words near the Celtics team bus on Monday night. No, the words 'Honey Nut Cheerios' cannot be overheard amongst the yelling:
The Kevin Garnett - Carmelo Anthony feud was already headline news, but now KG's trash-talking exploits have come before the judgement of the ultimate media power: Stephen Colbert. Colbert gives a "Tip of the Hat" to KG for (reportedly) telling Melo that his wife tastes like Honey Nut Cheerios. He goes on to advocate more product placement be incorporated into players...
You would have to have been under a rock the past 48 hours to not have knowledge of the situation that has gone on between Carmelo Anthony and Kevin Garnett. Anthony and Garnett indeed did take a beef from the court, and ended with the two having words and needing to be separated in front of the Celtics bus.  That was 2 days ago, and with the Knicks playing well right now, Carmelo...
The NBA is looking into a Monday night incident after the Boston Celtics/New York Knicks game involving Carmelo Anthony and Kevin Garnett. Anthony appears to have tracked Garnett down after the game and went screaming after him  underneath the stands, near the Celtics team bus at Madison Square Garden. The act was said to be payback for a double tech called on the duo during...
Boston Celtics forward Paul Pierce blew a kiss to New York Knicks fans at Madison Square Garden after hitting a 21-footer to seal the win for the Celtics. The basket by Pierce gave the Celtics a 6 point lead with 45 seconds left and put the game out of reach. Pierce led the Celtics in scoring during Monday night's 102-96 victory over the Knicks. Pierce's playful...
Carmelo Anthony's pursuit of Boston Celtics forward Kevin Garnett will cost the New York Knicks star one game. The NBA announced that Anthony was suspended for Thursday's game in Indiana against the Pacers due to his actions following the Knicks' Monday loss to the Celtics. Anthony and Garnett got into an on-court tussle that resulted in a double technical foul in...
Doc Rivers admits that NBA trash talking can get out of hand, but on Thursday he insisted that Kevin Garnett did not cross a line while chirping at the Knicks' Carmelo Anthony during Monday's 102-96 victory. Some reports emerging after the incident indicated that Garnett had made his talking personal, mentioning Anthony's wife. Whatever he said, it clearly infuriated Anthony...
The Celtics beat the Suns 87-79 ESPN Boxscore CelticsLife Game Recap Player Grades: Kevin Garnett: Did not make his usual impact tonight, but no starter did. He did play his usual great defense however, which was something positive about his night. It was good that Doc got to limit his minutes tonight, and it was great that the team could win without a lot of contribution from...
Pre Game News and Notes Knicks vs Pacers: TNT,MSG 8pm Throughout the season, the Knicks have shown an ability to bounce back from losses, going 8-2 following a loss and never losing three games in a row.  They will look to continue that great play following losses tonight in Indiana, but it will have to be done without the services of Carmelo Anthony, who was suspended as a result...
NBA News

Delivered to your inbox

You'll also receive Yardbarker's daily Top 10, featuring the best sports stories from around the web. Customize your newsletter to get articles on your favorite sports and teams. And the best part? It's free!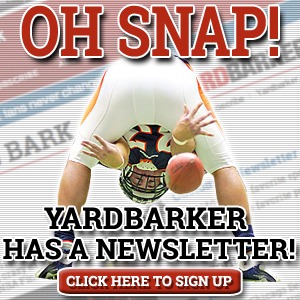 Latest Rumors
Best of Yardbarker

Today's Best Stuff

For Bloggers

Join the Yardbarker Network for more promotion, traffic, and money.

Company Info

Help

What is Yardbarker?

Yardbarker is the largest network of sports blogs and pro athlete blogs on the web. This site is the hub of the Yardbarker Network, where our editors and algorithms curate the best sports content from our network and beyond.