Found January 28, 2013 on More Than Stats:
The 2012 NBA champions, Dwyane Wade and his Miami Heat teammates had the honor today to pay a visit to the White House for a Meet-and-Greet with president Barack Obama. The squad dressed to impress in formal attire as they presented the President with his own Miami Heat Jersey #44 to be exact. Mr. Wade stood out amongst the team with his flashy ensemble as he added some flair to formal wear. Dwyane enrobed in a sleek Ferragamo suit, styled with a solid spread collar shirt, pattern necktie and pocket square by Tom Ford. Dwyane spruces up his look with a vibrant pair of $675 Christian Louboutin 'Golfito' shoes. Are you feeling the look?? Chris Bosh looking sharp in slim fitting threads. Dapper Miami Heat squad Photos via Instagram
Original Story:
http://morethan-stats.com/miami-heat-...
THE BACKYARD
BEST OF MAXIM
RELATED ARTICLES
Are you such a huge fan of Dwyane Wade that you are willing to drop $25,000 on his autographed 2005 Range Rover? Yes? That must be a miserable life. However, it's your lucky day. Some guy is selling Wade's old ride, but it comes with a very cool piece of memorabilia. Wade autographed the driver's side visor. Are you a little fat and have been striking out with the ladies...
President Barack Obama has filled out March Madness brackets, picked a Super Bowl winner and practiced his golf and hoops around the White House. But the self-proclaimed sports fan admits that when it comes to football, one of his favorite sports, the evidence that is surfacing about long-term effects of injuries has him thinking twice. "I'm a big football fan, but I have to...
Football's first fan isn't sure he'd let his son play the game, in light of the impact it takes on its players. "I'm a big football fan, but I have to tell you, if I had a son, I'd have to think long and hard before I let him play football," President Barack Obama tells The New Republic. "And I think that those of us who love the sport are going...
With legal challenges mounting to the football industry's regulation of player safety, a new figure who carries a big stick has weighed in on the issue: President Barack Obama. In an interview with The New Republic, Obama called on the NCAA to address the growing concerns over head injuries: "I tend to be more worried about college players than NFL players in the...
President Barack Obama honored the Miami Heat for winning the 2012 NBA championship after falling short just a year before. ''Everybody doing their part, is what finally put the Heat over the top,'' Obama said, as he welcomed the team to the White House Monday to celebrate their victory. The Heat defeated the Oklahoma City Thunder in five games in the NBA Finals...
IS NO PLACE SACRED?
Despite being an unofficial member of the "Big Three", Miami Heat forward Chris Bosh often finds himself being overshadowed by LeBron James and Dwyane Wade. After all, both James and Wade are virtual locks for the Hall of Fame one day, and so is Bosh, if you ask him.In celebration of their NBA title last year, members of the Heat were invited to the White House for a tour...
The Miami Heat were in the nations capital Monday to celebrate their 2012 NBA Championship. LeBron James, Dwyane Wade, Eric Spoelstra each got a shot at the mic after Obama spoke.Let's hope they challenge Obama and his staff to game of 5-on-5 afterwords.
It sure was nice to do comments for a win finally.   Heat fans spend more time trashing their own team than they do cheering for them. I guess that's the nature of bandwagon fans. I love how they say KG is finished and then say they wish Bosh played more like KG.   It was nice to see the Heat fans not gloating over Rondo's injury and wishing him a quick recovery.  ...
The NCAA says it plans to start a new sports science center to help establish better safety standards for college football. In a statement sent to The Associated Press on Monday, the NCAA calls player safety a ''foundational'' principle. The comments come one day after President Barack Obama said he would have to think long and hard about whether he would let a...
The Heat were in high spirits Monday when they got their celebratory trip to the White House. From rubbing shoulders with President Barack Obama to checking out some presidential portraits, the current NBA champions made the most of the visit. But no team event is complete without a funny photo, and Chris Bosh made sure to play his part. When LeBron James and Dwyane Wade huddled...
Back on Monday, the Miami Heat traveled to Washington D.C. to visit the White House and celebrate their 2012 NBA Championship.Heat stars LeBron James and Dwyane Wade decided to roam the halls and took some time to take a photo with a portrait of 42nd USA president Bill Clinton:(Courtesy of TMZ/Image courtesy of LeBron James Instagram Account)
One of the perks of winning an NBA Championship is the opportunity to visit the White House and meet with the the President. Today was that day for the Miami Heat. The entire Heat team, staff and owner Micky Arison were on hand as President Obama took the time to honor the Heat, crack a few jokes at their expense and celebrate their 2012 NBA title. A few of the highlights: The...
Heat News

Delivered to your inbox

You'll also receive Yardbarker's daily Top 10, featuring the best sports stories from around the web. Customize your newsletter to get articles on your favorite sports and teams. And the best part? It's free!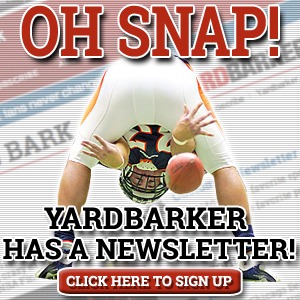 Latest Rumors
The Backyard

Today's Best Stuff

For Bloggers

Join the Yardbarker Network for more promotion, traffic, and money.

Company Info

Help

What is Yardbarker?

Yardbarker is the largest network of sports blogs and pro athlete blogs on the web. This site is the hub of the Yardbarker Network, where our editors and algorithms curate the best sports content from our network and beyond.