Found June 28, 2013 on isportsweb.com:
Yesterday, the Philadelphia 76ers took an interesting direction towards the future of the franchise as they traded all star point guard Jrue Holiday to the New Orleans Pelicans for Kentucky center Nerlens Noel, who the Pelicans drafted with the sixth overall pick and a 2014 first round pick. With Jrue Holiday gone, the Philadelphia 76ers with the 11th pick in the 2013 NBA Draft selected guard Michael Carter-Williams from Syracuse University. When many Sixers fans heard about this selection they couldn't believe it because they were in disbelief still that Jrue Holiday was traded. Sixers new GM Sam Hinkie is rebuilding this team and starting from scratch as he was also trying to move Evan Turner and or Thaddeus Young. The ball is now in the young point guard's hands from Syracuse. If you don't know about Michael Carter-Williams, let me tell you a little bit about the sophomore. He is 6-foot-6 and 185 pounds which is pretty big for a point guard but at that size can cause matchup problems for opposing point guards. According to NBADraft.net's player profile of Carter-Williams, his lowest rating is a six and that's on his jump shot, which has been criticized throughout the NBA Draft process. His highest ratings are four nines and they are for his athleticism, size, potential, and passing. All of these qualities can make Michael Carter-Williams a great point guard in the NBA. Carter-Williams needs to work on his jump shot because as many Sixers fans have seen, former number two overall pick Evan Turner still does not have a consistent jump shot. This past season for Syracuse, Carter-Williams averaged 11.9 points, 4.9 rebounds, and 7.3 assists per game. Those are good numbers because let's not forget he played in the Big East conference and he goes against top notch competition and almost led his team to the national championship. During his sophomore season, even though he had a poor shooting performance he had great scoring games. In the first game of the season versus no.20 San Diego State University, he would score 17 points and shoot 7 of 15 from the field in 32 minutes played. Another great game he had was in the Sweet 16 versus no.1 seed Indiana in which Syracuse would go onto win 61-50. In that game, Michael Carter-Williams scored 24 points and shot 9 of 19 from the field in 38 minutes played. But in the biggest game of Carter-Williams' college career, he would be nowhere to be found. The young point guard versus Michigan in the Final Four only had two points and shot 1 of 6 from the field in 35 minutes played. In that game, Carter-Williams went against Trey Burke and Tim Hardaway Jr. both of those players were drafted in the first round as well. Just by looking at Carter-Williams college career he is a solid young point guard that will be able to grow into the position but not gradually because the Sixers are in the rebuilding process. He will be thrown into the fire but he won't be alone as his long time friend Kentucky's Nerlens Noel is going to join the Sixers in the next few weeks as the Jrue Holiday trade still has to go through. With the combination of Carter-Williams and Noel, the Sixers have a nice young big man and point guard combo that can grow together for many years to come. It will make the transition easy for Carter-Williams because he and Noel played on the same AAU team together and they can grow to become a dominant 1-2 punch in the NBA. The journey will not be easy for the Sixers or for Michael Carter-Williams. The only three players guaranteed to be on this team is him, Nerlens Noel, and Arsalan Kazemi. Other than that nobody knows what Sam Hinkie is going to do because the Sixers are still without a head coach. The only thing that is certain is that Michael Carter-Williams is the franchise point guard of the Philadelphia 76ers.
Original Story:
http://feedproxy.google.com/~r/isport...
THE BACKYARD
BEST OF MAXIM
RELATED ARTICLES
For the first time in what seems like more than a decade, the Philadelphia 76ers have a plan. After trading all-star point guard Jrue Holiday for former Kentucky big man Nerlens Noel on Thursday night, the Sixers have set sail on a brand new direction. The Sixers also received a projected lottery pick in next years draft along with Noel in the deal from New Orleans. The Sixers also...
Categories: 76ers BREAKING NEWS NBA NewsTags: 76ersJrue HolidayNerlens NoelDid the Sixers invite basketball back into Philadelphia after the 2013 NBA draft?  They were clearly the most active and aggressive team with both their current and future status as an NBA franchise.  They sent their best player in Jrue Holiday packing.  Coming off his best season in his young career...
The 76ers are reportedly turning to the San Antonio bench for their new coach. According to the New York Daily News, the Sixers have settled on former Spurs assistant Brett Brown as their new head coach. Brown replaces Doug Collins, who was let go when the 76ers decided not to renew the coach's contract. Brown spent seven years as an assistant to Spurs coach Gregg Popovich...
After unexpectedly drafting Nerlens Noel with the sixth pick on Thursday night, the Pelicans decided to trade him and a 2014 1st round pick to the Philadelphia 76ers in exchange for point guard All-Star Jrue Holiday and the 42nd 2013 pick. According to Adrian Wojnarowski of Yahoo! Sports: New Orleans has traded Nerlens Noel to the 76ers, source tells Y! Sports. Philadelphia sends...
The New Orleans Pelicans will acquire Jrue Holiday from the Philadelphia 76ers for Nerlens Noel and a 2014 first round pick. The first round pick will be top-5 protected. Holiday signed an extension with the 76ers before last season. The 76ers will also send the 42nd overall pick to the Pelicans.
According to multiple reports, the 76ers will send guard Jrue Holiday to the New Orleans Pelicans in exchange for center Nerlens Noel, who was selected with the No. 6 overall pick Thursday night. Along with Noel, the Pelicans will send the Sixers a 2014 first-round pick, which is top-three protected. By trading for Noel, the [...]
Nerlens Noel falling in the 2013 NBA Draft to No. 6 overall instead of being selected No. 1 was already a big enough surprise, but what was even more shocking was seeing him get traded to the Philadelphia 76ers for Jrue Holiday. According to Yahoo! Sports' Adrian Wojnarowski, the Pelicans are getting Holiday and the [...]
The New Orlean Pelicans have traded Nerlens Noel and a 2014 first round pick to the Philadelphia 76ers for Jrue Holiday and the 42nd overall pick in this years draft. New Orleans has traded Nerlens Noel to the 76ers, source tells Y! Sports. — Adrian Wojnarowski (@WojYahooNBA) June 28, 2013 The post New Orleans Pelicans Trade Nerlens Noel to the 76ers appeared first on Overtime.
Categories: 76ers BREAKING NEWS NewsTags: 76ersJrue HolidayNerlens NoelFirst off, I would like to apologies to Sam Hinkie for calling him a "Buddhist Monk" on a silent vowel on twitter. Going into this draft I was excited and frustrated.  I know that is a helluva combination. Well, those feelings changed quickly once the draft started.  I have to hand it to Hinkie, the...
Player A: 18.7 PPG, 11.8 RPG, 1.4 APG, 1.9 BPG, 55.8 FG%, 59.4 TS%, 22.9 PER, .183 WS/48, 100 DRtg, 23.8 Usage Rate, 13.3 FGA per game Player B: 23.4 PPG, 11.4 RPG, 2.9 APG, 3.4 BPG, 50.8 FG%, 55.4 TS%, 23.8 PER, .189 WS/48, 99 DRtg, 26.8 Usage Rate, 17.8 FGA per game Look, I know you've read the title to this column. You know Player A is Andrew Bynum in his age-24 season (his...
Categories: 76ers BREAKING NEWS NBA NewsThrough his first few weeks on the job, Sixers' general manager Sam Hinkie had been very quiet. There hadn't been much buzz coming out of Sixer headquarters. Hinkie hadn't said much publicly about his vision for the team in 2013. There was little indication on what he'd do with pending unrestricted free agent Andrew Bynum. There...
With one shocking trade, the 76ers may finally be contenders in the East. In 2016. In his first major moves as general manager, Sam Hinkie proved he wasn't afraid to shake up the Sixers: - Trade an All-Star? Check. - Land a potential impact player? Done. - Load up on draft picks for a rich 2014 class? You got it. - Clear cash to make a serious run at franchise-altering...
76ers News

Delivered to your inbox

You'll also receive Yardbarker's daily Top 10, featuring the best sports stories from around the web. Customize your newsletter to get articles on your favorite sports and teams. And the best part? It's free!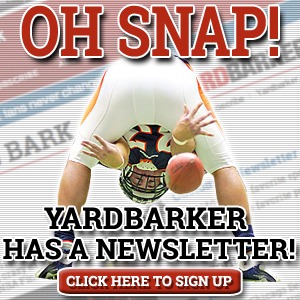 Latest Rumors
Best of Yardbarker

Today's Best Stuff

For Bloggers

Join the Yardbarker Network for more promotion, traffic, and money.

Company Info

Help

What is Yardbarker?

Yardbarker is the largest network of sports blogs and pro athlete blogs on the web. This site is the hub of the Yardbarker Network, where our editors and algorithms curate the best sports content from our network and beyond.