Found April 24, 2012 on Fox Sports North:
PLAYERS:
Brad Miller
,
Luke Ridnour
,
Kevin Love
,
Derrick Williams
,
Metta World Peace
,
Jalen Rose
,
Rick Adelman
,
Anthony Tolliver
,
Malcolm Lee
,
Justin Bieber
,
Ricky Rubio
,
Darko Milicic
,
Nikola Pekovic
TEAMS:
Minnesota Timberwolves
MINNEAPOLIS In Minnesota, he's known for plaid shirts and flat-brimmed hats, for the plastic bags of soda and water he totes out of the Target Center after most games. He's imposing in his silence, and when he laughs, it's hard not to wonder what joke you've missed. Brad Miller might seem like an enigma, but he's not. He's a personality. After 14 seasons as a center in the league, he's earned that right. He's no longer young, no longer much of a factor on the court and just a game away from retiring when the 2011-12 season ends. He'll leave the game averaging 11.2 points and 7.2 rebounds, and his next move will be to focus on his Sportsman Channel show, "Country Boys Outdoors." But despite appearing in just 14 games this year after offseason microfracture surgery on his left knee, the two-time All-Star has been a different kind of factor for the Timberwolves this season. On the league's second-youngest team, Miller, 36, was born five years before his next-oldest teammate, Luke Ridnour. He's 13 years older than Kevin Love, 16 years' Derrick Williams' senior, part of a different generation. He played with Ron Artest a decade before his name change. He got in a fight with Shaquille O'Neal when Shaq was still wearing the Lakers' purple and gold. He was traded for Jalen Rose, one of Michigan's Fab Five. It's not much of an overstatement to say Miller's experiences in the league and knowledge of it rival that of the rest of the Timberwolves combined. After going undrafted out of Purdue, Miller signed with Charlotte in 1998, when it was still the Charlotte Hornets. After spending time with the Chicago and Indiana, Miller found himself in Sacramento following a sign-and-trade between the Kings and the Pacers. That was the first time he played for first-year Timberwolves coach Rick Adelman, and since then Miller has traveled to Houston and then Minnesota with the veteran coach. "That's the reason I went to Houston, to play for him," Miller said. "I thought he was going to be down there, but he surprised everyone and took this job. It definitely made it a lot more enjoyable, him being the coach up here." Some players sign meaningless contracts in order to retire with the teams on which they spent most of their careers or had their most memorable years. But Miller, who had his best seasons with Adelman in Sacramento from 2003-06, doesn't have to go through the trouble. By virtue of a draft-day trade last June, he ended up in Minnesota, where Adelman signed a contract just three months later; now, he can retire with the man who's coached him through five of his past nine seasons. That familiarity with Adelman and his offense added to Miller's value this season. Not only does he retain the basketball intelligence that's compensated for any lack of athleticism throughout his career, he's also an expert in the coach's scheme. He's the kind of player who isn't afraid to hit a teammate in the head with a back-door pass, fellow big man Anthony Tolliver said, as if to show them how complex the offense can be but how easy it is to learn. "He's been good with the young guys," Adelman said. "He's been around the game a long time, and he's very willing to share what he sees on the court. I think he's been good to have in with this group." And in addition to pranks like purchasing embarrassing kiddie backpacks for the team's three rookies (Hello Kitty for Malcolm Lee, Disney princesses for Derrick Williams and Justin Bieber for Ricky Rubio of course), Miller has also become a vocal leader in the Timberwolves' locker room. He is often the first player to speak up after games, Tolliver said, and his passion to win hasn't dulled even with his reduced role on the court. At the beginning of the season, the team was unsure whether Miller would take the court at all. But with Darko Milicic's fading role and injuries to Nikola Pekovic, Miller did get limited time. The numbers he posted averaging 2.2 points are far off the 15.6 and 15.1 points he recorded in 2004-05 and 2005-06 in Sacramento, but he still was of value to the team's offense. Miller's experience was a key addition to the rest of the young Timberwolves' raw ability, which provided a good foil, and he still retains much of his offensive prowess. "Offensively, he really helps us," Adelman said. "I'm going to put him in there. For short stretches, he's really good." Eight years after Adelman first met Miller, the coach still remembers what an asset he was in Sacramento. Not only was he a better player than anyone expected him to be coming out of college, he was also everything the Kings needed for their offense, Adelman said. He was tough to guard and spaced the floor well, and even though he wasn't much of a shot blocker, he still was a smart defensive player. Those skills are what Adelman thinks of first when he remembers his time with Miller "Other than the hunting and all that," he joked not the player who competed in a limited role this season. Maybe Miller didn't prove much to Timberwolves fans this season. Maybe they'll remember him only for his headband and stature. But Adelman and the 14 younger teammates who learned from him and were sometimes the brunt of his jokes won't forget what he did for them behind the scenes. Follow Joan Niesen on Twitter.
Original Story:
http://www.foxsportsnorth.com/04/24/1...
THE BACKYARD
BEST OF MAXIM
RELATED ARTICLES
MINNEAPOLIS Nikola Pekovic is Rick Adelman's best student. Adelman says it, Adelman needs it, Pekovic does it. That's become the theme of the Timberwolves' big man's breakout season this year, as he's been the only player to truly capitalize on the opportunities he was given. And, as Adelman pointed out Sunday, he's also one of few players on the team who...
Minnesota Timberwolves star Kevin Love has switched up his look several times this season. From goatee to scruffy mountain man beard and now his fresh faced college freshman look, one could argue that when Kevin tweeted he was looking for a Gillette sponsorship he was serious. Check out the transformation of Love's facial hair this [...]
MINNEAPOLIS After Sunday's 93-88 Timberwolves' loss to Golden State one that saw the Timberwolves up 55-34 at the end of the second quarter J.J. Barea was frustrated. Just 10 months removed from a championship in Dallas, perhaps Barea's unfamiliarity with consistent losing pushed him to say what he said. Or maybe he's just independently competitive; maybe it takes...
MINNEAPOLIS The NBA lockout stole Derrick Williams' rookie season. There were a lot of ways he could have reclaimed it: better shooting, more attentive defense, even a vague hint of consistency. Williams is certainly to blame for at least part of his struggles this season, but there's no getting around what the lockout took from him. The second overall pick in the 2011...
Rick Adelman says he did not have a problem with J.J. Barea's comments that some Minnesota Timberwolves didn't care enough after a recent loss. Without naming names, Barea blistered some teammates after the Wolves blew a 21-point lead and lost to the Golden State Warriors on Sunday. The veteran guard said there weren't enough players in the locker room who cared about...
Prior to his head injury (concussion), Minnesota Timberwolves forward Kevin Love was making a strong case for league MVP. He averaged 26 points, 13.3 rebounds, 2.0 assists per game, shot 37 percent from the three-point line in 55 games for the Timberwolves. But with two games left for Minnesota and its injury-riddled season, Minnesota has decided to shut down Love for the rest of...
In comparison with the past couple of seasons, the Timberwolves have actually taken a step forward this year. In 2010 and 2011 (both 82-game seasons), they won less than 20 games. This season with the shortened schedule, Minnesota has won 26 games with one left to play. However, they have been atrocious since March when Ricky Rubio was lost for the season with a torn ACL. The Wolves...
Nikola Pekovic will undergo surgery on May 15th to remove bone spurs from his right ankle.
David Kahn will return for the 12-13 season as Minnesota's general manager.
I know the last few years have been down-right dreadful for fans of the Minnesota Timberwolves. Our last few draft picks (Wes Johnson and Derrick Williams) haven't panned-out, so far or yet. But, Ricky Rubio brought a spark this season before his ACL injury. He lit-up Target Center with his maestro passing skills and non-matador-esque defensive ability that most of his teammates...
Team lose games they shouldn't all the time.  It's the nature of the NBA schedule.  There's too many games to be laser focused on each one.  Still, there are games where you really shouldn't lose.  For the Minnesota Timberwolves, that game came last night.  Up 21 points, the T'Wolves lost to the Golden State Warriors Monday night, but they didn't just...
Timberwolves News

Delivered to your inbox

You'll also receive Yardbarker's daily Top 10, featuring the best sports stories from around the web. Customize your newsletter to get articles on your favorite sports and teams. And the best part? It's free!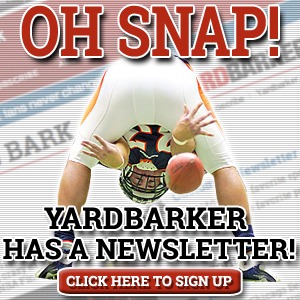 Latest Rumors
The Backyard

Today's Best Stuff

For Bloggers

Join the Yardbarker Network for more promotion, traffic, and money.

Company Info

Help

What is Yardbarker?

Yardbarker is the largest network of sports blogs and pro athlete blogs on the web. This site is the hub of the Yardbarker Network, where our editors and algorithms curate the best sports content from our network and beyond.