Found July 25, 2013 on Project Spurs:
San Antonio Spurs guard Patty Mills was recently on FM News 101 KXL's The Bald Faced Truth's radio show and discussed what it's like to play for the Spurs, represent his home country of Australia, playing for Spurs head coach Gregg Popovich and more. Mills was asked what it was like to go to the Finals as a member of the Spurs with veterans like Tony Parker, Tim Duncan, and Manu Ginobili leading the way. "Being part of a team with the caliber of guys that are on the team…I've definitely become a better player," Mills said. "Just being around these guys, they are great players but they're even better people to be around." Mills was also asked about how much time he gets off in the offseason before preparing for another season. Mills said he didn't get that much time off as usual because the Spurs went to the NBA Finals so late in June and now he has to get ready for international play with with Australia.  Even though Mills didn't receive a lot of playing time during the season or in the playoffs, he gained a lot of popularity with his towel waving support for his teammates. He discussed how the waving method came to be and what he hopes it does for those watching him. "I think it's always been there for me," said Mills. "I have a genuine care about my teammates. (It) Started back in Portland but took off in San Antonio." Mills went on to say it's a way to keep him energized and excited in the event he's called into a game. He also said he wants to be a role model for kids or players out there who might be in his situation - sitting on the bench - to still be able to contribute to their team by being a strong support piece. As where basketball came from, Mills said he grew up an only child and began playing basketball at the age of four. He said he was able to attend the 2000 Summer Olympics in Australia at the age of 11 or 12 and after watching the games live, knew one day his goal would be to wear the green jersey of his home country. And of course, it's a question that's usually asked to players who play for the Spurs, so the host wanted to know what is coach Popovich really like?  "He's a sweetheart man, he really is. He comes off one way to the media…but he's really a great guy." "He has a great personality," continued Mills of Popovich, "he jokes around a lot. He cares about your family and everyone's background. He sets the bar high for what San Antonio is all about." Mills will be representing Australia in the FIBA Oceania tournament in mid August before training camp begins in late September. When he returns to training camp, he'll again be expected to battle for the backup point guard position along with Cory Joseph and Nando De Colo.
Original Story:
http://www.projectspurs.com/2013-arti...
THE BACKYARD
BEST OF MAXIM
RELATED ARTICLES
In the midst of the NBA Playoffs, Tony Parker revealed something truly awesome about himself. No, we're not talking about his toughness, playing on a hamstring that could "tear anytime." Tony Parker is apparently a huge nerd about The Avengers. With Comic-Con just wrapping up in San Diego, pictures are now surfacing from Parker's Facebook account of a couple...
Patty Mills didn't have an eventful season last year with Cory Joseph's rise into the rotation and an infection between his toes halted any possibility to play in the NBA Finals against the Miami Heat. With Mills exercising his option to stay with the San Antonio Spurs one more season, he doesn't seem to be walking into next season with the third point guard spot...
Project Spurs' good friends Eric Messersmith and Ari Temkin over at 1250 ESPN "The Hardline" had some fun with an exclusive "interview" with San Antonio Spurs head coach Gregg Popovich. OK so it really wasn't Popovich per se but Ari chopped up some sound bites from the Spurs head coach during the regular season and mashed them up into a funny fake...
It's been nine days since word came out San Antonio Spurs first round draftee Livio Jean-Charles would undergo right knee surgery after he was injured in a FIBA U-20 game against the Czech Republic representing his home country of France. Now it seems ASVEL's Vice President and current Spurs All-Star Tony Parker has a timetable on Jean-Charles' injury: six months...
The FIBA 2014 Basketball World Cup is still over a year away but that doesn't mean basketball fans cannot start getting hyped over the big event. 24 teams will fight for a shot at gold in Spain next year which means several San Antonio Spurs players will be there representing their country for a shot at a spot at the next Olympic Games in Rio. FIBA released a trailer...
One thing we know for sure about Deshaun Thomas is he can flat out shoot the basketball. This draft workout video only solidifies any doubts people might have had about his shooting stroke.   Most NBA players can knock down shot after shot when alone in a gym, but the thing that stands out are his mechanics. In this workout you can tell he doesn't get much lift on any...
San Antonio Spurs' Nando De Colo recently had an interview with French website Lequipe.fr and he took time to reflect back on how the NBA Finals went down.    De Colo noted that it was a big disappointment to come up short in the NBA Finals. Even though he was not part of the rotation, he said that he felt he was still part of the team. Going through the season took...
File this under "Welcome to the NBA offseason." Standing at 6'6" and weighing 210 lbs., needless to say San Antonio Spurs' Danny Green is quite a big guy.  So when he mounted this horse out in China, he made the beast look like a toy pony. Poor horse looks like it could break in half at any moment. Just look at that expression on the horse's face...
"The Avengers" movie was quite the blockbuster. It drew in tons of fans who enjoyed the comics and made news ones along the way. With iconic characters such as "Hulk," "Thor," and "Ironman," what sci-fi fan wouldn't like them. Well add San Antonio Spurs' Tony Parker to the list of "The Avengers" fans to the list except...
Inspired by the 1996 NBA All Star game held in San Antonio, Reebox is set to release the limited-edition Kamikaze II X Packer sneakers in August with the color-scheme used on the jerseys from the '96 All Star game. Reebox and Packer Shoes will be using the color-scheme with the Shawn Kemp Kamikaze II sneaker and base it on Kemp's All Star appearance in the Alamo City...
Summer League is the best chance for players to show off their skills for all 30 teams to see. As a player you have to make the most of the opportunity just to give yourself a shot at making a team. Hollis Thompson was that guy from this year's San Antonio Spurs Summer League team.   Thompson, an undrafted player last year out of Georgetown, spent this past season playing...
Revenge is a dish best served cold. Well, kinda.   The San Antonio Spurs' first crack at the defending champion Miami Heat will be on Oct. 19.   Yes, it's just preseason. And sure, Norris Cole, Jarvis Varnado and Rashard Lewis will likely log more time than LeBron James, especially since they square off early in the preseason. But it will still dramatically...
Spurs News

Delivered to your inbox

You'll also receive Yardbarker's daily Top 10, featuring the best sports stories from around the web. Customize your newsletter to get articles on your favorite sports and teams. And the best part? It's free!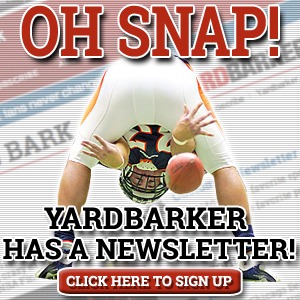 Latest Rumors
Best of Yardbarker

Today's Best Stuff

For Bloggers

Join the Yardbarker Network for more promotion, traffic, and money.

Company Info

Help

What is Yardbarker?

Yardbarker is the largest network of sports blogs and pro athlete blogs on the web. This site is the hub of the Yardbarker Network, where our editors and algorithms curate the best sports content from our network and beyond.