Found October 29, 2012 on Project Spurs:
Patty Mills showed on an international stage this summer that he's ready to make a big contribution in the NBA. Mill's performance for Australia at the London Olympics was incredible and showed a lot of people that he's better than they may have thought. For now, he's stuck on the San Antonio Spurs' depth chart behind Tony Parker and barring some sort of injury, that's not going to change anytime soon. Mills will have to do what he can as a backup for the time being, but he's hoping to show how well he can fill that role. ''It's a big year for trying to prove myself,'' Mills said. ''I still feel like I've got a lot of things to prove, my future goal is wanting to be a starting point guard somewhere. I'm really happy where I am now, I know what I need to do but I feel there are a lot of things I need to prove to everyone.'' I would imagine that the Spurs will keep Parker around for a long time, so if Mills wants to be a starting point guard, it may have to be somewhere else. Putting in a full preseason with the team, along with his experience last year should get him enough minutes to show what he can do. The Spurs might even consider giving him a few extra minutes for the opportunity to raise his trade value. I like Mills a lot, and I think he has a lot of potential. It's just a little unfortunate for him that he landed on a team with an All-Star point guard already. He may get to move out of Tony Parker's shadow eventually, but for now he just has to focus on making every minute count. I think Mills has a bright future ahead of him, even if it's not with the Spurs, but it's all going to start this year. This season is make or break for him. Will he be stuck as a backup point guard for the rest of his career or is it time to make a name for himself?
Original Story:
http://www.projectspurs.com/2012-arti...
THE BACKYARD
BEST OF MAXIM
RELATED ARTICLES
This past weekend, the San Antonio Spurs got into the Halloween spirit and put on some nice costumes such as Manu Ginobili and Stephen Jackson dressing up as Zorro and The Joker respectively. Both were solid costumes, however, nothing, and I mean nothing, can compare to Danny Green's costume.  Check out Green as Ghostbuster's villain, "The Stay Puft Marshmallow...
Clearly, the San Antonio Spurs are the one NBA team where dressing up on Halloween appears to be mandatory.Check out these pictures that forward Stephen Jackson sent out on Twitter/Instagram accounts of many team members dressed up for a Halloween party:(Picture 1: DeJuan Blair and Stephen Jackson, Picture 2: Tiago Splitter and Stephen Jackson, and Picture 3: Team Shot) (Courtesy of NBA Mistress)
San Antonio Spurs' Manu Ginobili is the focus of a new Spanish-language documentary called "El Grito Sagrado" ("The Sacred Cry"). In it, the film covers Manu's early steps to becoming one of the most decorated international players ever to make it to the NBA. From his brother, Leandro, who speaks about how Manu would literally eat dinner and run back...
Stop the NBA costume contest...Spurs guard Danny Green got this....(Courtesy of Danny Green Twitter)
The lack of size in the San Antonio Spurs' front court isn't a secret.  Boris Diaw and DeJuan Blair are both undersized.  Matt Bonner is a surprisingly good post defender (in addition to his obvious shooting prowess).  Then there's Tiago Splitter.  Tiago's really good, you guys.  He can score in the low post, he's a great roll man, he can pass.  He can rebound...
San Antonio Spurs assistant coach, Brett Brown, has stepped down as head coach for Australia's men's basketball head coach according to the Brisbane Times. Brown, citing he can no longer commit to another four years as head coach, guided the Boomers to the 2012 London games where the team would eventually lose to Team USA in the tournament. It was a successful run in...
After finishing the last two seasons with the number one seed in the Western Conference, the San Antonio Spurs are back for yet another season in which they are still considered a title contender. The Spurs are bringing back a team that won 50 games in a lockout season, had three double-digit winning streaks, won 20 games in a row, and were two games away from playing in the...
Now that the NBA season is finally upon us, former San Antonio Spurs player Bruce Bowen and his bow ties are back. Bowen, an NBA analyst with ESPN, recently gave his top-five teams in the Western Conference and has San Antonio in his list. Bowen points to the "Big 3" as the force behind the Spurs' upcoming season.
In order to adequately preview the San Antonio Spurs this season I could probably just post a link to last year's preview. No big changes here. If you're a Spurs fan you certainly weren't brimming with excitement over the off-season. No subtractions. One minor addition. And that's it. You're also probably not to upset about that either. The core is still in tact...
Brett Brown is also the assistant coach of the San Antonio Spurs.
  In my interview with Spurs Stephen Jackson, he mentioned that he and Thunder star Kevin Durant had collaborated on a song for his new album, "Jack of All Trades." The song is called "Lonely at the top," take a listen and if you are so inclined to add it to your music library, it's [...]
It's time to get the 2012-2013 NBA season underway! For the San Antonio Spurs, the big question this year is whether or not they can still compete with the top teams in the Western Conference. As always, the NBA season is packed with must-see games and the Spurs have quite a few themselves. Thursday, November 1st – Oklahoma City Thunder – Home Is there a better way...
Spurs News

Delivered to your inbox

You'll also receive Yardbarker's daily Top 10, featuring the best sports stories from around the web. Customize your newsletter to get articles on your favorite sports and teams. And the best part? It's free!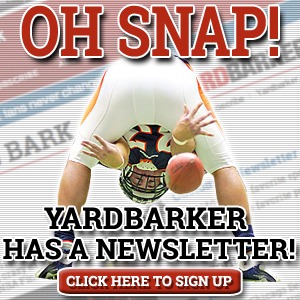 Latest Rumors
Best of Yardbarker

Today's Best Stuff

For Bloggers

Join the Yardbarker Network for more promotion, traffic, and money.

Company Info

Help

What is Yardbarker?

Yardbarker is the largest network of sports blogs and pro athlete blogs on the web. This site is the hub of the Yardbarker Network, where our editors and algorithms curate the best sports content from our network and beyond.