Found November 14, 2012 on NESN.com:
Via NESN: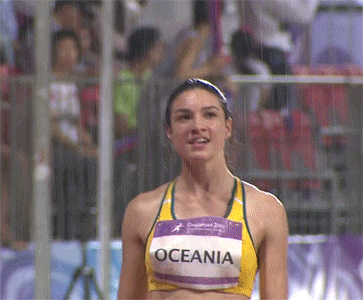 "What is a GIF?"
That's a question that many people might be asking themselves after the news on Monday that "GIF" was chosen as the Oxford American Dictionary's word of the year. After beating out the likes of "YOLO" and "superstorm," GIF will definitely be a word that enters the public conversation more and more in the near future. However, sports fans are already a bit familiar with the unique word, as GIFs are responsible for some of the most interesting sports content on websites today.
A GIF, short for "graphics interchange format," is a certain kind of file type with a unique ability to display animation. As such, the file has allowed sports fans to relive some of the more offbeat and irreverent actions from around the sports world.
From Michelle Jenneke's viral pre-race routine to a Kobe Bryant death stare to a mascot falling flat on its face, GIFs have helped capture some of the most hilarious moments in sports for us to enjoy over and over and over again.
Click here to see the most memorable sports GIFs!
Read More:
http://nesn.com/2012/11/best-sports-a...
THE BACKYARD
RELATED ARTICLES
  "Skid Row is literally a few blocks away [from the Staples Center], but it's not something that really registers, it's something that you kind of look over, because homelessness has been a part of our culture for so many years, it's just something that kind of fades in the background without you really driving [...]
Enjoy the following sentence, because this will probably be the only time you ever see it written: Kobe Bryant is no Raja Bell. Bryant may have five NBA championship rings and a trophy case full of various Most Valuable Player awards, but the 2012 edition of the future Hall of Fame shooting guard is well below Bell circa 2006 on the defensive end. In everything else, Bryant puts...
Mike D'Antoni is already making his mark on the Los Angeles Lakers, but it doesn't look like he'll be ready for his debut on the Staples Center sidelines for a few more days. As long as Kobe Bryant's there, the Lakers may not have too much trouble. Bryant has averaged 42.0 points in his last three home games against the Phoenix Suns, who have lost seven of eight...
 I have really been intrigued by the saga unfolding out in LA LA land. The Los Angeles Lakers publicly welcomed new head coach Mike D'Antoni to their bench on Friday. Though D'Antoni will never be held in the highest regard in my green goggles, I must say his usually very dry press conferences turned candid and amusing Friday. [...]
Christmas Day in the NBA has become a forum for players to reveal holiday-themed fashions. Each year, a new range limited-edition, seasonal sneaker colorways make their debut on the feet of players. Among the more memorable kicks in recent years were Kobe Bryant's lime green "Grinch" sneakers. This season will have players styled head-to-toe in holiday gear. To accompany the...
Magic Johnson seems to have made it his mission as of late to criticize Los Angeles Lakers executive vice president Jim Buss as much as possible. On Wednesday, Magic wrote on Twitter that he had been silent for a few days because he was mourning the Lakers' decision to hire Mike D'Antonio over Phil Jackson. If that seems a bit dramatic, that's because it is. Kobe Bryant does...
Is D'Antoni a better fit than uncle Phil Jackson?
Who knew D'Antoni was mildly funny?
More than anything else, the following play is a testament to Kobe Bryant's passing ability.  While his role in the play may appear to be elementary, I'd argue that a lob to Ron Artest is actually one of the most difficult passes in the game.  You've got to basically put the ball on the very edge of the cylinder in order for Ron to have a shot at it, so there's no room...
  With 19.9 seconds remaining and the San Antonio Spurs trailing the Los Angeles Lakers 82-81 in the fourth quarter on Tuesday, the Spurs didn't draw up a play for Tony Parker or Tim Duncan. On this night in Los Angeles, the Spurs drew up a play for Danny Green who was being defended by the Lakers' Kobe Bryant. With Bryant not playing Green closely, Green made him pay. ...
Lakers News

Delivered to your inbox

You'll also receive Yardbarker's daily Top 10, featuring the best sports stories from around the web. Customize your newsletter to get articles on your favorite sports and teams. And the best part? It's free!
RUMORS & GOSSIP
The Hornets lost out on Gordon Hayward, but signed one of his versatile former teammates.  Marvin Williams has agreed to a two-year, $14 million deal with the Hornets. Marvin Williams agrees to two-year, $14 million deal with Hornets, source tells Yahoo. Fully guaranteed, no option. — Marc J. Spears (@SpearsNBAYahoo) July 12, 2014 Williams, 28, spent his last two seasons with...
Indianapolis Colts wide receiver Hakeem Nicks and Sports Illustrated swimsuit model Ariel Meredith are engaged — and it couldn't have happened at a better time. "Mrs. Nicks to be!" Meredith tweeted along with a photo of the engagement ring on Saturday — the day after her 28th birthday.  
Cleveland Browns receiver Andrew Hawkins has gotten to know Johnny Manziel pretty well over the last couple months. "Baby Hawk" doesn't know what to make of Manziel's off-the-field activities, but the undrafted 5-foot-7, 180-pound product out Toledo says he's been "all business" on the football field. "I can't speak for all of the other stuff because all I know...
Details of LeBron James' contract with the Cleveland Cavaliers emerged on Saturday, and they may surprise you a bit. While most of us assumed LeBron would sign a maximum four-year deal worth around $90 million, he has reportedly only committed to the Cavs for two years — at least on paper. Brian Windhorst of ESPN […]
At least Dwight didn't say he was hacked. I am not sure why he is apologizing for though, if that is how he feels, that is how he feels. I can see apologize for making a political comment he didn't mean to make, but how can you offend someone with your belief? It would be like apologizing for being Catholic to a Jewish person, you can't control how others feel about an issue...
Brian Spurlock-USA TODAY Sports According to Adrian Wojnarowski of Yahoo sports, the Houston Rockets and free agent Trevor Ariza agreed to a four-year, $32 million deal. With a 4-year, $32M agreement for free agent Trevor Ariza, Houston could still match offer sheet for Chandler Parsons, source tells Yahoo. — Adrian Wojnarowski (@WojYahooNBA) July 12, 2014 Ariza had the best...
A report Saturday morning indicates that law enforcement officals were investigating an incident that allegedly involved NFL players  Mike and Maurkice Pouncey that occurred in the early hours of the morning.  A man alleges that Mike Pouncey of the Miami Dolphins and his brother Maurkice of the Pittsburgh Steelers physically attacked him at the Cameo Nightclub. And he took to...
Carmelo Anthony has re-signed with the New York Knicks, according to Adrian Wojnarowski of Yahoo! Sports. He will agree to a five-year, max contract. The Knicks acquired Anthony from the Denver Nuggets via trade in 2011. He was also heavily pursued by the Los Angeles Lakers, Houston Rockets, Chicago Bulls and Dallas... The post Carmelo Anthony Re-Signs With The Knicks appeared...
Drake is hosting the ESPYs next week, so he was doing some media rounds about the event, including a conference call where he was asked by Complex Sports if the Cavs were now his favorite team because LeBron sign there. Here is what Drizzy had to say. "Well, first of all, I'd like to say that despite what everyone on the Internet thinks, I do not team jump. In the past I've...
The Utah Jazz have notified the Charlotte Hornets that they have matched the four-year, $63 million max contract offer sheet signed by Gordon Hayward. The contract includes a player option for the fourth year and a 15 percent trade kicker, league sources told Yahoo Sports. Utah and Hayward had been unable to reach agreement on a contract last fall.
Latest Rumors
The Backyard

Today's Best Stuff

For Bloggers

Join the Yardbarker Network for more promotion, traffic, and money.

Company Info

Help

What is Yardbarker?

Yardbarker is the largest network of sports blogs and pro athlete blogs on the web. This site is the hub of the Yardbarker Network, where our editors and algorithms curate the best sports content from our network and beyond.