Found November 14, 2012 on NESN.com:
Via NESN: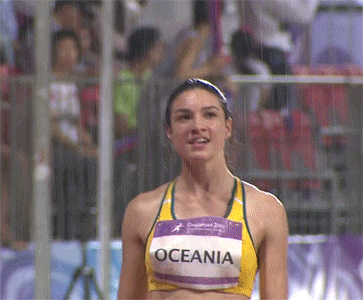 "What is a GIF?"
That's a question that many people might be asking themselves after the news on Monday that "GIF" was chosen as the Oxford American Dictionary's word of the year. After beating out the likes of "YOLO" and "superstorm," GIF will definitely be a word that enters the public conversation more and more in the near future. However, sports fans are already a bit familiar with the unique word, as GIFs are responsible for some of the most interesting sports content on websites today.
A GIF, short for "graphics interchange format," is a certain kind of file type with a unique ability to display animation. As such, the file has allowed sports fans to relive some of the more offbeat and irreverent actions from around the sports world.
From Michelle Jenneke's viral pre-race routine to a Kobe Bryant death stare to a mascot falling flat on its face, GIFs have helped capture some of the most hilarious moments in sports for us to enjoy over and over and over again.
Click here to see the most memorable sports GIFs!
Read More:
http://nesn.com/2012/11/best-sports-a...
THE BACKYARD
RELATED ARTICLES
  "Skid Row is literally a few blocks away [from the Staples Center], but it's not something that really registers, it's something that you kind of look over, because homelessness has been a part of our culture for so many years, it's just something that kind of fades in the background without you really driving [...]
Enjoy the following sentence, because this will probably be the only time you ever see it written: Kobe Bryant is no Raja Bell. Bryant may have five NBA championship rings and a trophy case full of various Most Valuable Player awards, but the 2012 edition of the future Hall of Fame shooting guard is well below Bell circa 2006 on the defensive end. In everything else, Bryant puts...
Mike D'Antoni is already making his mark on the Los Angeles Lakers, but it doesn't look like he'll be ready for his debut on the Staples Center sidelines for a few more days. As long as Kobe Bryant's there, the Lakers may not have too much trouble. Bryant has averaged 42.0 points in his last three home games against the Phoenix Suns, who have lost seven of eight...
 I have really been intrigued by the saga unfolding out in LA LA land. The Los Angeles Lakers publicly welcomed new head coach Mike D'Antoni to their bench on Friday. Though D'Antoni will never be held in the highest regard in my green goggles, I must say his usually very dry press conferences turned candid and amusing Friday. [...]
Christmas Day in the NBA has become a forum for players to reveal holiday-themed fashions. Each year, a new range limited-edition, seasonal sneaker colorways make their debut on the feet of players. Among the more memorable kicks in recent years were Kobe Bryant's lime green "Grinch" sneakers. This season will have players styled head-to-toe in holiday gear. To accompany the...
Magic Johnson seems to have made it his mission as of late to criticize Los Angeles Lakers executive vice president Jim Buss as much as possible. On Wednesday, Magic wrote on Twitter that he had been silent for a few days because he was mourning the Lakers' decision to hire Mike D'Antonio over Phil Jackson. If that seems a bit dramatic, that's because it is. Kobe Bryant does...
Is D'Antoni a better fit than uncle Phil Jackson?
Who knew D'Antoni was mildly funny?
More than anything else, the following play is a testament to Kobe Bryant's passing ability.  While his role in the play may appear to be elementary, I'd argue that a lob to Ron Artest is actually one of the most difficult passes in the game.  You've got to basically put the ball on the very edge of the cylinder in order for Ron to have a shot at it, so there's no room...
  With 19.9 seconds remaining and the San Antonio Spurs trailing the Los Angeles Lakers 82-81 in the fourth quarter on Tuesday, the Spurs didn't draw up a play for Tony Parker or Tim Duncan. On this night in Los Angeles, the Spurs drew up a play for Danny Green who was being defended by the Lakers' Kobe Bryant. With Bryant not playing Green closely, Green made him pay. ...
Lakers News

Delivered to your inbox

You'll also receive Yardbarker's daily Top 10, featuring the best sports stories from around the web. Customize your newsletter to get articles on your favorite sports and teams. And the best part? It's free!
RUMORS & GOSSIP
Via WWE NETWORKDramatic reenactment of Monday's events Daniel Bryan may be off of television for the foreseeable future, but that's not stopping him from getting physical (oh god oh god be careful oh god) to prevent a home invasion. According to an Arizona ABC affiliate, Bryan spotted the door to his house opening from the inside as he arrived home with his wife (WWE's Brie...
In what cannot be considered too much of a surprise, the Los Angeles Lakers have reportedly offered Byron Scott their head coaching job. He has been the favorite to land in Southern California since Derek Fisher took the New York Knicks job.  The two sides are reportedly in contract discussions right now. Sources: The Los Angeles Lakers have offered Byron Scott their head coaching...
In a topic that's been beaten to death, even on these very pages, we have something of an update. Mary Kay Cabot is reporting from sources within the Browns that they are "stunned" by Johnny Manziel's non-stop antics during this off-season. Manziel regressed in practice after the first week of organized team activities, and some in the organization attributed it to too much...
Michelle Beadle is going to say what she thinks.  That's what has led her to being one of the most popular sports personalities in the industry… and to some notable clashes with others along the way. On Friday, she went where few ESPN employees are willing to go and publicly criticized First Take for their facepalm-inducing debate/segment/whatever on Ray Rice (which is really...
Training camp has started for the Dallas Cowboys and all eyes are on QB Tony Romo. There has been a ton of speculation about Romo's health this off-season and that has some Cowboys fans worried. Romo, who is 34 years old, spoke to the media after practice and made some comments that will draw a lot of attention. Romo says he feels like his best days are ahead of him as we will...
Ronda Rousey has been Dana White's golden goose over the past two years. She's smashed through the UFC's womens bantamweight division, finishing all four of her opponents, three in the first round. In Rousey's last two fights, she eschewed her signature arm bar for striking, and as a result, knocked out both Sara McMann and Alexis Davis in a combined 1:22. Needless to say...
Its going to be next offseason before Pittsburgh Steelers quarterback Ben Roethlisberger gets a contract extension, but he and his agent have both been informed about that decision and both appear to be on board with it. "I met with Ben shortly before we did the Maurkice Pouncey signing (in the middle of June) just […] Steelers QB Ben Roethlisberger Won't Get Contract Extension...
Jonathan Papelbon has a message for Philadelphia Phillies fans: Bring it on. The Phillies closer, who had allowed four runs over his last two appearances, was welcomed to the mound Thursday night with a smattering off boos from his home fans at Citizens Bank Park. It was harsh treatment for a pitcher who's surrendered just nine runs all season, but Papelbon told reporters after...
After already suspending two players due to sexual assault charge, Charlie Strong has dismissed two other players from the Texas Longhorns football team. According to Taylor Gaspar of Orangebloods.com, defensive back Chevoski Collins and running back Jalen Overstreet have been dismissed for violating team rules. The dismissal comes just after Kendall Sanders and Montrel Meander […]
Lil Wayne is following in the footsteps of Jay-Z and starting his own sports management company. According to TMZ, the first client Weezy is adding to his roster is a big one. Some of you know him as Cristiano Ronaldo. Ronaldo and Lil Wayne are apparently friends, and Wayne has wanted to get into the […]
Latest Rumors
The Backyard

Today's Best Stuff

For Bloggers

Join the Yardbarker Network for more promotion, traffic, and money.

Company Info

Help

What is Yardbarker?

Yardbarker is the largest network of sports blogs and pro athlete blogs on the web. This site is the hub of the Yardbarker Network, where our editors and algorithms curate the best sports content from our network and beyond.