Found November 14, 2012 on NESN.com:
Via NESN: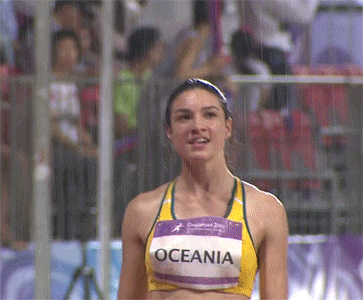 "What is a GIF?"
That's a question that many people might be asking themselves after the news on Monday that "GIF" was chosen as the Oxford American Dictionary's word of the year. After beating out the likes of "YOLO" and "superstorm," GIF will definitely be a word that enters the public conversation more and more in the near future. However, sports fans are already a bit familiar with the unique word, as GIFs are responsible for some of the most interesting sports content on websites today.
A GIF, short for "graphics interchange format," is a certain kind of file type with a unique ability to display animation. As such, the file has allowed sports fans to relive some of the more offbeat and irreverent actions from around the sports world.
From Michelle Jenneke's viral pre-race routine to a Kobe Bryant death stare to a mascot falling flat on its face, GIFs have helped capture some of the most hilarious moments in sports for us to enjoy over and over and over again.
Click here to see the most memorable sports GIFs!
Read More:
http://nesn.com/2012/11/best-sports-a...
THE BACKYARD
RELATED ARTICLES
  "Skid Row is literally a few blocks away [from the Staples Center], but it's not something that really registers, it's something that you kind of look over, because homelessness has been a part of our culture for so many years, it's just something that kind of fades in the background without you really driving [...]
Enjoy the following sentence, because this will probably be the only time you ever see it written: Kobe Bryant is no Raja Bell. Bryant may have five NBA championship rings and a trophy case full of various Most Valuable Player awards, but the 2012 edition of the future Hall of Fame shooting guard is well below Bell circa 2006 on the defensive end. In everything else, Bryant puts...
Mike D'Antoni is already making his mark on the Los Angeles Lakers, but it doesn't look like he'll be ready for his debut on the Staples Center sidelines for a few more days. As long as Kobe Bryant's there, the Lakers may not have too much trouble. Bryant has averaged 42.0 points in his last three home games against the Phoenix Suns, who have lost seven of eight...
 I have really been intrigued by the saga unfolding out in LA LA land. The Los Angeles Lakers publicly welcomed new head coach Mike D'Antoni to their bench on Friday. Though D'Antoni will never be held in the highest regard in my green goggles, I must say his usually very dry press conferences turned candid and amusing Friday. [...]
Christmas Day in the NBA has become a forum for players to reveal holiday-themed fashions. Each year, a new range limited-edition, seasonal sneaker colorways make their debut on the feet of players. Among the more memorable kicks in recent years were Kobe Bryant's lime green "Grinch" sneakers. This season will have players styled head-to-toe in holiday gear. To accompany the...
Magic Johnson seems to have made it his mission as of late to criticize Los Angeles Lakers executive vice president Jim Buss as much as possible. On Wednesday, Magic wrote on Twitter that he had been silent for a few days because he was mourning the Lakers' decision to hire Mike D'Antonio over Phil Jackson. If that seems a bit dramatic, that's because it is. Kobe Bryant does...
Is D'Antoni a better fit than uncle Phil Jackson?
Who knew D'Antoni was mildly funny?
More than anything else, the following play is a testament to Kobe Bryant's passing ability.  While his role in the play may appear to be elementary, I'd argue that a lob to Ron Artest is actually one of the most difficult passes in the game.  You've got to basically put the ball on the very edge of the cylinder in order for Ron to have a shot at it, so there's no room...
  With 19.9 seconds remaining and the San Antonio Spurs trailing the Los Angeles Lakers 82-81 in the fourth quarter on Tuesday, the Spurs didn't draw up a play for Tony Parker or Tim Duncan. On this night in Los Angeles, the Spurs drew up a play for Danny Green who was being defended by the Lakers' Kobe Bryant. With Bryant not playing Green closely, Green made him pay. ...
RUMORS & GOSSIP
The New York Knicks are about to undergo a major overhaul and it could affect more than just the coaching staff.  ESPN New York's Ian Begley is reporting that Knicks President Phil Jackson was extremely disappointed in the Knicks overall conditioning as a team. Jackson told his players to expect personnel changes this summer and he reportedly also expects them to return in much...
San Francisco 49ers' 2013 fourth round draft pick Marcus Lattimore says he's healthy enough to play, and ready for a chance to prove he deserves to be on the field. Lattimore says he's fully recovered from the gruesome knee injury that he suffered in college, and the running back is ready to show coach Jim Harbaugh that he deserves to play. "If he wants to put me in, he'll...
The Nets' 94-87 victory over the Raptors in Game 1 of their best-of-seven first round series had a lot of Brooklyn fans tweeting their joy at the win — all except one. Kind of.The win was surprising considering the fact that super sub and mid-game spark-plug Andrei Kirilenko didn't play a single minute for Brooklyn.And it appears his wife, Russian pop singer Masha Lopatova...
Charles Barkley called out the indiana Pacers on Sunday. During TNT's NBA playoff coverage, Chuck called Indiana "dogs" and "wussies."
The Associated Press Baltimore Ravens' head coach John Harbaugh was honored by the University of Miami (Ohio) on Saturday when he was inducted into the school's Cradle of Coaches.  Harbaugh unveiled the bronze statue which shows him with his right arm raised in triumph. Harbaugh said the pose was a 'winning pose' and he  likes it very much. "I like the pose," he said...
Boxer Rubin "Hurricane" Carter, who spent 19 years in prison for three murders that he didn't commit, died at age 76 after suffering from prostate cancer. Carter's story symbolized racial injustice. Academy Award-winning actor Denzel Washington portrayed the boxer in the 1999 movie The Hurricane. Bob Dylan told Carter's story in the 1975 song "Hurricane." Carter was...
According to ESPN, the Houston Rockets are confident that they can make the moves necessary in order to sign upcoming free agent Carmelo Anthony. In order to free up enough cap space, the Rockets would have to trade Omer Asik and/or Jeremy Lin. With the NBA's salary cap projected to rise $5 million, the Rockets have […]The post Rockets Confident About Signing Carmelo Anthony...
getty images The New York Yankees suffered a 16-1 loss to Tampa Bay on Saturday but the worst part of it is an injury suffered by starting pitcher Ivan Nova. Nova, 27, left the game after four innings in which he allowed eight runs on eight hits and a walk. Of the eight hits, four were home runs. Nova also struck out four. He threw 82 pitches for the Yankees in the game before the...
A source with knowledge of the situation tells Andrew Abramson of the Palm Beach Post that the Dolphins want to go "heavy on offense" in this year's NFL draft and are considering their options at running back and wide receiver. Interestingly enough, Abramson's source mentioned that if the Dolphins were to draft a receiver, it would likely lead to Miami parting ways...
Former Pittsburgh Panthers quarterback Tom Savage is arguably the fastest-rising prospect in the entire 2014 NFL Draft class. Over the last month, he's emerged from a projected third-day selection (fourth to seventh round) to a potential late first round/early second round pick. On Thursday, it was announced that Savage had received an invitation to attend the draft (May 8-10)...
Latest Rumors
The Backyard

Today's Best Stuff

For Bloggers

Join the Yardbarker Network for more promotion, traffic, and money.

Company Info

Help

What is Yardbarker?

Yardbarker is the largest network of sports blogs and pro athlete blogs on the web. This site is the hub of the Yardbarker Network, where our editors and algorithms curate the best sports content from our network and beyond.