Found November 28, 2012 on Fox Sports West:
Lakers guard Steve Nash will be sidelined until at least next week, still unable to run without pain in his lower left leg, he said Tuesday. Nash took part in some agility drills Monday and tried to do some jogging but couldn't complete it symptom-free. He will probably undergo an MRI exam to get a fresh update on the small fracture in his lower left leg. Nash said he would not play Friday or Sunday, adding he'd be out "about another week" in a brief interview. The Lakers continue to wait, eager to see what their offense looks like under his guidance. He has missed 13 consecutive games, his longest stretch since 1999. His return, whenever it happens, would boost one fairly important player, TNT analyst Kenny Smith said. "The head of that system is pretty important. I think that would benefit Pau Gasol for sure," he said. Gasol also welcomed Nash's eventual return. How could he not, given his on-court struggles? "He's a great point guard and he's familiar with the system and the coach, so he will definitely help," Gasol said. "He won't solve everything but he will have a positive impact for sure." The consensus around the league: Wait on judging the Lakers until Nash returns. "The team hasn't been altogether yet, obviously with Nash being out. Still a work in progress," Indiana Pacers associate head coach Brian Shaw said. "They'll get it right. They have too much talent to not do well." Gasol, by the way, shouldn't struggle this much in Coach Mike D'Antoni's offense, Smith said. "Pitch it ahead and run the lanes," Smith said. "It makes it surprising to me that he feels uncomfortable in it. With four All-Star guys, there's only one basketball. But the one thing that offense offers is you don't have to have a lot of minutes to play well because there's so many more possessions. "If he played 15 minutes, he could probably get eight to 10 shots. If he played 15 minutes in the triangle, he might only get three." Shaw returns Shaw, one of three finalists to take Phil Jackson's place as the Lakers' coach last year, looked more fit and trim than his playing days. Almost. Maybe. "I've got about five minutes in me," he said. "A good five minutes." Life's been good to Shaw since he joined the Pacers' staff after he and Rick Adelman finished behind Mike Brown in the Lakers' coaching search after the 2010-11 season. "It's good for me to be coaching under a different system," he said. "When I've interviewed since I left the Lakers I still get labeled as a triangle guy. I'll always be proud of the fact that I played for and coached under Phil Jackson. "I think the triangle system is great but it seems like the sentiment around the league is that it only works for Phil and only if you have certain kinds of players, although every team runs actions that we run in the triangle. For whatever reason, there's kind of a negative label attached to it." Shaw lives on a lake near Indianapolis and gets to fish often, one of his life-long hobbies. He also lost 14 pounds during the off-season. "My wife, she's all into the healthy cooking. The secret is she doesn't buy potato chips and cookies and all that. No snacks in the house," he said. -Mike Bresnahan
Original Story:
http://www.foxsportswest.com/11/28/12...
THE BACKYARD
BEST OF MAXIM
RELATED ARTICLES
In a report by ESPN LA, Lakers point guard Steve Nash hopes to return back to the court soon.  He was able to participate during the Lakers practice at their facility in El Segundo, California.  Nash was to go through an MRI on Monday, but the Lakers decided to just have the Canadian point guard go through some drills with the Lakers strength coach.  As for a return date, the...
With Steve Nash out of town, the Suns could use an attendance boost.credit: edwardandsons.com After losing Steve Nash this offseason, the Phoenix Suns must have figured that they would have to take a step back this season. They made some nice moves in the offseason, adding players like Goran Dragic, Luis Scola, and Michael Beasley, but nobody really expects much of them. At 7-9,...
Both the starting point guard and the back-up point guard will still be out today against the Indiana Pacers.  The Los Angeles Lakers have ruled out Steve Nash and Steve Blake for Tuesday night's game.  Both are battling injury and are not quite ready to return to the court. Mike Trudell of TWC SportsNet said yesterday that both point guards will be unable to play Tuesday...
Mike D'Antoni was never able to get over the hump with the Phoenix Suns. He had a few teams that looked like they could win a championship, but his offensive mindset never translated to a title. When he left Phoenix for the bright lights of New York, with the talent the Knicks had, it looked like D'Antoni might have the chance to be successful there. But things were much...
Los Angeles Lakers head coach Mike D'Antoni told Ramona Shelburne of ESPN that he regrets leaving Steve Nash and the Phoenix Suns for the New York Knicks. "I shouldn't have gone to New York, I should have stuck in there and battled. You don't get to coach somebody like him [Nash] too many times. It's pretty sacred and you need to take care of it. I didn&...
The Lakers are thin at point guard with Steve Nash and Steve Blake injured.
LOS ANGELES Our record is 7-8 right now, said Laker forward Metta World Peace. That means right now were a 7-8 team. Leave it to MWP to say what most of us are thinking. Fact is, they are a game under .500, and most of the time this season they have absolutely played down to their record. Sometimes, even lower, like the rancid offensive performance against Indiana last Tuesday...
Los Angeles Lakers center was challenged by Los Angeles Kings mascot "Bailey" to a free throw and three-point shooting contest. Bailey won both challenges. "Sometimes you have to lose to win," joked Howard afterwards. Howard's free throw average this season is 47.8 percent while his three-point average is 0.00 percent as it should be.  
It's been the Kobe Bryant show over in LA and will remain that way until Steve Nash comes back.  This is an extremely small sample size but Pau Gasol arguably had his best game this year when Nash was handling the ball (the first game of the year!).  He had 19 shots that first game and has only topped 15 shots twice since then.  Is Pau getting old? Obviously, but I don't think...
Now that the rust is coming off the season (except for you Steve Nash), we'll be splitting the Wednesday posts into morning (for recaps) and afternoon (for the tiers).  Check out the previous Centers, Forwards, and Guards tiers.  This week we'll jump right into the guards. There's been some movement on the PG front mainly because I had to move Kyrie Irving down due to his...
That was a question that was asked in a Hoopsworld article. Pau Gasol has been a great fit so far in Mike D'Antoni's Lakers' "Run-N-Gun Lite" (since Steve Nash isn't running things) version of his old Phoenix Suns offense from years ago. You can understand Gasol's frustration with that system since it's a purely offensive heavy system with that...
Is it too early to start the campaign for Rajon Rondo as MVP of the 2012-2013 NBA season? Never too early to try…. It's been almost ten years since Steve Nash or anyone won the MVP with stats similar to Rondo. I'm going to break down Rondo's season so far stat wise vs. Steve Nash's 2004-2005 season to make my point because you can always find stats to make your argument...
NBA News

Delivered to your inbox

You'll also receive Yardbarker's daily Top 10, featuring the best sports stories from around the web. Customize your newsletter to get articles on your favorite sports and teams. And the best part? It's free!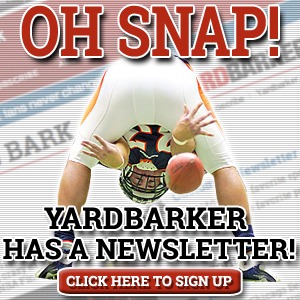 Latest Rumors
The Backyard

Today's Best Stuff

For Bloggers

Join the Yardbarker Network for more promotion, traffic, and money.

Company Info

Help

What is Yardbarker?

Yardbarker is the largest network of sports blogs and pro athlete blogs on the web. This site is the hub of the Yardbarker Network, where our editors and algorithms curate the best sports content from our network and beyond.