Found December 26, 2012 on Laker Nation:
PLAYERS:
Steve Nash
,
Pau Gasol
,
Kobe Bryant
,
Dwight Howard
,
Carmelo Anthony
,
Tyson Chandler
,
Jodie Meeks
,
Michael Wilbon
TEAMS:
Los Angeles Lakers
,
Dallas Mavericks
,
Indiana Pacers
,
New York Knicks
Photo courtesy of Victor Decolongon, Getty Images.The Lakers may have won three games in a row before Steve Nash returned to the active roster, but they didn't win like they did tonight or three days ago up in Oakland. When Nash went down with an injury ealier in the season, the Lakers did their best (some would say not really) to get by without him, but a different Laker team showed up in practically every game. One night, they're blowing out the Dallas Mavericks and then in the following game, they're losing to the Indiana Pacers. The team wasn't exactly unraveling, but it was obvious they needed some direction; or maybe director is more like it.Enter Steve Nash on Christmas Day, letting a floater fly and then rising up for a quick jumper to get the Lakers on the board. Some two minutes after that, he sends a pass to Pau Gasol for a midrange and then sends another his way for a rare three-pointer. That's just typical Nash – scoring with precision or doing what he does best – setting up plays, and that's exactly what he did today.The last time these two teams met in the Big Apple, the Knicks owned the Lakers; but that was without Steve Nash and Pau Gasol, both who made quite the impact on today's game. Neither team led by double figures and the lead changed on 10 occasions. It was an exciting game to celebrate the holidays, especially with the Laker win. • Metta World Peace – MWP has been the Lakers' MVP this season – no question about it. Kobe Bryant may be having a phenomenal season despite it being his 17th year, and Dwight Howard is the exciting new enforcer on the team, but it is Metta who consistently comes out fighting. He scored 16 of his 20 points in the first half, and then spent the second seemingly glued to Carmelo Anthony. He even got tangled up with Tyson Chandler fighting over a loose ball and ended up with a long gash across his upper arm as a result. He also added seven rebounds and a steal to his stat line. He even fouled out of the game.• Steve Nash – 16 points on 10-12, 11 assists, six rebounds – not bad for a guy who was only playing in his second game after being out for almost two months. And it's somewhat misleading, because Nash did so much more than his stat line reads. His presence seems to be galvanizing this team. In the last two games, the Lakers fell behind, but never gave up and that's in large part to Nash.• Pau Gasol – Mike D'Antoni should have arranged that dinner with Pau Gasol as soon as he got to L.A. Whatever it was the player and coach discussed over dinner a few days ago, it's doing something right. Pau looked more engaged and confident in this game than he's looked in the recent past (three-pointer, hello!), and his game was punctuated by an inbounds pass that he received from Nash late in the fourth quarter, and which he drove into a white open lane to the hoop for a dunk. He finished with 13 points, eight rebounds, six assists, a steal and a block.• Kobe Bryant– 34 points on 14-24 from the field, five rebounds, a block and just a singular turnover. Bryant was locked into this game, and for another chance to go up against his good friend, Carmelo Anthony, no problem. This was the ninth game in a row in which Bryant scored 30+ points.• Defense – …led by Dwight Howard. Aside from yet another double-double (14 points and 12 rebounds), Howard converted on six of his nine free throws and guarded the paint as he usually does, preventing the New York Knicks from getting too many easy baskets. The Knicks only scored 26 points in the paint on 13-31 tries, while the Lakers had a field day, scoring 46 points on 23-38 from inside the same area.• Scoring together – The Lakers had five players in double figures.• Turnovers – Just 12 turnovers today, a welcome sight after some inexplicably sloppy games.LOW POINTS:• Jodie Meeks – He played almost 22 minutes but only managed to hit one of two free throws. He went just 1-6 from the field (0-4 from downtown)Michael Wilbon said it best during the half-time show. The Lakers look like a different team in these last couple of games. They haven't reached their full potential yet, but they are playing with a certain spirit about them – a drive – that certainly wasn't there before Nash's return. That's five wins in a row – it may not be comparable to the longer winning streaks in the league, but it's just a positive sign that the Lakers are headed somewhere good.And with that, all of us here at Laker Nation hope that your Holiday Season has been a joyful one!Box Score The post Nash Orchestrates Christmas Day Win Over Knicks appeared first on Laker Nation.
Original Story:
http://lakernation.com/nash-orchestra...
THE BACKYARD
BEST OF MAXIM
RELATED ARTICLES
EL SEGUNDO, CA - When the story is written on the Lakers 2012-2013 season, the final chapter will likely be titled BSN-ASN as in Before Steve Nash-After Steve Nash. Prior to the point guards successful return Saturday night against Golden State, the Lakers were spinning out of control, seemingly unable to put together minutes of consistency, let alone entire games. Their record...
Steve Nash has been back two games and everyone, including the Lakers, can see the difference the seasoned point guard has been for the Purple and Gold.  In the game against the Golden State Warriors, he was able to get his teammates involved and still make some crucial shots.  Against the New York Knickerbockers on Christmas Day, he really showed basketball fans he is still a...
The ability of Steve Nash to help run the offense may extend Kobe Bryant's career.
Victor Decolongon/Getty ImagesWhat a Merry Christmas it was at the Staples Center as the Lakers extended their winning streak to 5 games and defeat the New York Knicks. This was the second game back for Steve Nash and experts who predicted he would not make much of a difference were dead wrong. Nash has made this Lakers team gel perfectly on the offensive end as Dwight Howard is...
Steve Nash is back in the Los Angeles Lakers' lineup after seven weeks on the sideline, and he might see an old friend on the floor for the first time this season against the Knicks on Christmas Day. Forward Amare Stoudemire returned to practice last week. Coach Mike Woodson wasn't ready to declare Stoudemire ready to start, but the All-Star might be able to come back from...
Los Angeles Lakers forward Pau Gasol was diagnosed with plantar fasciitis on Thursday, according to the Lakers. Lakers annouce that an MRI performed on @paugasol's right foot revealed plantar fasciitis. However, he's probable for Friday's game. — Mike Trudell (@LakersReporter) December 28, 2012 Plantar fasciitis is inflammation of the thick tissue on the bottom of...
Every morning, we will give you five things from the night before in the NBA to start your day. 1: Curtains up It was only Steve Nash's second game back for the Lakers, his second game in that familiar Los Angeles uniform (well, Tuesday it was not the familiar uniform, but you get the phrase). He was never going to be a cure-all. Nash wasn ot going to come in to the Lakers...
2-3 weeks. That puts us in late January. And this is crucial for the Lakers and Steve Nash's legs. See, Blake can space the floor and give Nash some much needed minutes of rest. Cause if the Lakers have any intentions of making a run in the playoffs, they're gonna need Nash's legs fresh.
Steve Nash returned Saturday for the Los Angeles Lakers after missing 24 games this season with a small fracture in his leg.  The Lakers hope Nash can balance out the offense.   "We'll find a natural balance, but Kobe's going to take the most shots," said Nash. "He's our best player and a great scorer, and the ball should be in his hands or should be...
It's that time again, join me and the Fantasy Nomad, Michael Pichan tonight at 9:30 pm EST on our weekly fantasy basketball show Rotoinfo.com Basketball Breakdown. Some topics to be discussed tonight: 1. Return of Steve Nash 2. Raymond Felton injury, who benefits? 3. Dorell Wright 4. Hakim Warrick 5. Toronto front court and the return of Kyle Lowry 6. Eric Gordon's return, who...
Every week, our staff writers chime in on the trending topics, rumors and storylines around Laker Nation. In today's Christmas Day edition of State of the Nation, they take a look at the Lakers match up with the surprisingly hot New York Knicks, and give their best shot at telling you exactly how it's going to go down at Staples Center on Tuesday. Kobe Bryant (1) and Carmelo...
NBA News

Delivered to your inbox

You'll also receive Yardbarker's daily Top 10, featuring the best sports stories from around the web. Customize your newsletter to get articles on your favorite sports and teams. And the best part? It's free!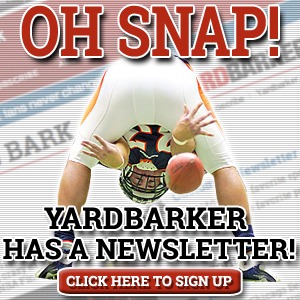 Latest Rumors
Best of Yardbarker

Today's Best Stuff

For Bloggers

Join the Yardbarker Network for more promotion, traffic, and money.

Company Info

Help

What is Yardbarker?

Yardbarker is the largest network of sports blogs and pro athlete blogs on the web. This site is the hub of the Yardbarker Network, where our editors and algorithms curate the best sports content from our network and beyond.