Found January 15, 2013 on BlackSportsOnline:
There's nothing more entertaining, than when NBA beefs go back and forth like silly rap beefs.  It seems that Bulls guard Nate Robinson and Knicks forward Steve Novak are embroiled in such foolery. As we reported Robinson felt the need to mock Novak's championship belt celebration during a Bulls blow out over the Knicks.  Novak fired back during his interview by calling Robinson "Little Nathan" and said he "hopes the 5-foot-9 guard achieves his goal of one day being just like Novak when he grows up." Robinson doing his best Nas impersonation, fired back last night while being interviewed on NBA TV.  In the video courtesy of Larry Brown Sports, Robinson gives Novak a shout out. "Shout-out to my favorite player in the whole wide world, Steve Novak." Like most beef's keep it on wax fellas,or in this case on the court.
Original Story:
http://feedproxy.google.com/~r/blacks...
THE BACKYARD
BEST OF MAXIM
RELATED ARTICLES
HIS 'FAVORITE PLAYER'
Either Chicago Bulls guard Nate Robinson and New York Knicks forward Steve Novak genuinely dislike each other, or they enjoy using the media to flirt with one another. Over the weekend, Robinson mocked Novak's three-point celebration a couple times during the Bulls' win over the Knicks. Novak was asked about it after the game, and he called Robinson "Little Nathan" and...
Chicago Bulls legend Scottie Pippen met pop superstar Lady Gaga at last Tuesday night's "Evening With the Chicago Bulls" charity event at the United Center. Lady Gaga attended the event with her boyfriend Taylor Kinney, who currently stars on the NBC television show Chicago Fire. The photo below features Kinney and Lady Gaga along with Pippen and his wife, Larsa...
The feud between Kevin Garnett and Carmelo Anthony just got a little, well, weird. By now Anthony has long since served his one-game suspension for waiting by the Celtics' team bus for Garnett after last Monday's 102-96 Boston victory. Regardless of Anthony's intentions, the mid-game exchange between the two certainly got heated, and now we may have a little more clarity as...
In this day and age of extreme technology, there are people who believe the government, your employer, and anyone else with skills is listening to your conversations. We've heard rumors of the Saints taping what goes on in the opposing teams press box for an advantage.  What happens though when the guy that signs your checks may have you on surveillance, and you can't figure...
Listen up! Talk trash to Carmelo Anthony at Madison Square Garden and you may wind up on tape. Days after Anthony's overreaction to some bad words led to an NBA suspension, MSG chairman James Dolan had listening devices monitoring everything said to and by Anthony, according to a report in the Newark Star-Ledger. The report Monday said Dolan had two MSG Network audio technicians...
New York Knicks forward Carmelo Anthony appreciates team owner James Dolan looking out for him. Dolan ordered that microphones be placed near the court in Madison Square Garden for last Friday's game against Chicago to record conversations going on around Anthony in an attempt to document any trash talking. ESPN.com reported this week that the Knicks weren't trying to...
This is getting pretty weird. Reports came out that Knicks Owner James Dolan had listening devices set up in the Garden to spy on Carmelo Anthony. Some people thought that was crazy and could never happen, but the Knicks are confirming it somewhat, but their reasoning might surprise you. Here is the report from Pro Basketball Talk. Owner James Dolan ordered Madison Square Garden...
New York Knicks forward Carmelo Anthony has had a rough week.  He almost came to blows with Celtics forward Kevin Garnett during and after the ball game. Then reports came out that Garnett told Anthony that his wife LaLa, tasted like Honey Nut Cheerios.   Anthony in the past few days revealed that he's been fasting the past few weeks to gain clarity in his life. Now we understand...
The New York Knicks were suspected of using high-tech microphones to record the on-court chats of their star player Carmelo Anthony — and now there is photographic evidence to prove it. The New York Post has photos of one of the technicians holding the small dish-shaped gadget at Sunday's game against the New Orleans Hornets. The Knicks little Spygate has been cracked according...
If you told me that pop singer Lady Gaga and Chicago Bulls legend Scottie Pippen would be in the same room together, I would have called you crazy.However, Pippen and his wife Larsa met up with Miss Gaga and her boyfriend Taylor Kinney during the "Evening with the Chicago Bulls" at the United Center last week.Below is the picture proof of the meeting:(Courtesy of Terez Owens)
Tweet After the Honey Nut Cheerios incident between Carmelo Anthony and Kevin Garnett earned Anthony a one-game suspension, Knicks owner James Dolan wasn't going to take any more chances. That's why, according to a report, on Friday and Sunday when the Knicks matched up with the Chicago Bulls and New Orleans Hornets, Dolan had in-house [...]
NBA News

Delivered to your inbox

You'll also receive Yardbarker's daily Top 10, featuring the best sports stories from around the web. Customize your newsletter to get articles on your favorite sports and teams. And the best part? It's free!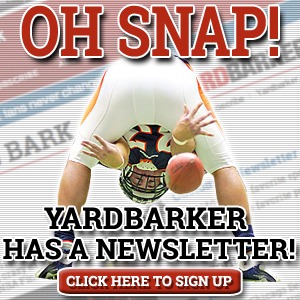 Latest Rumors
Best of Yardbarker

Today's Best Stuff

For Bloggers

Join the Yardbarker Network for more promotion, traffic, and money.

Company Info

Help

What is Yardbarker?

Yardbarker is the largest network of sports blogs and pro athlete blogs on the web. This site is the hub of the Yardbarker Network, where our editors and algorithms curate the best sports content from our network and beyond.