Found October 26, 2013 on isportsweb.com:
Tanking a season is almost like common sense, right?  If you're stuck and have nowhere to go, you start over in hopes of drafting a franchise player and going from there.  Well, I have news for you: the Milwaukee Bucks actually do not believe in tanking.  Good for them.  I like that spirit.  The following is a 2013-14 season preview for the Milwaukee Bucks: Guards (B): Brandon Knight, O.J. Mayo, Luke Ridnour, Gary Neal, Nate Wolters As you can see, the Bucks have a brand new backcourt.  They went from a very offensive-minded backcourt (in Jennings and Ellis) to a fairly similar, but new-look, backcourt.  It's as simple as this: they have Knight instead of Jennings and they have Mayo instead of Ellis.  Look, I know Jennings got a ton of criticism about his shot selection.  But Knight is a clear downgrade from Jennings as he isn't able to create offense the way Jennings could.  I like Mayo a lot, as a scorer, but he can't always be depended on.  Ridnour and Neal are both great backups.  When it comes to Mayo, Ridnour, and Neal, defenses surely won't be able to sag off them as they're dangerous from outside. Forwards (B-): Caron Butler, Ersan Ilyasova, Carlos Delfino, John Henson, Khris Middleton/Antetokounmpo Caron Butler is still a very skilled player but is clearly past his prime and no better than an adequate starter.  Ilyasova has shined bright at some moments in the last two years but injuries have given him a bit of trouble.  Those two at the forward spots, Milwaukee definitely lacks the athleticism most teams have in those positions.  Ilyasova will be a big X-factor for this respectable Milwaukee squad.  Henson could, someday, turn into Milwaukee's future power forward.  He and Larry Sanders could make a very effective duo if Henson learns how to fully utilize his length on the defensive end. Centers (B): Larry Sanders, Zaza Pachulia, Ekpe Udoh (IR) Photo courtesy of bostonherald.com Larry Sanders emerged last year as the best shot blocker in the NBA, consistently making crucial stops near the basket.  Guards who like to attack the rim must beware when Larry Sanders is on the court as Sanders is capable of getting his hands on almost anything.  Although he doesn't have much of a post game, he's usually pretty good at hitting short to mid-range shots if left open.  I like Pachulia as a backup.  He's a highly aggressive center who loves to bang bodies and get dirty down low.  Udoh is targeting a December return. Defense (B): Continuing off what I said about Sanders, Milwaukee's defense starts and finishes with the dominant shot-blocker.  Not only does Sanders block shots, but his presence in the middle is always worrisome for the opposing team.  Sanders will become even more of a factor as he continues to learn the game and possibly become a Tim Duncan-type defender.  For the most part, Sanders will be what keeps the Bucks' defense up to par. Shooting (A-): On paper, the Bucks are actually full of sharp shooters (Mayo, Ridnour, Neal, Ilyasova, etc.)  They will need to hit outside shots on a consistent basis to prove their worth to the rest of the Eastern Conference.  Shooting is the single area that has the potential to advance Milwaukee into one of the last playoff seeds. Follow isportsweb on twitter Experience (B): Milwaukee has a handful of players who have been around in this league long enough to know how to be successful.  However, three of it's five starters are new to the organization as well as a few backup players.  Therefore, it may take some time to gel together. Standing - 11th East: I'm not doubting the Bucks have pretty solid talent and they're likely a better team than they were last season.  I just don't think they have that one player who can lead them to become a winning team.  I can see the Bucks sitting just short of .500 at the season's end. Read more NBA previews here
Original Story:
http://feedproxy.google.com/~r/isport...
THE BACKYARD
BEST OF MAXIM
RELATED ARTICLES
The Milwaukee Bucks trimmed their roster down to themaximum of 15 players Saturday, requesting waivers on guard Trey McKinney-Jonesand forwards Olek Czyz and Stephen Graham. Hit hard by numerous injuries in the preseason, Grahamand Czyz had to play more than expected in early exhibition games. Both gavethe Bucks solid minutes, while Graham mostly played out of position at powerforward...
ST. FRANCIS, Wis. -- Having a sick child takes a toll on a parent, something Milwaukee Bucks center Larry Sanders became very familiar with over the past few days. Sanders' young son, Jasiah, came down with an illness requiring him to be admitted into a local hospital for two days. Sanders was able to bring his son home about an hour before Friday's exhibition game against...
MILWAUKEE -- Both the Milwaukee Bucks and Toronto Raptors will be shorthanded for their preseason finale Friday night at the BMO Harris Bradley Center. The Bucks will be without starting point guard Brandon Knight for the second straight game due to a sore left hamstring, while starting small forward Caron Butler will sit out Friday with a left ankle sprain. Bucks coach Larry Drew...
With the Milwaukee Bucks' season about to arrive on October 30th versus the New York Knicks, here is the offseason primer to what you may have missed during the summer, including some new faces and returning ones as well. Additions: Giannis Antetokounmpo: The Greek freak was picked 15th overall and has drawn comparisons to Kevin Durant, with his thin but long frame.  He is coming...
The Milwaukee Bucks have requested waivers on guard Trey McKinney Jones and forwards Olek Czyz and Stephen Graham. Graham (6-6, 215) appeared in five preseason games and averaged 5.8 points and 1.4 rebounds per game. Czyz (6-7, 240) played in four contests during the preseason and averaged 4.8 points and 1.0 rebound, while McKinney Jones (6-5, 216) played in two games and averaged...
((HT: NBA)) The new floor for the Milwaukee Bucks might have too much wax on it or something... The Bucks-Raptors game was cancelled after a bunch of players hit the floor in a negative, non-fouling manner... Here's the look at the slipperiness... Head ref Danny Crawford said he and the other officials determined the floor was unplayable. "We kept making eye...
Watch as Bucks rookie Giannis Anteokounmpo teaches teammate Zaza Pachulia and the city of Milwaukee how to Dougie. Break it down, young fella!
The Milwaukee Bucks listen to Drake and touch their faces in creepy ways in this "starBucks Drake Hands" parody video.
Friday night's Milwaukee Bucks preseason game at the BMO Harris Bradley Center was called off in the middle of the first quarter due to safety concerns because the court surface was proving to be too slippery. The game against the Toronto Raptors was only the second game held on the Bucks' new home court, which was unveiled with much fanfare last month. Unfortunately...
Officials called off a preseason game between the Milwaukee Bucks and Toronto Raptors because of concerns about the condition of the floor on Friday night. Officials stopped the game with 5:58 left in the first quarter after several players slipped on the court surface in the first few minutes of the game. After about 20 minutes' worth of discussion, an announcement was made...
The Milwaukee Bucks pulled off a 14-9 preseason win over the Toronto Raptors Friday night after the game was called off midway through the first quarter. With 5:58 remaining, officials decided to stop the game at the BMO Harris Bradley Center in Milwaukee after several players slipped on the slick court surface. via The Associated Press The post Bucks Beat Raptors 14-9 After Game...
I can say with full emphasis that this shot by Milwaukee Bucks center ZaZa Pachulia is the best shot of the NBA preseason. It happened in the first quarter of the Bucks game against the Toronto Raptors and check out ZaZa over-the-head no-look shot that somehow found the bottom of the net: *** ZaZa image courtesy of Getty Images
Bucks News

Delivered to your inbox

You'll also receive Yardbarker's daily Top 10, featuring the best sports stories from around the web. Customize your newsletter to get articles on your favorite sports and teams. And the best part? It's free!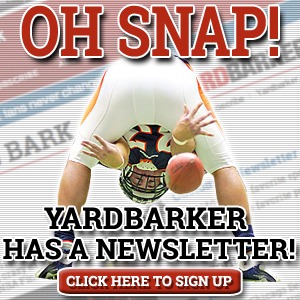 Latest Rumors
Best of Yardbarker

Today's Best Stuff

For Bloggers

Join the Yardbarker Network for more promotion, traffic, and money.

Company Info

Help

What is Yardbarker?

Yardbarker is the largest network of sports blogs and pro athlete blogs on the web. This site is the hub of the Yardbarker Network, where our editors and algorithms curate the best sports content from our network and beyond.