Found April 19, 2013 on isportsweb.com:
This is a rematch of last year's series between the Clippers and the Grizzlies.  In Game 1, the Grizzlies were all over the Clippers until LA came back from 26 points to win the game.  It was a miraculous comeback.  The Clipps ended up taking the series in seven games.  This year, the Grizzlies look for revenge. What L.A. needs to do to win: In last year's series, the Clippers were the better 4th quarter team.  However, the Grizzlies have allowed the least points per game to opponents this year.  We know the Clippers are a team that likes to move quickly up and down the court.  So it's a matter of them still being able to do that or not.  I guarantee we'll be seeing a ton of Paul and Crawford together.  If Mike Conley is assigned to cover Chris Paul, look for Paul to take advantage of him and try to give the Clippers and edge in this series.  If Tony Allen covers Chris Paul, that leaves Conley with Jamal Crawford.  Either way, the Clipps will be constantly attacking Conley. What Memphis needs to do to win: The Grizzlies were a very good team last year.  This year, I believe they have made the necessary adjustment to become a great team.  The replacement of Tayshaun Prince for Rudy Gay gives them more of a defensive lineup.  Marc Gasol, a strong candidate for Defensive Player of the Year, is playing the best defense of his career.  Zach Randolph is still producing at a fairly high level.  He needs to continue to give the team an advantage on the boards.  Memphis will be much more comfortable if they can slow down the pace of the game.  Memphis is a better half court team than the Clippers are.  If they can stop the Clippers from scoring a lot in transition, it will give Conley a better chance to compete with Chris Paul. Key Matchups: Chris Paul vs. Mike Conley: There is no mistaking that Chris Paul is, by far, the better player.  However, as I said before, if the Grizzlies slow down the game it will give Conley a better chance to match up with CP3.  Look for Chris Paul to try and control this series.  I expect him to put the moves on Conley and score at least 20 points per game.  Conley is one of the best in the league at swiping the ball.  However, all you can do against Chris Paul is move your feet and stay in front of him. Blake Griffin vs. Zach Randolph: The Grizzlies tend to succeed when Randolph puts the team on his shoulders.  Z-Bo is the team's best go-to-scorer.  He is also a dominant rebounder.  Both, him and Griffin, are offensive-minded players.  Griffin needs to consistently be able to knock down the mid-range shot.  Scoring near the basket won't always be easy with Gasol defending and Randolph there to secure the rebound. Can Tony Allen shut down Jamal Crawford? Tony Allen is an excellent perimeter defender.  He is great at moving his feet and he gives his matchup no breathing room.  However, Jamal Crawford doesn't care who is guarding him.  He loves to fire away.  If Allen isn't a constant for Crawford, then Crawford will keep letting loose. Prediction: I'm taking a BIG risk here and picking the Grizzlies in Six Games.
Original Story:
http://feedproxy.google.com/~r/isport...
THE BACKYARD
BEST OF MAXIM
RELATED ARTICLES
In this latest State Farm commercial, Clippers point guard, Chris Paul and  his twin brother/State Farm agent, Cliff Paul, reunite over a cup of coffee, sharing tales of their greatest assists.
The Los Angeles Clippers were never in trouble as they cruised to a 112-91 victory over the Memphis Grizzlies on Saturday night. Blake Griffin did not have any "showtime" caliber moments during that game. But there is plenty leftover from the regular season to fill that void. Please click here to watch this video. The post Video: Blake Griffin throws down in his top 10 plays...
LOS ANGELES (AP) -- Chris Paul led seven players in double figures with 23 points, Eric Bledsoe had 15 and the Los Angeles Clippers beat the Memphis Grizzlies 112-91 on Saturday while getting just one dunk in their playoff opener. Chauncey Billups scored 14 points, and Caron Butler and Jamal Crawford had 13 apiece on a night when Blake Griffin was held to 10 points and five rebounds...
The Los Angeles Clippers played above the rim, not enough to live up to their Lob City moniker but enough to beat Memphis at its own rebounding game. Chris Paul led seven players in double figures with 23 points, Eric Bledsoe had 15 and the Clippers dominated the boards in a 112-91 victory over the Grizzlies in their Western Conference playoff opener on Saturday. Chauncey Billups...
Last season when the Los Angeles Clippers took on the Memphis Grizzlies, Chauncey Billups was suited up on the bench due to a torn ACL. After missing 60 games this season due to several different injuries, Billups appears to be ready to go for the Clippers' postseason opener."I'm just excited to be out there and not have to watch, sitting in a suit," Billups said after...
LOS ANGELES The Grizzlies lost the opener of their first-round playoff series to the Clippers 112-91 Saturday night. These three talking points stood out in the aftermath: 1. Rebounding is no small thing The Grizzlies were one of the better rebounding teams in the NBA this season, especially on the offensive boards. But they were pounded relentlessly by the Clippers, who held...
  You would think people would learn to take any comments Charles Barkley makes with a grain of salt by now. He's wrong half the time anyway. Barkley, who is an analyst on TNT's "Inside the NBA," has said on many occasions that he doesn't see the Los Angeles Clippers as true title contenders because they have "no toughness." Well, Los Angeles Clippers forward Caron...
Chris Paul knows the Clippers will have a difficult time keeping Eric Bledsoe long-term -- much less past this season.
In a season of firsts for their franchise, the Los Angeles Clippers are opening the playoffs with a familiar foe. Only this time, they own home-court advantage against the Memphis Grizzlies. Both teams finished the regular season with identical 56-26 records and tied for fourth in the Western Conference. Game 1 is Saturday night at Staples Center. A year ago, the Clippers opened...
It's common knowledge: Stars win in the playoffs. LeBron. Melo. Durant. Chris Paul. Tim Duncan. Dwight Howard. These big names bring ticket sales and (usually) wins where ever they go. Casual fans know them all on sight. But every team has a lesser known player who the fans gravitate to, who's every now and then busts out a move or two that electrifies the crowd, brings ...
Clippers News

Delivered to your inbox

You'll also receive Yardbarker's daily Top 10, featuring the best sports stories from around the web. Customize your newsletter to get articles on your favorite sports and teams. And the best part? It's free!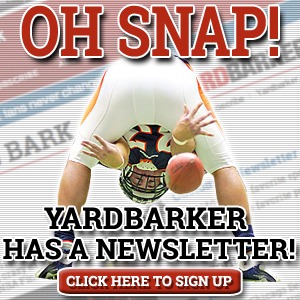 Latest Rumors
Best of Yardbarker

Today's Best Stuff

For Bloggers

Join the Yardbarker Network for more promotion, traffic, and money.

Company Info

Help

What is Yardbarker?

Yardbarker is the largest network of sports blogs and pro athlete blogs on the web. This site is the hub of the Yardbarker Network, where our editors and algorithms curate the best sports content from our network and beyond.