Found October 26, 2012 on Fox Sports Ohio:
PLAYERS:
Carmelo Anthony
,
Allen Iverson
,
Danilo Gallinari
,
Andre Iguodala
,
Kenneth Faried
,
Ty Lawson
,
JaVale McGee
,
George Karl
,
Anthony Randolph
,
Dirk Nowitzki
,
Wilson Chandler
,
Andre Miller
TEAMS:
Denver Nuggets
,
New York Knicks
,
Dallas Mavericks
Well, who wouldve guessed? The Denver Nuggets are just as relevant as they ever were with Carmelo Anthony. Thats not meant to trash Anthony, but remember when everyone thought the Nuggets were headed for a decade-long rebuilding period when Anthony was traded to New York two seasons ago? Remember when the Nuggets lineup consisted of Anthony and Allen Iverson and everyone figured they were Finals-bound? Now the Nuggets main names include Danilo Gallinari, Andre Iguodala and Kenneth Faried. Doesnt have quite the sizzle of Melo and (the origina) AI, but as weve seen, pizzazz doesnt always mean success. Truth is, these Nuggets should be able to run and gun and have just as much fun as any team Denver has seen in some time. Besides Gallinari, Iggy and Faried, the lineup features speedy point guard Ty Lawson, kind of a one-man Disneyland with the ball. He scoops, he scores, he tosses the occasional alley-oop. When he does, athletic center JaVale McGee is often the man on the finishing-the-business end. None of this is to say the Nuggets are Finals-bound. But they know their roles, they know coach George Karl, they know how to play hard and play together. That counts a lot in these days of teams longing for The Next Great Superstar. But as the Nuggets have discovered within the past decade, that type of thinking doesnt always work. What they have now, in fact, seems to work every bit as well. Last season: 38-28, lost to L.A. Lakers in first round of playoffs. Coach: George Karl (25th year, 1,074-731) Top returnees: SF Danilo Gallinari, PG Kenneth Faried, PG Ty Lawson, C JaVale McGee. Key additions: SG Andre Iguodala, PF Anthony Randolph. X-Factor: Faried. You could make the case that he put together the NBAs second-best rookie season last year (behind Clevelands Kyrie Irving). Faried immediately became the garbage man the Nuggets needed, a young player willing to do the dirty work with the ability to score when needed. If Faried continues to grow, the Nuggets should stay right on track to eventual Western Conference authority. Strengths: Offensively, the Nuggets are mostly an opportunistic running team, keeping the ball moving and hitting the open man. What a concept, huh? Iguodala should fit right in, and perhaps flourish as a constsient scorer like he did during his early years in Philadelphia. When things slow down, Gallinari has proved to be a dangerous weapon in the half-court, his size and shooting stroke enabling him to score from just about anywhere. With good health, we may be talking about the next Dirk Nowitzki here. Weaknesses: The Nuggets could still use a little work at the defensive end -- which is important because defense is the best way to start the break. Too often, they settle for taking the ball out following a made basket by the opposition. Other than Wilson Chandler and Andre Miller, there isnt a whole lot of proven and consistent depth here, either. Outlook: People forget that the Nuggets took the playoff-savvy Lakers to seven games in the first round last season. They did it via cohesiveness and simply beating L.A. down the floor. That type of experience, while painful at the time, only builds confidence and motivation. With those things, the Nuggets will be a true threat. Prediction: 50-32. 2012-13 schedule: Link FOX Sports: Nuggets home Follow Sam Amico on Twitter @SamAmicoFSO
Original Story:
http://www.foxsportsohio.com/10/26/12...
THE BACKYARD
BEST OF MAXIM
RELATED ARTICLES
The Nuggets have waived Anthony Carter and Ben Uzoh.
After signing a 4 year, $44 million extension this offseason, the Denver Nuggets are looking for big things from JaVale McGee. The team doesn't like to spend big time money on long-term extensions, as shown through the dealing of Carmelo Anthony to New York a few years ago. This is what makes the signing so interesting. The Nuggets really think McGee is worth $44 million? Nonetheless...
Lala Anthony isn't the only one in the family with a brand association with Market America. Carmelo Anthony has his Isotonix for Champion Blend – a supplement designed to give your body the maximum benefit from vitamins and minerals. Melo hosted a launch event in New York aboard a yacht and of course his wife Lala [...]
Since being inked to his $44 million contract, JaVale McGee has been unable to rip Denver's starting center spot from the clutches of Kosta Koufos, who was signed for $9 million this summer.  Disappointing?  Well, yeah, I guess… but watch how he catches halfcourt alley-oops from Andre Miller and dunks them over Blake Griffin! (:19) See, I think Masai Ujiri knew exactly what...
Categories: 76ers BREAKING NEWS NewsTags: 76ersAndrew BynumEvan TurnerJrue HolidayThaddeus YoungLess than a week from today, the Philadelphia 76ers will play their first game of the season when Andre Iguodala and the Denver Nuggets come to town on Halloween night. The 2012 season is the first in some time that basketball fans in Philadelphia have had good reason to be excited...
Following the Dwight Howard trade, the Denver Nuggets were able to snag Andre Iguodala and brought him to the Mile High City, but how will the addition affect the Nuggets when they face off against the Los Angeles Lakers? Series Matchup 2011-2012: 3-1 Los Angeles Lakers Series Matchup 2012-2013: November 30th, December 26th, January 6th, February [...]The post Denver Nuggets Season...
  Following the Dwight Howard trade, the Denver Nuggets were able to snag Andre Iguodala and brought him to the Mile High City, but how will the addition affect the Nuggets when they face off against the Los Angeles Clippers? Series Matchup 2011-2012: Series Matchup 2012-2013: December 25th, January 1st, March 7th Ty Lawson has [...]The post Denver Nuggets Season Preview: Los Angeles...
Earlier this offseason, Carmelo Anthony made a vow that he was tired of scoring 30 or 40 points on a nightly basis, and now had more of a focus on doing whatever it took to win games. If that took defending and rebounding, and only taking 12  shots, he would do it. This is admirable for anyone who knows Melo's game. He shoots a lot, but a lot of the time, he is very good at it...
Ten years ago, can you believe it? The '02-'03 season ended with Syracuse cutting down the nets in New Orleans, site of so much horror for the program before that. The kid that erased all those ghosts was back in the Dome this week. The critics can howl all they want about Carmelo Anthony. You've heard it all before: He doesn't make his teammates better. He doesn't play...
In the 2003 NBA draft, the first five picks were LeBron James, Darko Milicic, Carmelo Anthony, Chris Bosh and Dwayne Wade. Now that's a great top 5! Probably as good as you will ever see! Coming out of college, Carmelo Anthony was considered one of the top players in the nation in college basketball. He was a star at Syracuse University, averaging 22.1 points per game and 10 rebounds...
Since the Knicks signed Amare Stoudemire in 2010, and acquired Carmelo Anthony in 2011, Knicks fans have come out of the woodwork and brought passion back to the Garden. This off-season, they continued to build around their superstars and added veteran toughness and leadership in Jason Kidd, Kurt Thomas, Rasheed Wallace, and Marcus Camby. Yes, these guys make the Knicks one of the...
NBA News

Delivered to your inbox

You'll also receive Yardbarker's daily Top 10, featuring the best sports stories from around the web. Customize your newsletter to get articles on your favorite sports and teams. And the best part? It's free!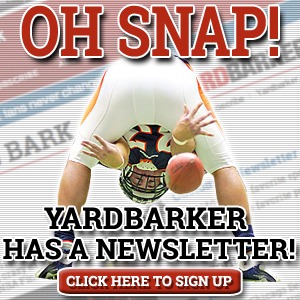 Latest Rumors
The Backyard

Today's Best Stuff

For Bloggers

Join the Yardbarker Network for more promotion, traffic, and money.

Company Info

Help

What is Yardbarker?

Yardbarker is the largest network of sports blogs and pro athlete blogs on the web. This site is the hub of the Yardbarker Network, where our editors and algorithms curate the best sports content from our network and beyond.