Found November 23, 2012 on Waiting For Next Year:
PLAYERS:
Terry Stotts
,
Anthony Davis
,
Austin Rivers
,
Michael Kidd-Gilchrist
,
Dwyane Wade
,
Rudy Gay
,
Zach Randolph
,
Serge Ibaka
,
Kevin Garnett
,
Dion Waiters
,
Kyrie Irving
,
Alexey Shved
,
Ricky Rubio
,
David Kahn
,
Andrei Kirilenko
,
Nikola Pekovic
,
Kevin Love
TEAMS:
New Orleans Pelicans
,
Charlotte Hornets
,
Miami Heat
,
Memphis Grizzlies
,
Oklahoma City Thunder
,
Boston Celtics
,
Cleveland Cavaliers
,
Minnesota Timberwolves
With the Cavaliers having two rookies playing prominent minutes, WFNY thought it would beneficial to see how the fresh meat around the league is faring in comparison with the Cavalier rookies. Each week, we'll have NBA rookie power rankings where we'll rack and stack the freshman class of the NBA. The rankings will be weighted with the most recent games carrying the most importance, but the whole body of work will be taken into account. Great beards and great celebrations may also play a large factor in rankings. What 's the most American 24 hour period in the year? 4th of July? Veteran's Day? The real answer is from noon on Thanksgiving to noon on Black Friday. It starts with sitting on the couch watching football. Followed by a meal so large that people strategically wear pants with an elastic wasteband to allow their stomach to stretch. Then it's back to the couch for more football. Followed of course by more over eating, this time deserts. Then guess what? More football.  And that's just the first twelve hours. At midnight we flock to retailers all over the country, shove strangers out of the way, and wrestle 30 others to get our hands on a $100 laptop, a tradition that would make Frank Constanza's Feats of Strength look like a game of paddycake. After it's all over we're forced to go back to our normal lives. It's no longer acceptable to assault a stranger in the quest for gadgets, nor is it acceptable to pour gravy over your entire plate. Fortunately for us, on the day after Thanksgiving the NBA returns. The NBA takes a day off during this most American 24 hours, but returns in full force on Friday. So after you get home from your shopping, eat your left over turkey sandwhich, take your inevitable nap, and eat some more turkey, give yourself a much deserved rest and flip on some roundball.  Without further ado, this week's rookie rankings. 1. Damian Lillard (Last Week: 1) Lillard has been a gem to watch so far during his rookie campaign. Night in and night out the rookie guard is leaving his mark on the game, and as you might expect with a rookie, the results have been mixed. In the last week, Lillard recorded his two highest scoring games, as well as a career high in turnovers. Rookie guards in the NBA are like your buddy who just got out of a long relationship and he's out at the bar for the first time in a while. You can't help but get excited about the potential they have, but not having seen much of them in action, you definitely can't trust them to always make the right play. He's capable of pulling off moves that dazzle you, but decisions that baffle you. It takes some time to get in the rhythm of things, to know when to try and score, and when passing is the safe decision, but all the while it's entertaining as hell to watch. Lillard continues to lead all rookies in scoring, assists, and steals, but also is the rookie leader in turnovers at 3.5 per game. Ball security will continue to be a concern for Lillard, but the last thing you want to do with a rookie guard, or a newly single buddy, is rattle his confidence. Instead of cautioning them, you give them the green light. The Blazers' guard has embraced the green light given to him, by coach Terry Stotts, but he must be careful of settling for too many jumpers as 61% of Lillard's shots have come from 16 feet or farther out. Despite all the outside shots, he is still shooting 45% from the field. It's easy to fall in love with the jumper when it's falling, but Lillard must force his way into the lane to create for his teammates and give himself some easier looks at the hoop. Anthony Davis (Last Week: 2) When Anthony Davis is on the court, he is something special to watch, but The Brow is struggling to stay on the court. Davis has only played in 6 out of the Hornets' 10 games, missing the last two with an ankle injury. Davis hasn't played since last Saturday at Milwaukee where scored a career high 28 points to go with 11 rebounds. Davis' 28 and 11 are worth noting, but the most significant stat from last Saturday was the number of blocks Davis recorded. For the first time in the NBA, or college, or probably in his whole life, Anthony Davis did not record a blocked shot. Still, Davis leads all rookies, and is top ten in the league with 2.2 blocks a game. Davis continues to lead all rookies in efficiency, EFF48 1 , rebounding, blocks, and is second in scoring. He is still Vegas's favorite to win Rookie of the Year, but to win hardware, you need to be playing. With Davis out, the Hornet's spotlight shines on fellow rookie Austin Rivers. Rivers has struggled so far this year and doesn't appear to be the solution to stopping New Orleans' five game skid. For Rivers, the Hornets, and those who bet on The Brow to win ROY, Davis's return can not come soon enough. 3. Michael Kidd-Gilchrist (Last Week: 3) In case you were distracted by Thanksgiving, football, or any other of the 31 NBA teams, it's worth noting that the Charlotte Bobcats have won 5 of their last 6 games. "The same Bobcats that didn't win their fifth game until 36 games into the season!?" Not quite. The 2012-13 Bobcats have one big difference from last year's team. Three words, one hyphen. Michael Kidd-Gilchrist. The Bobcats are 40 points better when MKG is on the court versus when he's on the bench. That's the greatest difference in +/- of any rookie. His 1.4 estimated wins added is second among rookies 2 and equal to the likes of Dwyane Wade, Rudy Gay, Zach Randolph, Serge Ibaka, and Kevin Garnett. To be in the company of those names in a category that measures how much you help a team win is extremely impressive. Article after article about the Bobcats' success this season emphasizes the intangibles Kidd-Gilchrist brings to the team. The kid 3 is a winner. Last year, the Bobcats had the worst season in NBA history, and this year they have the league's seventh best record. Last year's roster looks almost identical this year's except for those three words and one hyphen, Michael Kidd-Gilchrist. Third among rookies in efficiency, second in rebounding, fourth in scoring, and shooting 47% from the field, MKG does a little bit of everything. Everything except hit outside shots. Kidd-Gilchrist still has only made four shots not at the rim all season. For someone to score as much as he has, and efficiently as he has, it's astounding that he has only made four jump shots all year. Once he develops his outside shot, the sky is the limit for MKG. In MKG Bobcats fans finally have hope, and as The Shawshank Redemptiontaught us, "Hope is a good thing, maybe the best of things, and no good thing ever dies". 4. Dion Waiters (Last Week: 4) After the top 3, there is a significant drop off in production from this rookie class. Waiters is avearging 13.9 PPG, leaving him third among rookies in scoring, but in his last four games he is 16 of 67 from the floor, good for 24%. He's shooting well from behind the arc at 42%, but is only 35% on 2-point field goals. Coming into the season everyone expected Dion to get his points at the rim, not 3-point land. Dion needs to find a better balance between outside and inside to start scoring more efficiently. Dion Waiters is not shy, which is a good quality of a rookie guard or your newly single buddy,  but when Dion's shot isn't falling he must find other ways to help his team win. In the Cavs win over Philladelphia this week, Waiters recorded a career high 6 assists and career high 4 rebounds. 6 assists and 4 rebounds may not seem like much to brag about, but it's a positive step in the right direction for Dion. With Kyrie Irving out for the next month, the weight on Dion Waiters' shoulders will only increase. He'll see more time as the team's primary ball handler, which should lead to more assists as well as more turnovers, and will also see more plays as the team's primary scoring option.  Over the next month, Waiters will be thrown into the pressure cooker, Cavs fans can only hope he enters as a lump of coal and comes out a shiny, new diamond. 5. Alexey Shved (Last Week: Honorable Mention) "White Russia" 4 " as he is being referred to, had a career night last Friday against Denver. Shved scored a career high 22 points and dished out a career high 7 assists. He leads all rookies in assist percentage 5 and has an almost identical EFF48 to Damian Lillard. In the two games where Shved has played 30 minutes or more, White Russia is averaging 19 points and 6 assists. The Timberwolves are .500 and Shved is making fans forget about their other European point guard, Ricky Rubio. Shved is nowhere near the passer that Rubio is, but his scoring is farther along than the Spaniard. Shved is a hybrid point/shooting guard and I am salivating at the idea of Rubio at the 1 and Shved at the 2. T-Wolves general manager, David Kahn, is often the butt of many jokes, but recently Kahn has been pressing some of the right buttons. Russians Andrei Kirilenko and Alexey Shved were two under the radar free agent signings this summer that are paying dividends early on, as well as big man Nikola Pekovic. Kahn is quietly adding quality European talent around Kevin Love that could help the 'Wolves make the playoffs for the first time since 2004, or at least make them a popular draw on League Pass. Honorable Mention Harrison Barnes, Andre Drummond, Jonas Valenciunas Zeller Report Since returning from his concussion, Zeller has been fairly quiet for the Cavaliers. He adds much needed depth to a thin Cavaliers' roster, but has yet to make a serious impact in a game this year. Although Zeller hasn't shined, he also hasn't stunk it up. The more time on the court, the more comfortable Zeller will get. All-Rookie 2nd team appears to be a realistic goal for Zeller and Cavs fans. ___________________________________ EFF48 measures how affective a player is while on the court Lillard is first. No pun intended. My second favorite nickname, behind "Chandler Bang" The percentage of team field goals assisted on while on the court
Original Story:
http://www.waitingfornextyear.com/201...
THE BACKYARD
BEST OF MAXIM
RELATED ARTICLES
Random thoughts on the Cavaliers 108-104 loss at Orlando on Friday: If you want perfection from Dion Waiters or the Cavs, youd better grow up. Because Waiters and the Cavs still have to do it themselves. But this game showed a lot of things -- namely, that Waiters has loads of potential and when hes on, the Cavs have a fighting chance. Does Waiters have to mature, basketball...
In this Cavaliers film room session, we'll break down the Cavaliers' defense, focusing on what happens when the opposing team's point guard gets into the paint. Over the first eight games of the season, the defense was atrocious. Starring in that atrocity was star point guard Kyrie Irving's sieve-like qualities when it comes to staying in front of his man, fighting through...
Dwight Howard's gone, but the Cavaliers' funk against the Magic lives on. The wine and gold dropped their 10th straight game against Orlando, and despite a 25-point effort from Dion Waiters, lost to Orlando 108-104 in Amway Center. The Cavs got solid contributions from Anderson Varejao (19 points, 17 rebounds), Jeremy Pargo (15 points on 7-of-14 shooting), and Tyler Zeller (13...
Check out Orlando big man Glen 'Big Baby' Davis as he goes flying into the stands against the Cleveland Cavaliers yesterday, colliding with some of the Magic fans for a court side disaster! It looks like he takes out a nice couple in the third row who seem to be fine after the carnage is finally cleared out.  Not a bad jump by the big man.  Maybe next time he will make...
Win or lose, at the end of this game I couldn't help but be proud of my beloved Cavaliers. Without Kyrie Irving, they were competing with the reigning NBA Champs on their home court — although, the advantage isn't really a notable one. But yet, a loss like this still hurts. The most prolific three-point shooter in NBA history, Ray Allen, made the game-winner, Dwyane Wade was...
Today, as a special version of While We're Waiting, I wanted to go team-by-team as I share what I'm thankful for here in November 2012. For more WFNY thanks, stay tuned at 10 a.m. Cleveland Cavaliers I'm thankful for a very pleasant Thanksgiving Eve surprise in new Cavs point guard Jeremy Pargo: "Pargo's 28 points was surprising enough, but it was doubly impressive considering...
Cavs fans have been challenged to process an overwhelming amount of new information since Sunday. Kyrie Irving is now out of the lineup. Tristan Thompson is wearing a mask. The first trip to Philadelphia for Dion Waiters is over. CJ Miles is back up off Byron's bench while Daniel Gibson is now injured and on it.   And Jeremy Pargo happened, too. After losing...
Yesterday, we received word that Jeremy Pargo will be the new starter at the point for the Cleveland Cavaliers in the absence of star Kyrie Irving. Today, we're learning more about how exactly Byron Scott plans to manage Irving's lost minutes. Scott said that rookie guard Dion Waiters, who already has averaged 29.2 minutes per night in the first 10 games, will probably receive...
However unlikely, Jeremy Pargo is trying to continue softening the blow of a major absence for the Cleveland Cavaliers. The Orlando Magic are just looking for some consistency. Pargo looks to build on the best performance of his career and help the visiting Cavaliers beat the Magic for the first time in 10 tries Friday night. Cleveland's already rough start looked to get much...
Game time: Friday at 7 p.m. ET TV: FOX Sports Florida However unlikely, Jeremy Pargo is trying to continue softening the blow of a major absence for the Cleveland Cavaliers. The Orlando Magic are just looking for some consistency. Pargo looks to build on the best performance of his career and help the visiting Cavaliers beat the Magic for the first time in 10 tries Friday night...
ORLANDO, Fla. (AP) -- Jameer Nelson had 22 points, Arron Afflalo scored 19 and the Orlando Magic rallied to beat the Cleveland Cavaliers 108-104 on Friday night. Glen Davis had 10 of his 16 points in Orlando's big fourth quarter. Nelson also finished with six assists. Dion Waiters scored 25 points for Cleveland, and Anderson Varejao had 19. The Magic have won two straight...
The Canton Charge, the exclusively owned and operated D-League affiliate of the Cavaliers, begin their season tonight at home at the Memorial Civic Center. With opening-day on the mind, the Charge and the Cavaliers officially announced the team's initial roster with a few last-minute changes. Here's a look at the team as listed by position, name, age and university: G Kevin Anderson...
NBA News

Delivered to your inbox

You'll also receive Yardbarker's daily Top 10, featuring the best sports stories from around the web. Customize your newsletter to get articles on your favorite sports and teams. And the best part? It's free!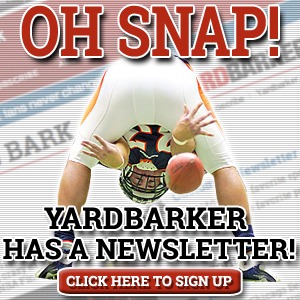 Latest Rumors
Best of Yardbarker

Today's Best Stuff

For Bloggers

Join the Yardbarker Network for more promotion, traffic, and money.

Company Info

Help

What is Yardbarker?

Yardbarker is the largest network of sports blogs and pro athlete blogs on the web. This site is the hub of the Yardbarker Network, where our editors and algorithms curate the best sports content from our network and beyond.