Found October 25, 2012 on Fox Sports Wisconsin:
NEW YORK (AP) NBA Commissioner David Stern will retire on Feb. 1, 2014, 30 years after he took charge of the league. He will be replaced by Deputy Commissioner Adam Silver. The announcement came at an NBA Board of Governors meeting Thursday. Stern told owners during their two days of meetings of his plans, and the board unanimously decided Silver would be his successor. "I decided that things are in great shape and there's an organization in place that will ultimately be led by Adam that is totally prepared to take it to the next level," Stern said. Stern, who turned 70 last month, became commissioner on Feb. 1, 1984. He has been the NBA's longest-serving commissioner, establishing the league's brand around the world, presiding over team expansion and overseeing the establishment of the WNBA and the NBA Development League. "You'll be remembered as the best of all-time," Silver told Stern, sitting to his left on a podium during a news conference. Stern said he decided on his plans about six months ago, having guided the league through a lockout that ended nearly a year ago. He said the league is in great shape and he's confident in Silver, who has been the league's No. 2 since 2006. "I don't know what else to say other than to recite what I told the owners yesterday in executive session," Stern said. "I told them that it's been a great run, it will continue for another 15 months, that the league is in, I think, terrific condition." Stern is the one who got it there, taking over what was a second-rate league with little-to-no TV presence and making basketball one of the world's most popular sports. He cited the success of the 1992 Dream Team, which helped spark the league's international explosion, but said everything "just keeps getting better than that." "For the most part it's been a series of extraordinary experiences and enormous putting together of pieces of a puzzle and it goes on forever," Stern said. "And there will always be another piece of the puzzle and so the question is at what point do you decide that, let someone else do it? That's the point that I'm at now." Stern was the league's outside counsel from 1966-78, then its general counsel before becoming executive vice president of business and legal affairs from 1980-84. He replaced Larry O'Brien to become the league's fourth commissioner. The NBA has added seven franchises during his tenure. Minnesota Timberwolves owner Glen Taylor, the outgoing chairman of the Board of Governors, said the average player salary had grown from 250,000 when Stern took over to 5 million. The league has reported huge increases in ticket and merchandise sales, and TV ratings are at an all-time high. "There are all kinds of other business metrics we could look at that would define David as one of the great business leaders of our time," Silver said. Taylor and Spurs owner Peter Holt, who is replacing him as board chairman, said the owners will work to have a contract with Silver by April. Silver came to the NBA 20 years ago and served a variety of positions before becoming the deputy commissioner in 2006. Stern said he wouldn't leave until he knew there was a successor ready, and he has repeatedly said Silver is ready for that role. Stern said he would always remain available to take a call and help the league. "Life is a journey and it's been a spectacular journey," Stern said. "Each step along the way there are things that you have to do, things that you maybe wish you hadn't done. But I don't keep that list, and so I'm totally pleased and I'm particularly pleased with the transition of which we're now embarking."
Original Story:
http://www.foxsportswisconsin.com/10/...
THE BACKYARD
BEST OF MAXIM
RELATED ARTICLES
Adam Silver will finally have his chance to get booed during the first round of the NBA draft, because David Stern is quitting during the 2014 NBA season. Stern said: "The Board has selected Adam Silver to succeed me as NBA Commissioner, and I am very pleased with their choice," Stern said in the email. "As you know, Adam is a world-class business executive who has influenced...
In October 1997, Micheal Ray Richardson got a ticket through the NBA for the McDonald's Open, a preseason event in Paris featuring the Chicago Bulls. Richardson, a four-time All-Star guard with the Knicks and the Nets, had been banned for life by the NBA in 1986 for repeated drug use. Richardson then went on to play in Italy, Croatia, Israel and France before he retired as a...
In recent years the topic has been brought up quite a bit: "When is David Stern finally going to retire?" Some people hoped it would be soon, some still considered him the best commissioner in all of sports. Well, love him or hate him, we have ourselves an answer. David Stern will retire from his position as NBA Commissioner on Feb. 1, 2014, exactly 30 years after he...
News broke this afternoon that David Stern will step down as NBA commissioner on February 1st, 2014, exactly 30 years after he took over the league in 1984: David Stern will step down as NBA commissioner on Feb. 1, 2014, league sources tell Y! Sports. Deputy Adam Silver will replace Stern.about 3 hours ago via webReplyRetweetFavorite@WojYahooNBAAdrian WojnarowskiStern will be succeeded...
David Stern has been commissioner since 1984.
One of David Stern's final goals is to bring a NBA franchise back to Seattle, according to sources.
Looks like the David Stern era will be ending in 2014. Adrian Wojnarowsky reported earlier today that the commissioner of the NBA will step down on February 1, 2014, and be replaced by Adam Silver. The Board has selected Adam Silver to succeed me as NBA Commissioner, and I am very pleased with their choice," Stern said in the email. "As you know, Adam is a world-class business...
Eric Musselman, assistant coach of Arizona State, talks with Rob and Amy about NBA commissioner David Stern and his future retirement.
It was a topic that swept social media on Thursday  — right before David Stern's retirement announcement — that the Mavericks guard, Delonte West, was suspended again, this time indefinitely. He was suspended on October 15th as well, but the suspension would last less than 24 hours, but seems both parties are ready to call [...]The post Report: Delonte West Will Not Return...
Timberwolves News

Delivered to your inbox

You'll also receive Yardbarker's daily Top 10, featuring the best sports stories from around the web. Customize your newsletter to get articles on your favorite sports and teams. And the best part? It's free!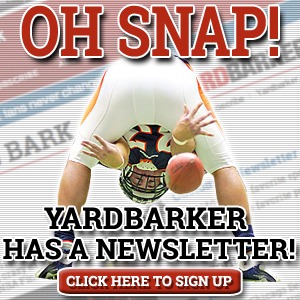 Latest Rumors
The Backyard

Today's Best Stuff

For Bloggers

Join the Yardbarker Network for more promotion, traffic, and money.

Company Info

Help

What is Yardbarker?

Yardbarker is the largest network of sports blogs and pro athlete blogs on the web. This site is the hub of the Yardbarker Network, where our editors and algorithms curate the best sports content from our network and beyond.