Found January 22, 2013 on Knickswag:
Throughout the 2012-2013 season, we have seen the New York Knicks mired by injuries.  Torn ACL's, sore backs, plantar fasciitis, "sore" feet, knee debridement's, hyper extended knees, lacerated fingers, and flu-like symptoms just about sums up the Knicks' various ailments.  Fortunately, this Knicks team is one of the rare units in our history that has the depth, talent, and the will to win to persevere and continuously find ways to come up with victories.  As we approach the midway point in the season, key players are returning to help the team and show the fans just how scary the Knicks can be when (if) they return to full strength.  Amar'e and Shump are finally back and they are already starting to prove their worth and show what they can provide to the team.  With Felton and Camby expected back in the relatively near future, we may finally be able to see just how good our team truly is.  Unfortunately, substantial minutes cannot be handed out to everyone and as players prepare for their returns, others will prepare for extended stays on the bench. One player who is expected to struggle to find playing time is the 27 year old shooting guard/small forward Ronnie Brewer.  Brewer was originally signed to a veteran's minimum deal to fill in until Iman Shumpert was ready to return.  Well, Iman's back and it's not like Brewer's recent play has earned him the opportunity to stay in the rotation.  Over the past 2 months, Brewer has shot the ball terribly and his defense has not necessarily lived up to the hype when the Knicks supposedly signed a "defensive stopper".  However, Brewer should be cut a little slack since it is possible that his off-season knee surgery is still affecting him.  As evidence to my theory, we have not seen the high flyer pull off any spectacular displays of athleticism the whole season.  Between the return of Iman Shumpert and the logjam at the SG and SF positions between Shump, Brewer, Kidd, Copeland, Smith, and Novak, Brewer will have his work cut out for him as he tries to fight his way back into the rotation. The New York Knicks have been eagerly awaiting the return of Rasheed Wallace ever since he sustained a "sore" foot about a month ago.  Some rumors are flying around that he could miss the rest of the season despite the fact that Wallace claims we will see him again at some point before the season ends.  Hopefully, Wallace is right and he does return this season, but if he does not return some Knicks executives are pushing for Grunwald to bring in free agent Kenyon Martin.  K-Mart would probably perform just as well as Wallace did in the early parts of the season; however, I am not sure that anyone else in the NBA can provide the communication and instruction that Wallace utilizes when he is on the floor defensively.  In addition to Wallace's hopeful return, Marcus Camby is set to rejoin the active roster within the next several weeks and those 2 big men can provide this Knicks team with the rebounding, shot blocking, and interior defense that they have been lacking throughout the year.  Combine Sheed and Camby with Amar'e Stoudemire and his offensive game and you have quite the formidable tandem of reserve big men.  All these 7 footers can also help spell Tyson Chandler and keep him fresh for the playoffs. As usual with every Knicks season, the Knicks are experiencing a fair share of problems that need to be solved.  However, this season is different.  This year they have the best kind of problem any team could have, too much talent.  It will interesting to see how Coach Woodson decides to divide minutes between the Knicks' plethora of talented players, but I trust that he will make the correct decisions.   Woody has stated before that he does not have an agenda on how many minutes each guy is supposed to play and that ultimately, minutes will be shared based on who Woodson thinks will help the Knicks win each game.  Winning games is truly all that matters.   Aaron Kopperl @AKop47 – Knickswag Contributor The post New York Minutes appeared first on Knickswag - A New York Knicks Blog - News, Rumors, and more!.
Original Story:
http://knickswag.com/new-york-minutes/
THE BACKYARD
BEST OF MAXIM
RELATED ARTICLES
Felton, suffering from a broken right pinkie, was cleared today to practice but still not allowed to scrimmage or do contact drills. That will occur Friday. He took shots on the side and did laps with teammates. Asked the chances of playing in Philly [Saturday], Felton said, "Big chance. Big chance. But I can't speak on that. That's not my decision to make. If it's up to...
The New York Knicks have surpassed the Los Angeles Lakers as the most valuable team in the NBA, according to Forbes' annual study. Boosted by renovations to Madison Square Garden, the Knicks' value increased 41 percent to $1.1 billion. The Lakers were second at $1 billion. The report released Wednesday estimated the average NBA team's value at $509 million, a 30 percent...
The New York Knicks are close to getting their starting point guard Raymond Felton back. Felton's been out since Christmas when he fractured his pinky finger against the Los Angeles Lakers. On Tuesday, the doctors finally cleared Felton to participate in non-contact practices, better then nothing right? Raymond Felton, out since late December with a fractured right pinky suffered...
Nets @ Knicks: MSG 3:30PM The final match-up of the season between the wanna be rulers of New York, the New Jersey Nets and the first place team in the Atlantic Division, the New York Knicks tips off at 3:30pm Eastern time at the world's most famous arena, MSG. … And Yes, I called them the New Jersey Nets.  Interim Head Coach PJ Carlesimo has the Nets playing very well as of...
For 35 years, the all-time series between the New York Knicks and New Jersey Nets were lackluster at best. The three playoff series' that they had weren't exactly classics, the most recent ending in a sweep of the Knicks by the Nets when Jason Kidd and Vince Carter were just running over guys like Stephon Marbury, and an Alan Houston at the end of his career. Now, after a move...
Carmelo Anthony is expecting some fun. Has anyone checked to see what Kevin Garnett plans on bringing Thursday night? In their first game since Garnett got Anthony all worked up to the point of chasing him to the locker room and team bus after the game, the Knicks and Celtics will be facing each other Thursday night in Boston. But Anthony says he's not expecting anything to spill...
Tyson Chandler, Amar'e Stoudemire and Jason Kidd take part in Nike's Foot Locker House of Hoops Masterclass with young London ballers at The Regal during their trip last week:
No matter what was said between Carmelo Anthony and Kevin Garnett during and after the last time the New York Knicks and Boston Celtics met, Anthony says the incident is behind him. Thursday night's rematch in Boston simply is one between two struggling teams looking to right the ship. On-court bickering led to technical fouls for both players in the final minutes of Boston...
NEW YORK -- Brooklyn Nets guard Joe Johnson said his team owed the New York Knicks after dropping their last two games against their intra-city rivals. He helped pay off the debt with a huge basket late in Brooklyn's 88-85 victory at Madison Square Garden on Monday. Johnson, who scored 25 points, hit a fadeaway jumper over J.R. Smith to give the Nets an 85-84 lead with 22.3...
Hits him with a Kanye zinger!
NBA News

Delivered to your inbox

You'll also receive Yardbarker's daily Top 10, featuring the best sports stories from around the web. Customize your newsletter to get articles on your favorite sports and teams. And the best part? It's free!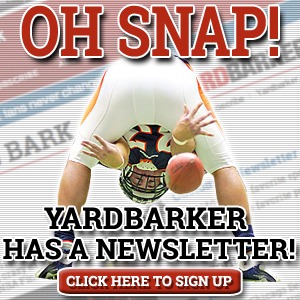 Latest Rumors
Best of Yardbarker

Today's Best Stuff

For Bloggers

Join the Yardbarker Network for more promotion, traffic, and money.

Company Info

Help

What is Yardbarker?

Yardbarker is the largest network of sports blogs and pro athlete blogs on the web. This site is the hub of the Yardbarker Network, where our editors and algorithms curate the best sports content from our network and beyond.