Found May 24, 2012 on Comedic Prose:
Andrew Bynum isn't even 25 years old yet.
The Los Angeles Lakers have been waiting for Andrew Bynum to mature for the past 5 seasons. He finally broke out this year as the 2nd best center in the NBA, putting up 18.7 points and 11.8 rebounds per game during the regular season. Dominating numbers from a dominating physical presence. But don't let his physical stature and the numbers fool you, Bynum still possesses the mind of a child.
That mind is not going to change.
Andrew Bynum has been somewhat of an enigma all season for the Lakers. The infamous 3-point shot that sent him straight to the pine encapsulates most everything that Bynum is and has been for Los Angeles. After the benching, Bynum sulked for much of the game, refusing to join the huddle in team timeouts and subsequently played some uninspired 4th quarter basketball. He reacted to the situation like a petulant child.
Immaturity is a good excuse for only so long.
The young ancient Roman emperor Nero passed off his failings and cruelty to the public as youthful mistakes but it was said that this was more a fault of his character and not his age. The same could be said of Andrew Bynum, you know, minus the cruelty.
Last night, after another uninspired 10 point, 4 rebound performance from Bynum, he was questioned by the media about his expectations of a possible contract extension with the Lakers. Bynum would give an answer once again suggesting his inexperience got the better of him. He said that "I'm not sure," and "It really doesn't matter to me. I'll play anywhere. I think for the most part I had a pretty decent season and then an OK postseason. Obviously this last game was the worst game I've probably played. It sucks, obviously, we're going fishing. My focus is next year and coming back stronger, adding things to my game"
Inexperienced words from an inexperienced man.
This whole immaturity thing, ironically, is getting a little old for Andrew Bynum though. There has been no maturation for Bynum and it doesn't appear as though there ever will be. His comments exhibit the signs of a kid who doesn't learn. All he had to do was fake his undying devotion to the Lakers but he couldn't do that.
As much as Orlando fans, or any fans for that matter really, would love to see Andrew Bynum in their teams' jersey, he is not a player anyone should be building a franchise around.
Bynum is not a centrepiece. His game would indicate otherwise but his mind won't ever catch up to his skills on the court. He insisted that he would continue to shoot 3's after getting benched for the very act. He said that it doesn't really matter where he'll play. Most importantly, he continues to expose his lack of passion and concern for winning.
Despite playing with Kobe Bryant, Andrew Bynum doesn't show up to work every day. It is more than a little distressing that with their playoff lives at stake, Bynum came up with 10 points, 4 rebounds and 0 blocks. The 10 points are not the issue because sometimes you don't score, especially with Kobe taking 33 shots. The 4 rebounds and 0 blocks are what pop off the page.
When everything was on the line, the Lakers center came up with a Terrell Owens when he is mad at his quarterback type performance. Apathetic.
Don't chalk up his poor play to immaturity that will mature sooner or later. Bynum has a body of work as evidence to the contrary. Immature is what Andrew Bynum is.
Until recently, Dwight Howard was applauded for his boyish charm and his
juvenile attitude was seen as something that he would grow out of. I think it's safe to say that ship has sailed. D-12's infantile behaviour has already cost his franchise one of the best coaches in the NBA and in due time he will force the Magic to rebuild completely from scratch.
When you talk about championship material, Andrew Bynum is one of the last guys you would think of. Sometimes the light turns on for certain players like a flip has just been switched. For the past few years, it seemed as though the light just needed to be switched on for Andrew Bynum. Now it's clear that the light in Bynum's head is forever broken, never to be turned on.
Barring injuries, Andrew Bynum will carry on being one of the most productive centers in the NBA for years to come. He has been given too many gifts from the big man upstairs. A championship is by no means out of the question for whichever team Bynum ends up playing for as long as he is not the one leading the charge.
Some team will expect Andrew Bynum to eventually be the future of their franchise. But how can anyone expect Bynum to lead a group of players when he can't even lead himself in the right direction?
Andrew Bynum's true colors were revealed again last night and those colors aren't piloting any team to an NBA championship.
Chris is a writer on Comedic Prose, and he also is the editor of Painting the Black.
You can follow Chris on twitter @paintstheblack or e-mail him at cross_can15@hotmail.com
Original Story:
http://comedicprose.com/2012/05/24/no...
THE BACKYARD
BEST OF MAXIM
RELATED ARTICLES
Andrew Bynum is one of those players that you have to wonder if his level of talent is worth all the negatives he brings to the table. He's had moments of brilliance over his 7-year career with the Los Angeles Lakers, but he's also caused some big headaches. Bynum has always had the height to play in the NBA, there's no doubt about that. He's always had the skill as well...
Andrew Bynum wasn't really engaged in what would ultimately be the Lakers final game of the 2011-2012 NBA season. Early foul trouble could be the blame but in a closeout game, that's not an excuse. 10 points and 4 rebounds… you're an ALL-STAR Sir! In a postgame conversation with TNT's Craig Sager, Bynum stated that [...]
Los Angeles Lakers center Andrew Bynum offered confusing and somewhat conflicting comments after Monday's Game 5 about whether he expects to remain with the Lakers, USA Today reported Tuesday. He had just 10 points and four rebounds in 35 minutes of action in Monday's loss to Oklahoma City, which eliminated the Lakers from the postseason. The Lakers have said they plan...
The Lakers have a $16.1 million team option on Andrew Bynum for next season.
(source feed provided no summary content for this entry)
One thing is clear: the Lakers need to shakeup their roster and GM Mitch Kupchak noted that today. After getting bounced in the second round of the playoffs for the second year in a row, the Lakers are looking for answers. They tried to acquire Chris Paul but the league denied it. They were "shopping" Andrew Bynum, but only for Dwight Howard. They ended up keeping Bynum and...
I wrote yesterday about the possibility of Los Angeles Lakers center Andrew Bynum playing somewhere new next year. He clearly isn't happy in L.A., however with his low level of team dedication, I doubt he'll be happy anywhere. But hey, a change of scenery couldn't hurt. This past season, as the trade deadline approached, there were discussions of trading Bynum to Orlando for...
Are bloggers allowed to paraphrase U2 or can I only quote groups like Wu-Tang, Mobb Deep, Tribe Called Quest or solo acts like Talib Kweli?  Either way, U2 just happened in this post. It's also how Los Angeles Lakers fans must feel after seeing there team get embarrassed in the second round of the playoffs for the second year in a row.  Assuming they pick up Andrew Bynum...
OKLAHOMA CITY Playing the Los Angeles Lakers has a special feeling. More than just games, there seems to be drama on every possession. Even their press conferences drip with emotion and adventure the stuff of made-for-TV movies. There's Kobe and Gasol. There's Andrew Bynum and the debate over what's going on his head. And of course, there's Metta World Peace&...
The LA Lakers fall in the Western Conference semifinals for the 2nd consecutive year and although they made some changes. They were not enough. Lakers walk away in defeat We saw a big improvement from Andrew Bynum whose numbers were easily career bests. He still seemed to play tentative at times and flashed immaturity throughout the season. There is no denying Bynum's potential...
NBA News

Delivered to your inbox

You'll also receive Yardbarker's daily Top 10, featuring the best sports stories from around the web. Customize your newsletter to get articles on your favorite sports and teams. And the best part? It's free!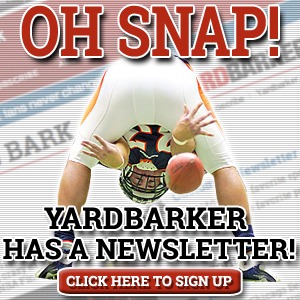 Latest Rumors
Best of Yardbarker

Today's Best Stuff

For Bloggers

Join the Yardbarker Network for more promotion, traffic, and money.

Company Info

Help

What is Yardbarker?

Yardbarker is the largest network of sports blogs and pro athlete blogs on the web. This site is the hub of the Yardbarker Network, where our editors and algorithms curate the best sports content from our network and beyond.