Found March 03, 2013 on isportsweb.com:
PLAYERS:
Dirk Nowitzki
,
Kobe Bryant
,
Monta Ellis
,
Vince Carter
,
Rudy Gay
,
Jason Kidd
,
Brook Lopez
,
Joe Johnson
,
Reggie Evans
TEAMS:
Dallas Mavericks
,
Milwaukee Bucks
,
Los Angeles Lakers
,
Toronto Raptors
,
New York Knicks
,
Brooklyn Nets
Behind the scoring of Dirk Nowitzki, the Dallas Mavericks put an end to a streak they didn't want to be in the middle of, especially here on the downhill slide of a season where their playoff hopes hang in the balance. Dirk led the Mavs in scoring with 20 points on 8 of 14 shooting to go with his 8 rebounds which may not sound like much, but it was exactly what the Mavericks needed plus just his presence on the floor to spread the court and make the double-team portion of the game begin. With Nowitzki being on the court, you are sure to get coaches to bring out all the game options in the waining minutes of a game. This was definitely one of those times. With Dallas clinging to a lead and every time Dirk breathed on the ball in the 4th quarter, there was at least 2 and at times 3 guys on him trying to prevent him from scoring, but with his basketball smarts, he has gotten better at getting rid of the ball to an open man in the hopes of someone scoring while their man is doubling up on him, and it worked. After being in the midst of a 3 game losing streak, Dallas had to get this win before heading to Houston for a back to back contest with the Rockets who currently hold onto the 8th spot in the Western Conference and Dallas being 5 games back. Still being at under .500 for the season, the Mavericks have got to step it up another notch and two for that matter, to have any hopes of getting into the playoff spot and the farther we are now to that closing time, the more desperate they need to get or they are getting. The Mavericks lost 3 very close games first to the Los Angeles Lakers, then to the Milwaukee Bucks and then to blow a 25 point lead in Memphis to the Grizzlies, the Mavs needed this win to stay alive. Despite heroic games by Dirk, the Mavs were just simply not able to close out the previous 3 games and as he stated himself, he needed to be perfect in order to win. Well, there are 4 other guys on the court with him when he's out there and then there are 5 other guys on the court  when he's not, so he shouldn't have to bear the whole burden by himself. Against the Lakers, Dirk had his first double-double of the season by scoring 30 points and grabbing 13 rebounds. He was the only starter in double digit scoring for the day, but needless to say, he was outscored by Kobe Bryant who finished with 38 points and secured the win for the Lakers. Then they faced the Bucks when Dirk had another monstrous night with 21 points and 20 rebounds and one of 5 guys scoring in double digits for the night but was unable to close out Monta Ellis' scoring and eventual win; I guess though that shooting 1 of 17 from behind the arc would have a part to do in Dallas' demise, but also Vince Carter only scored 2 points in his effort for the night and Ellis was hot in the 4th quarter and they were unable to stop his efforts. So now we are down 2 games in the streak and headed to Memphis to face a team that is in the thick of things in the Conference and on a 7 game winning streak of their own and despite losing Rudy Gay to the Toronto Raptors, has not hurt them one bit. Well, it looked like it had since Dallas started off strong and even had a 25 point lead at one point, but in the closing minutes of the 2nd quarter and carrying over into the third, Dallas gave up that lead and fought back, but wound up losing by 6 and adding another game to the streak and now going to Brooklyn to face a young team led by one of their off-season prospects, Derron Williams. Dallas had pursued Williams in the off-season and hoped that he would want to come closer to home to play for the Mavericks and be a leader with Jason Kidd helping him lead the way to another possible championship for the Mavs,  but needless to say, that didn't happen. Not only did they not sign Williams, but they also lost Kidd to the Knicks in the free-agent pool as well, so Dallas has been in the rebuilding stage all season and fighting and scraping the whole way waiting for Dirk to get back to being Dirk after having knee surgery at the beginning of the season. Well, I am proud to say that looking at Dirk as of late, he is back in his form and ready to take on anyone. After the monstrous nights lately, it is very evident that he wants to get to that next level and he is not ready to quit; having the All-Star break was good for him and even though I missed seeing him out there and being a part of it all, it was a good thing for him to rest and get some work-out time to keep healthy, and it's showing. With his efforts against Brooklyn, he is hustling as much now as I have seen him in past years and I really think he's better on defense than I have seen him in a couple of years. He's blocking more shots, getting some steals and working the boards more than usual. Carter made a comeback of such by scoring 20 points, while O J Mayo added 17 of his own which also consisted of hitting on 3 of his 4 three point shots. Dallas ended the night by shooting 50% from the field and 42.9% from downtown, and only commmitting 14 turnovers, they also had 31 rebounds. Brooklyn led by Williams with 24 points (17 in the first half), he also only had 2 assists, but he added 4 steals and committed 7 turnovers. Brook Lopez added 19 points to go with his 9 rebounds, Joe Johnson had 11 points and 6 assists, while C J Watson also scored 11 points and Reggie Evans was held scoreless, but had 11 rebounds. The Nets shot  46.2% from the field, 30.% from downtown and committed a total of 20 turnovers and notched 44 rebounds. Both teams hit 78.6% of their free throw attempts and had 18 assists each. Dallas had 6 blocked shots to the Nets' 1. Dallas first looked like they were going to play a deja vu of the Memphis game, because despite only being separated by no more than 5 points in the first half by either team, Dallas built up a 20 point lead over the Nets only to see it dwindle down to 4 points with 37.4 seconds left in the game and boy were they sweating bullets, so to speak. The Nets decided that Dallas was going to have to work for their win and they did, it was a testament of Dallas' will to get the win, but it took everything they had. Dallas got into that comfort zone when they built their lead and then when Brooklyn decided to buckle down and play, the Mavericks started making their mistakes and also forcing their shots and not playing the type of ball they had been playing when they got their good lead. But in the end, it all paid off and Dallas left Brooklyn with a victory and are now headed to Houston to face the Rockets on Sunday before coming home and facing them again on Wednesday. So now the rest of the season is up the Mavericks and what they want to do with it. It's a matter of mind over matter and if they don't mind winning, it won't matter who they face because they have proven they can win and beat the best of them. And with that, I will bid you a good night and say good luck and let's go Mavs!
Original Story:
http://feedproxy.google.com/~r/isport...
THE BACKYARD
BEST OF MAXIM
RELATED ARTICLES
On Friday night, the Dallas Mavericks venture to New Jersey to at the brand new Barclays Center for the first time. That also means it was the first time Dirk Nowitzki, or any of his teammates for that matter, rode an elevator built for a bus. "That's sweet," Nowitzki told The Dallas Morning News. "I've never seen that. And to see them turn it around on that...
It's no secret the Dallas Mavericks' struggles this season have been tough on Mark Cuban. His Mavericks sit at 26-32, outside of the Western Conference playoff race. It's insult to the injury that was this past offseason, where his hopes of landing a big-time free agent like Deron Williams never came to fruition. And, of course, this comes after blowing up the 2011...
NEW YORK (AP) -- Dirk Nowitzki and former Nets guard Vince Carter each scored 20 points, and the Dallas Mavericks avoided another late collapse by holding off Brooklyn 98-90 on Friday night. Dallas led by as many as 20 points, then looked as if it might repeat its performance from its previous game, when it blew a 25-point lead against Memphis. But O.J. Mayo added 17 points as the...
Mavericks owner Mark Cuban has had to sit through this maddening and frustrating season as his franchise takes loss after loss. Cuban's star player, Dirk Nowitzki is suffering through an injury plagued season in which he's averaging a career low 16 points a game. Cuban himself is extremely frustrated, and when speaking to the Dallas Morning News on Friday, called it "the most...
Dirk Nowitzki and former Nets guard Vince Carter each scored 20 points, and the Dallas Mavericks avoided another late collapse by holding off Brooklyn 98-90 on Friday night. Dallas led by as many as 20 points, then looked as if it might repeat its performance from its previous game, when it blew a 25-point lead against Memphis. But O.J. Mayo added 17 points as the Mavericks ended...
That didn't take long. Oh, wait ... yeah it did. After signing with the Texas Legend, the NBA D-League affiliate of the Dallas Mavericks, back in January, the point guard has finally decided to show up to play with his new team. West will finally join the Legends on Monday, Yahoo! Sports reported Saturday. West last played in the NBA for the Dallas Mavericks last season,...
The Dallas Mavericks have had the number of the Houston Rockets since November 2010 winning the last nine in a row against their in-state rivals. All streaks are meant to come to an end, and the Rockets put this one to bed with a dominant 136-103 victory in front of the hometown fans. Chandler Parsons led the way with a career night; the kind that most guys would dream of...
NBA News

Delivered to your inbox

You'll also receive Yardbarker's daily Top 10, featuring the best sports stories from around the web. Customize your newsletter to get articles on your favorite sports and teams. And the best part? It's free!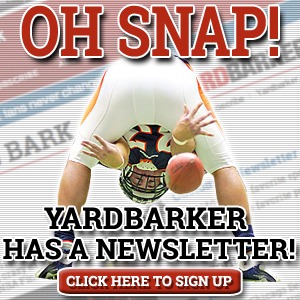 Latest Rumors
Best of Yardbarker

Today's Best Stuff

For Bloggers

Join the Yardbarker Network for more promotion, traffic, and money.

Company Info

Help

What is Yardbarker?

Yardbarker is the largest network of sports blogs and pro athlete blogs on the web. This site is the hub of the Yardbarker Network, where our editors and algorithms curate the best sports content from our network and beyond.