Found August 13, 2012 on Denver Sports Chat:
Denver, CO. The outlook for the upcoming Denver Nuggets season will undoubtedly be one of the most anticipated years in recent memory. The team showed a lot of toughness and resolve in their first round playoff series, and even though they didn't come out on top, the Nuggets gave their fans plenty to be excited about. 2012-2013 is going to be an interesting year. There seems to be a nice blend of young, up and coming players who got better as last year went on, as well as a few key veterans to provide leadership. But one thing is becoming obvious, and that is that Ty Lawson is the leader of this team. The young point guard is becoming the face of this franchise, and he is ready to elevate his game to an All-Star level.




The trade during the summer to acquire Andre Iguodala was a brilliant move on a few levels. First, it consolidated the roster somewhat, as quite honestly it was going to be very difficult for some players to even be able to find minutes on the court. Adding Iguodala upgraded the starting lineup, and added an All-Star player to an already talented team. It was the perfect time to deal Arron Afflalo and Al Harrington, as they have seemingly both maxed out their potential. It will also give a few players, like Jordan Hamilton and Wilson Chandler, an opportunity to get enough playing time to make an impression this year. I don't know how many people caught it, but Timofey Mozgov had an outstanding run in the Olympics, and showed some really nice intensity as well. His vast improvements will give the Nuggets a nice one-two punch in the middle with JaVale McGee. The team is also counting on continued development from Kenneth Faried and Danilo Gallinari, as both look as if they are only going to get better and better. But this team, in a very tough Western Conference, will only go as far as one man can take them. That man is Ty Lawson. Lawson is the straw that stirs the Denver drink. His combination of quickness and slashing ability make him one of the toughest guys for any defender to try to keep up with. Through three years in the NBA, he has improved in each one. Lawson has gone from averaging 8.3 pts/game to 11.7 to 16.4. His free throw percentage has gone from 75, to 76, to 82 last year. His minutes per game has also gone up because he has earned it, going from 20 per game as a rookie, to 26, and then to 35 last year. Ty showed at times last year he can simply take over at certain points during a game, and he is on the verge of becoming one of the best point guards in the league. Point guard play is so important in the NBA, as teams who don't have a good one rarely go as far as they hope to. Middle market teams, like Denver, have to draft well and hope their guys develop into stars, and that is exactly what is happening with Lawson. As good as guys like Gallinari, McGee, and Faried may become, the guy running the show will be the most important piece in this Nuggets puzzle.
Recently, it became painfully obvious that there are now two massive roadblocks to have to deal with in the west. We all knew Oklahoma City was going to be very difficult to deal with for years to come, and now the Lakers have catapulted themselves into the fray. These two will have the spotlight on them all year, as it is expected by just about everybody that they will end up meeting in the Western Conference Finals. This scenario could end up being a great thing for a team like Denver. They won't have to worry about huge expectations, and can fly under the NBA radar. Do they have the pieces to be a factor in the west? It would be naive to say yes for sure, but it would also be naive to say no. If Ty Lawson can continue his steady climb and be an elite point guard, the Nuggets may have enough to upset some other teams' plans as soon as this season.
Denver Sports by J Simp

Save up to 80% at FansEdge Clearance Center – shop NFL, NCAA, MLB, NBA & More
The post Denver Nuggets will go as far as Ty Lawson takes them appeared first on Denver Sports Chat.
Original Story:
http://feedproxy.google.com/~r/Denver...
THE BACKYARD
BEST OF MAXIM
RELATED ARTICLES
The Denver Nuggets will be wearing a throwback uniform for this upcoming season. They will be wearing 18 times this season all at home. These jerseys are similar to the jerseys they wore in the 1990s, except for the yellow color scheme. No, these jerseys won't make the Nuggets play better or Ty Lawson looked faster but it is a cool new look.   Follow me on twitter...
The Denver Nuggets have never been known for their fashion sense on the court. Over the years the team has worn a slew of uniforms that even the most tripped-out acid freak would deem over-the-top (See: here, here, here, and here).  Recently the team has taken to a simple powder blue uni that is unoffensive and rather pleasant. Clearly that had to change. On Monday the team...
Added: Anthony Randolph (FA), Andre Iguodala (Trade) Lost: Aaron Afflalo, Al Harrington, Chris Anderson, Rudy Fernandez, Draft: Evan Fournier (1st Round, 20th Overall), Quincy Miller (2nd Round, 38th Overall) Free Agency Analysis: The team was relatively quiet when it came to free agency only picking up reserve forward, Anthony Randolph. He came into the league as a lottery pick...
Denver Nuggets head coach George Karl has been around for a long time and had many an opponent. He has a unique and absolute distaste for one organization tho. George Karl a North Carolina graduate says the L.A. Lakers are his Duke. According to the Denver Post, George Karl says he hate the Lakers. "I [...] [[ This is a content summary only. Visit my website for full links, other...
The Nuggets used Vance Walberg's dribble-drive offense in approximately 50 percent of their offense last season.
Andre Iguodala earned second-team all-defensive honors two years ago.
After coaching in the NBA for over fifteen seasons, Denver Nuggets head coach George Karl doesn't exactly like a certain team from Los Angeles.During the Denver Nuggets media day, George who previously coached with the Seattle Supersonics and Milwaukee Bucks decided to inform the world that he hates the Lakers:"I can't deny that I just despise the Lakers," Karl said Monday...
Photo edited by: Payton Wales Head Coach: George Karl We left off with the Denver Nuggets pushing top contender LA Lakers to the brink of defeat in the first round of the 2012 NBA playoffs. It was nothing short of spectacular for a bunch of mid-level guys who were considered to have little to no star power. But the youngsters made a push behind the splendid...
Al Gore is co-founder and chairman of the board at Current TV. He's not a political strategist, and given this comment it's easy to see why. The Denver altitude has often been used as a scapegoat for bad performances. Remember when the #8 seeded Denver Nuggets beat the #1 Seattle Supersonics in the first ever 8 over 1 matchup? Again some people blamed the altitude. Here's...
Nuggets News

Delivered to your inbox

You'll also receive Yardbarker's daily Top 10, featuring the best sports stories from around the web. Customize your newsletter to get articles on your favorite sports and teams. And the best part? It's free!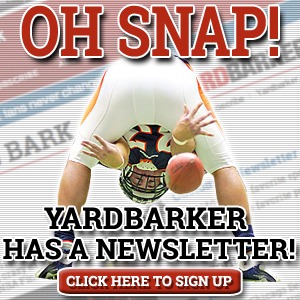 Latest Rumors
Best of Yardbarker

Today's Best Stuff

For Bloggers

Join the Yardbarker Network for more promotion, traffic, and money.

Company Info

Help

What is Yardbarker?

Yardbarker is the largest network of sports blogs and pro athlete blogs on the web. This site is the hub of the Yardbarker Network, where our editors and algorithms curate the best sports content from our network and beyond.