Found November 16, 2011 on SLAM Online:
Orlando is the unlucky city that's supposed to host the 2012 NBA All-Star game in this now marred season (assuming it's not cancelled altogether), and the town's mayor (with the backing of one angry columnist) claims that the League should feel bad enough to give them another shot at hosting the event, during happier times. From the Sentinel: "This is not the time and Orlando is not the place to hold a massive celebration of all things NBA. That's why David Stern and NBA ownership needs to assure our city amid this cumbersome, contentious NBA labor dispute that we will get another All-Star Game at a more appropriate time. Even if the dispute is settled sometime soon, Orlando should not be stuck with an All-Star Game during what would be a dreary, lockout-shortened NBA season. 'I would think they [the NBA] would have a moral obligation to give us a second All-Star game since we wouldn't be getting the All-Star game in the fashion that it was promoted to us,' Orlando Mayor Buddy Dyer...
Original Story:
http://www.slamonline.com/online/nba/...
THE BACKYARD
BEST OF MAXIM
RELATED ARTICLES
NBA Commissioner David Stern has put together a media assault-basically to get the word out to NBA players- about the latest deal NBA ownership presented to the union. The deal that has the "50-50″ BRI split and would allow for a 72 game NBA season that starts December 15th. Stern and deputy commissioner, Adam Silver took over the NBA Twitter account yesterday to answer questions...
SportsTalk: Russ Thaler and NBA writer Chris Sheridan analyze the methods of NBA commissioner David Stern and how he wasted an opportunity to bridge a compromise between owners and players. (NBC Sports)
In case anyone was wondering what the NBPA website was saying about the disbanding as a union and what it means for the future of the league, this is what you found. Oh NBPA. It's nice to see that this is a joking, laughing matter. I'm glad that nobody seems to be taking this lockout too seriously. I mean, can you imagine if the fans got angry and/or apathetic and regular...
Yes, the timing of this is a little peculiar. Just days after NBA Commissioner David Stern announced that we are in the nuclear winter of the lockout with the Union choosing to file a Disclaimer of Interest, we're going to post links to a bunch of NBA team previews. The timing may be strange, but the fact that these previews all went off without a hitch is a testament to the NBA...
Locked-out NBA players filed class-action antitrust lawsuits against the league Tuesday in at least two states, saying David Stern's ultimatums left them no other choice.
Wait, what the hell is nuclear winter? I'm only on the 3rd book! Damn you David Stern, and your spoilers!
NBA players delivered a resounding but risky response to one more ultimatum from NBA Commissioner David Stern: See you in court.
Player representatives reject NBA's latest offer of 50-50 split of basketball revenue, take steps toward anti-trust lawsuit. 'We're about to go into the nuclear winter of the NBA,' David Stern says.Player representatives reject NBA's latest offer of 50-50 split of basketball revenue, take steps toward anti-trust lawsuit. 'We're about to go into the nuclear...
Tim Griffin of the San Antonio Express-News: "Spurs owner Peter Holt has been walking a tightrope as the primary NBA owner in the labor negotiations because of his role as the chairman of the league's labor relations committee. That role has led many to believe he would be David Stern's biggest ally once a collective bargaining deal is taken to the other owners. And it...
The ball was in the NBA players' court coming into Monday morning. The players could have accepted the NBA owners' latest offer and a 72-game season would have begun on Dec. 15. Instead, the players decided to disband their union and sue the NBA. After the news became public, NBA commissioner David Stern said that the NBA is now in a nuclear winter. Legal analysts talk about...
With NBA billionaires haggling with NBA millionaires, there is gridlock on the negotiating front for professional basketball. Some care, while others are happy to see it burn. Regardless, there's no denying that some jobs and businesses are going to be affected by the lockout, and we're not just talking about the guy with the funny shirt slinging beers in Section 112. Gilbert...
It's Carmelo Anthony and Chauncey Billups vs. the NBA. Attorneys for the locked-out players filed a 25-page federal anti-trust lawsuit last night in California setting off commissioner David Stern's worst nightmare. Star lead attorney David Boies ripped Stern last night in the Harlem offices of the disbanded union...
Magic News

Delivered to your inbox

You'll also receive Yardbarker's daily Top 10, featuring the best sports stories from around the web. Customize your newsletter to get articles on your favorite sports and teams. And the best part? It's free!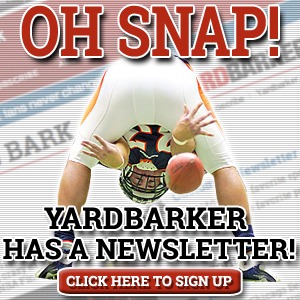 Latest Rumors
The Backyard

Today's Best Stuff

For Bloggers

Join the Yardbarker Network for more promotion, traffic, and money.

Company Info

Help

What is Yardbarker?

Yardbarker is the largest network of sports blogs and pro athlete blogs on the web. This site is the hub of the Yardbarker Network, where our editors and algorithms curate the best sports content from our network and beyond.