Found April 04, 2012 on Pacers Pulse:
This is what happened today.When I switched on the TV, the Pacers were up by a point in the second half against the New York Knicks, a team they recently lost to twice in back to back games. Granted, this time the Knicks were without Jeremy Lin and Amare Stoudemire, but Carmelo Anthony had been playing well and the Knicks' confidence was high.Of course, the Pacers soon started playing like crap, and before long they were down by 8 points heading into half-time. I expected them to come out firing in the second half, but instead it was the Knicks that came out with more energy, quickly running the lead up to 15 points.I turned the TV off in frustration, certain that the Pacers were heading for yet another loss.Eventually, I couldn't help it and snuck a peek, and what do you know? The Pacers came back and won the game.I don't care how they did it, but once again it shows when the Pacers play like crap, they really are crap. But when they're good, they're act...
Original Story:
http://www.pacerspulse.com/2012-artic...
THE BACKYARD
BEST OF MAXIM
RELATED ARTICLES
LIN-SPIRACY THEORY
The NY Daily News is making the claim that the Knicks delayed telling the public about Jeremy Lin's possible season-ending injury in order to sell more playoff tickets.
UPDATE: MSG is now saying that the Daily News made up their story.
Here's a drugged-up Jeremy Lin greeting the Twitter world with this post-op pic of him recovering in the hospital on Monday. Lin underwent successful surgery to repair a small meniscus tear in his left knee and is expected to be out for the rest of the regular season. He attached this message to the photo: Praise God for a successful surgery…road to recovery! Lets goo. Much...
Cablevision and Madison Square Garden are pushing back against criticism that news of New York Knicks point guard Jeremy Lin's knee injury was withheld until after a ticket-buying deadline had passed. The team had announced Saturday that Lin would be missing the rest of the season. On Monday, New York Daily News writer Frank Isola (eye-SOH'-luh) said medical testing had...
While many halftime acts at NBA games feature some sort of acrobatics, artist David Garibaldi provides a nice alternative. Garibaldi paints portraits in a short amount of time, all while dancing and working with rhythm. On Saturday, he performed at halftime of the Knicks-Cavs game in New York and painted a portrait of Jeremy Lin in about five minutes. The entire performance was...
With Jeremy Lin out for the rest of the season to have surgery on his damaged knee, "Linsanity" has come to a close in New York, at least for now. Odds are that the Knicks will do everything they can to have Lin back next year so the cash keeps on flowing, and they definitely made sure they got everything they could before they made Lin's injury news public. The Knicks...
After a bit of back and forth I have decided that it is best that I do Box of Ziti's by myself, since the logistic (just ask what Brown can do for you I guess) of getting the games from the others is not so easy to then put them into a post. So, with the beginning of Major League Baseball, I figured this would be the perfect time to start back up, but before I do here is the usual...
After three weeks on Cloud Nine, injuries to Jeremy Lin and Amar'e Stoudemire have sent the Knicks crashing back to Earth. However, it seems as if for the past 40 years a higher power has cast misfortune upon the franchise and extended their long title drought. Fate has a unique way of tempering the New York Knicks. The day after Tebow-mania
So, did the Knicks cover up Jeremy Lin's knee injury to spur ticket sales? The Knicks Blog has the press releases from MSG and Cablevision that says, 'no, we did not.' Cablevision Systems... Full story at Bob's Blitz ~ http://www.bobsblitz.com
The Knicks wasted a season-high 39 point performance from Carmelo Anthony and let a 17 point lead evaporate in the final quarter, losing to the Pacers 112-104 last night.The late game failure resulted in the Knicks allowing 40 fourth quarter points by the Pacers, watching Danny Granger (surely hungry for a win after losing to the Knicks in back-to-back games earlier this season)...
After last week's DNP (Did Not Podcast) due to Patrick's week long illness, we are back to talk fantasy basketball playoffs. Specifically, we discuss things that fantasy owners can do to give them the extra edge during a playoff run. We also discuss some of the latest news, including Jeremy Lin's season ending injury and what opportunities that presents for other Knicks, and...
Many Knicks fans have criticized Carmelo Anthony for his negative tone on the court this season, and even went as far as blaming his influence for the resignation of former head coach Mike D'Antoni. So how does that make them feel about the leniency the Nets have demonstrated with star point guard Deron Williams? Marc Spears of Yahoo! Sports reports: "I want to win. At the...
New York Knicks and five-time NBA All-Star and Olympic gold medalist Carmelo Anthony, or "Melo" as he's nicknamed, may not be well known among tennis fans — but he should be! "Melo" (don't confuse him with the Brazilian doubles player Marcelo Melo!) has been around tennis and even incorporates a tennis ball in his training workouts to strengthen his dribbling skills...
NBA News

Delivered to your inbox

You'll also receive Yardbarker's daily Top 10, featuring the best sports stories from around the web. Customize your newsletter to get articles on your favorite sports and teams. And the best part? It's free!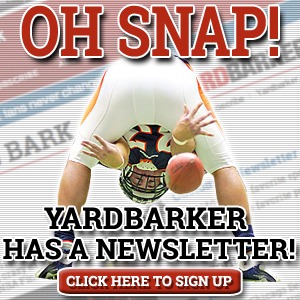 Latest Rumors
The Backyard

Today's Best Stuff

For Bloggers

Join the Yardbarker Network for more promotion, traffic, and money.

Company Info

Help

What is Yardbarker?

Yardbarker is the largest network of sports blogs and pro athlete blogs on the web. This site is the hub of the Yardbarker Network, where our editors and algorithms curate the best sports content from our network and beyond.