Found March 29, 2013 on Celtics Life:
Well now this is getting good. First Danny Ainge called Lebron James complaining about calls "embarrassing", and then James fired back with "I'm not surprised by anything that comes out of Boston". And now..well now things are getting serious. Pat Riley has fired back, through the media - And he is not pulling any punches. Here's Ethan Skolnik of the Palm Beach Post via twitter. Pay Riley: "Danny Ainge needs to shut the f--- up and coach his own team." — Ethan J. Skolnick (@EthanJSkolnick) March 29, 2013 More Riley: "He was the biggest whiner going when he was playing and I know that because I coached against him." — Ethan J. Skolnick (@EthanJSkolnick) March 29, 2013 That quote was delivered to the media by a Heat official. — Ethan J. Skolnick (@EthanJSkolnick) March 29, 2013 A slight edit a little later.. Correction to Riley quote: "Danny Ainge needs to shut the f--- up and manage his own team." My bad. Typing t...
Original Story:
http://www.celticslife.com/2013/03/pa...
THE BACKYARD
BEST OF MAXIM
RELATED ARTICLES
Pat Riley holds a warm place in my heart. As a coach with the Lakers during the "Showtime" era. The toughness he brought to the Knicks in the 90′s and the transformation he created in South Beach, Riles responded to criticism Boston Celtics president of basketball operations Danny Ainge tossed out at Lebron James on Friday night. "Danny Ainge needs to shut the f**k up and...
Danny Ainge joined WEEI on Thursday. In their weekly discussion, Ainge was asked about Kevin Garnett's health. "It's much better today than it was yesterday and I think he just could use some rest. On top of that, KG has just little nicks, bumps and bruises that could use some healing time. He's got a sore calf muscle as well. It's just good for him to take some...
BOSTON — While Pat Riley and Danny Ainge exchanged verbal blows through the media, Celtics coach Doc Rivers found himself uncomfortably in the middle of a war of words between his boss and the guy in charge of his top rival. After Ainge, the Celtics' president of basketball operations, called LeBron James' complaints about rough play "embarrassing" on a radio interview...
LeBron almost went Gloria James on the fan, but cooler heads prevailed. The fan should know that LeBron's hairline can only be shown under perfect circumstances, so I understand why The King was a bit upset. From a practical perspective  you shouldn't try to steal gear off a player's body, while they are walking to the locker room. In the streets that might get you punched...
After the Chicago Bulls ended the Miami Heat 27-game winning streak, a rather dejected LeBron James found his way down the visitor's tunnel at the United Center.Before he disappeared from view of the rowdy Chicago crowd, one Bulls fan attempted to jack his headband right off his head:Nice try dude...Nice try...
After losing to the Bulls on Wednesday night and watching their 27-game win streak come to an end, LeBron James voiced his frustration with the physical play of the Bulls and referred to the no layup-minded fouls committed by Kirk Hinrich (watch here) and Taj Gibson as non-basketball plays. LeBron James to Sun Sports/FOX: "Let me calculate my thoughts real fast before I say anything...
LeBron James released some his of frustrations on fouls towards the refs following the Miami Heat's loss to the Chicago Bulls on Wednesday.
This Miami Heat team has always needed failure to help find and define how great they can be. And so, in the end, with its near-historic winning streak halted at 27, it's true again: Their setback allows us and them to sit back, marvel at what they accomplished and fully grasp just how much LeBron James has transformed himself, his team and his league. Two years ago, the Heat...
For the next 48 hours, the sports media will be on fire as we all lament the death of the Miami Heat's winning streak. For historical purposes, we all enjoy watching our generation of legends detonate history so that we can be a part of something special. These things define us just as much as it defines the players that get the job done. Please click here to read the rest...
Miami Heat forward LeBron James said Friday that he doesn't care what other people think about the comments he made over the hard intentional fouls he encountered Wednesday night. "I actually 
"Let me calculate my thoughts real fast before I say (what I want to say)," James said. "I believe and I know that a lot of my fouls are not basketball plays. First of all, Kirk Hinrich in the first quarter basically grabbed me with two hands and brought me to the ground. The last one, Taj Gibson was able to collar me around my shoulder and bring me to the ground. Those are...
In so many ways, the Celtics resemble the spirit of Dante about to enter his journey into Hell to rescue his beloved Beatrice. Beatrice is of course Banner #18 and Hell will surely be surviving with success to the 2013 playoffs entering as a 6th seeded team at best in the East. We could continue with the analogies with Dante´s marvelous opus by giving the role of the Devil to LeBron...
NBA News

Delivered to your inbox

You'll also receive Yardbarker's daily Top 10, featuring the best sports stories from around the web. Customize your newsletter to get articles on your favorite sports and teams. And the best part? It's free!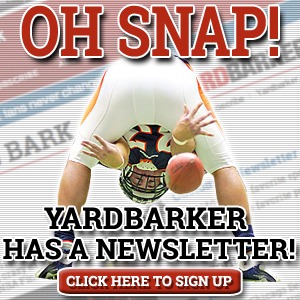 Latest Rumors
Best of Yardbarker

Today's Best Stuff

For Bloggers

Join the Yardbarker Network for more promotion, traffic, and money.

Company Info

Help

What is Yardbarker?

Yardbarker is the largest network of sports blogs and pro athlete blogs on the web. This site is the hub of the Yardbarker Network, where our editors and algorithms curate the best sports content from our network and beyond.