Found February 17, 2013 on Fox Sports West:
PLAYERS:
Chris Paul
,
Blake Griffin
,
Kobe Bryant
,
LeBron James
,
Kevin Durant
,
Carmelo Anthony
,
Russell Westbrook
,
Dwight Howard
,
Dwyane Wade
,
Chris Bosh
,
Erik Spoelstra
,
Hakeem Olajuwon
,
Yao Ming
,
Usain Bolt
,
Gabby Douglas
,
David Stern
,
Billy Hunter
,
Kevin Garnett
TEAMS:
Los Angeles Clippers
,
Los Angeles Lakers
,
Miami Heat
,
Oklahoma City Thunder
,
New York Knicks
,
Houston Rockets
,
Boston Celtics
HOUSTON (AP) -- Chris Paul, Blake Griffin and Kobe Bryant turned this All-Star game into L.A. story. Paul had 20 points, 15 assists and won MVP honors, Bryant blocked LeBron James' comeback attempt, and the Western Conference beat the East 143-138 on Sunday night. Kevin Durant scored 30 points and Griffin finished with 19, joining his Clippers teammate, Paul, in creating Lob City deep in the heart of Texas. "You just want to play fast. I like to throw the lob. I like to see guys hit 3s," Paul said. "When we're out on the court with all that firepower, why wouldn't you want to make passes? You've got KD filling one of the lanes, you've got Blake, Kobe on the wing. There's nothing like it." James scored 19 points but shot only 7 of 18, Bryant blocking two of his shots late, after having no shooting troubles during the latter part of the season's first half. Carmelo Anthony led the East with 26 points and 12 rebounds. "I think we played really good defense at the end of the game as a team," Durant said. "Kobe was really going with the ball. It's tough to stop LeBron, but he did his best. He was able to block a few of his shots. But CP did a really good job of keeping us in the game." On Michael Jordan's 50th birthday, the All-Stars threw down plenty of jams reminiscent of MJ's glory days. The first dunk of the game came 16 seconds in, Paul throwing a pass to Griffin as part of the West's 7-0 start. The West led after each of the first three quarters, though was never ahead by more than eight points through three periods. They finally pushed it into double figures early in the fourth fueled by former Oklahoma City teammates Russell Westbrook and James Harden, but couldn't put it away until a late run behind the guys from the city of Los Angeles -- who along with Lakers center Dwight Howard gave Los Angeles all but one of the West's starting spots. Paul hit two 3-pointers, Bryant made a layup, and his block of James led to Durant's dunk that made it 136-126. Griffin had one last forceful dunk to help close it out, throwing a pass to himself off the backboard and climbing high in his neon green sneakers to slam it home and make it 142-134. Harden had 15 points in his home arena, where the sights of the game were on the floor and the sounds were at the rim -- which shook repeatedly after thunderous dunks for most of the game before, as usual, players tried to make some stops down the stretch. Players' sneakers were a variety of pastels and fluorescent colors that looked like they came right from Easter Sunday church, many clashing so badly with their multi-colored socks that they may as well have been created by spilling out random paint buckets. James and Dwyane Wade wore purple, and Griffin's neon look was also sported by the usually not-so-loud Tim Duncan and Brook Lopez. But the NBA's high-flyers sure could leap in them. Durant slammed one down so hard at one point that he stumbled backward after landing, appearing woozy. He came in as the career leader in points per game with 28.3 and may have won a second straight MVP award if not for Paul's big finish. The Bryant-James duel down the stretch was a good one between the two players who are most often compared to Jordan. "It was all in good spirit, man. It was just two guys that love to compete, love to go at it. So I had a lot of fun," James said. Bryant finished with only nine points but had eight assists. Griffin shot 9 of 11 from the field and didn't miss until trying to violently throw one down from a few feet away from the basket. Indiana's Paul George scored 17 and Kyrie Irving had 15 for the East. Not everybody had it so easy. Chris Bosh shot two airballs in the first quarter and was booed, tossed up another in the second, and had Tony Parker dribble the ball through his legs on defense. He was even pulled down the stretch by his own coach, Erik Spoelstra, right after Bryant blew right by him for a layup. Bosh finished 3 of 9. Wade had 21 points on 10-of-13 shooting, the best performance of the three Heat players in the starting lineup. There were plenty of laughs, players performing comedic skits and poking fun at each other on the Toyota Center's massive overhead scoreboard. Even the celebrities that surrounded the court -- Westbrook almost crashed into Beyonce and Jay-Z while trying for a first-half steal -- seemed entertained. Two of Houston's biggest basketball stars, Hakeem Olajuwon and Yao Ming, who was honored after the first quarter, and Olympic gold medalists Usain Bolt and Gabby Douglas were among the athletes who weren't in the game. Players wore warmup jackets with patches commemorating their individual and team career accolades during a lengthy pregame that included a performance by Ne-Yo. They actually warmed up twice, needing to get loose again after watching and being introduced during the elaborate show. The game capped a weekend of change in Texas, where David Stern presided over his final All-Star game as commissioner and players' association executive director Billy Hunter was voted out of office -- a result he seems likely to contest. Boston's Kevin Garnett said before coming to Houston he thought his 15th All-Star selection would be his last, and turned it over to the young guys early. He played only 6 minutes of the first half before calling it a night.
Original Story:
http://www.foxsportswest.com/02/17/13...
THE BACKYARD
BEST OF MAXIM
RELATED ARTICLES
Chris Paul's "twin brother" was "seen in the crowd" during NBA All-Star Saturday. The TNT broadcast of the Saturday night festivities pulled off a neat special effect by airing a pre-taped segment of CP3's "long lost identical twin brother Cliff Paul" in the stands (rooting for the Eastern Conference) side-by-side with a live shot of Chris...
Jada Paul and Savannah Brinson decided to skip All-Star weekend and celebrate Jada's 29th birthday on Catalina Island. Mrs. Chris Paul and the future Mrs. LeBron spent the weekend zip lining, parasailing and hanging out. Check out a few photos. Looks like the ladies are having an amazing weekend. photos via Instagram @Jada_AP
Video:  CP3 put on quite a show.
Chris Paul won the 2013 All-Star game MVP, only to have his post-game celebration photobombed hard by the one and only Chris Bosh.
All weekend long some of the best and brightest in the NBA showcased their on court skills and off court haberdashery. Let's take a look at what your favorite NBA stars rocked on game day: Blake Griffin showed off with a gold watch, denim shirt and wool blazer by Waraire Boswell. LeBron James was also in Waraire Boswell with a retro-tile print and bowtie Chris Paul in head...
Chris Bosh is having a rough go at the All-Star Game being held in Houston Sunday evening; he's had a few noticeable erroneous shots (airballs) and then this happens. Chris Paul puts Bosh on a nutmeg poster, which further illustrates the fact Bosh, perhaps, had a little too much fun last night. H/T HPBasketballThe post Chris Paul Gets His Nutmeg On At Chris Bosh's Expense (Video...
Chris Bosh's All-Star game performance was one to remember. Which was worse: his three air-balls or getting nutmegged twice in a game by Chris Paul and Tony Paul respectively? Bosh would slightly make up for his evening by photobombing Chris Paul during his MVP celebration via @WorldofIsaac.
Every morning, we will give you five things from the night before in the NBA to start your day. 1: CP-MVP Being a point guard in the NBA All Star Game is relatively easy. Just pass the ball and let the stars do what they do best -- score. Playing point guard as Chris Paul though makes things different. Paul put on his wide array of dribbling moves and got into the paint, toying...
  The Los Angeles Clippers have the best point guard in the NBA in Chris Paul, that simply is not debatable, but they also have arguably the best backup point guard as well, in Eric Bledsoe, or at least the most promising and sought after backup. There is no doubt that Bledsoe is a starting caliber point guard in this league, but they cannot trade him this year, despite the bounty...
Here is what Chris Paul and Blake Griffin said about Kevin Garnett and the possible future trade between the Los Angeles Clippers and Boston Celtics, according to ESPN. "I think people are just talking," Paul said. "At the end of the day, who wouldn't want to have Kevin Garnett on their team? I talk about [...] [[ This is a content summary only. Visit my website for full...
The Western Conference defeated the Eastern Conference All Stars 143-138 to win the 2013 game played in Houston. While most of the game there is no defense played, at the end of the game the players start to play defense.  The Play of the game went to Kobe Bryant who blocked LeBron James and then passed to Kevin Durant for the wide open layup. This sealed the win for the Western...
Players came dressed to impress for the 62nd NBA All-Star game at the Toyota Center in Houston. Here's a collection of Sunday's best dressed: Russell Westbrook, David Lee, Kevin Durant Russell Westbrook Kevin Durant Chris Bosh Chris Bosh Luol Deng, Joakim Noah Chris Paul LeBron James Jrue Holiday, Brook Lopez, Tyson Chandler, Luol Deng, Paul George Tyson Chandler Dwight Howard...
NBA News

Delivered to your inbox

You'll also receive Yardbarker's daily Top 10, featuring the best sports stories from around the web. Customize your newsletter to get articles on your favorite sports and teams. And the best part? It's free!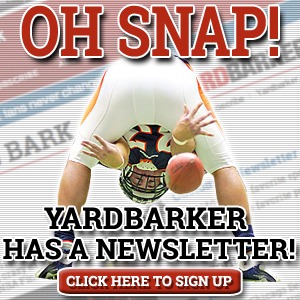 Latest Rumors
The Backyard

Today's Best Stuff

For Bloggers

Join the Yardbarker Network for more promotion, traffic, and money.

Company Info

Help

What is Yardbarker?

Yardbarker is the largest network of sports blogs and pro athlete blogs on the web. This site is the hub of the Yardbarker Network, where our editors and algorithms curate the best sports content from our network and beyond.