Found September 18, 2013 on Philadunkia:
Every NBA franchise dreams of having a tall, athletic and skilled point guard lead their team down the court.  The 76ers now have two potential starting point men in that unique category  – 6'5 rookie Michael Carter-Williams and 6'5 second year man Tony Wroten (They actually have three if you think 6'3 former Laker Darius Morris has a chance of earning the starting job). Identifying as well as drafting or acquiring this type of point guard is only half the process.  The second and perhaps most important part is to develop one of them into a franchise level player.  Carter-Williams and Wroten have all of the athletic gifts you can ask for in a point guard, but by no means is either individual a complete player. This fact means the Sixers will experience an onslaught of ups and downs during this upcoming tanking campaign as MCW1 and Wroten grow into starting NBA caliber point guards.  As a development guru, new head coach Brett Brown is undoubtedly aware of this, so I am sure that I don't have to suggest to him that it would be smart to bring in a former NBA guard with attributes similar to those of Carter-Williams and Wroten to mentor these two young players on the ins and outs of the NBA. If Brown were to add a "point-guard development specialist" to his staff, two candidates immediately come to mind for the job.  Working with either Penny Hardaway or Rod Strickland on a daily basis would absolutely help Carter-Williams and Wroten take their games to the next level. Hardaway lacks any real coaching experience — he currently is an assistant with the Lester Middle School team in Memphis, TN — but the 1996 Olympic gold medal winner and two-time All-NBA 1st team selection who averaged 15.2 ppg. and 5 apg. over his 14-year career in the Association certainly has the resume to serve as a point guard mentor in order to help guide Carter-Williams and Wroten through next year. As for Strickland, since his All-Star, but sometimes troubled playing days ended, he has attached himself to the college point guard syndicate that is John Calipari.  Strickland became director of basketball operations at Memphis for Calipari, before following him to Kentucky and taking an administrative role on the bench.  Strickland has helped develop the likes of Tyreke Evans, Derrick Rose, Brandon Knight and John Wall.  With that kind of resume there is little doubt that Carter-Williams and Wroten would benefit from Strickland's presence on the Sixers staff. So, which potential coach would be better fit to help transform Carter-Williams and/or Wroten into the franchise player that Philadunkia nation hopes and prays one of them can become?  Let's take a look and let you decide. At 6'7 Hardaway was one of the most successful tall point guards in NBA history and definitely knows how to use his height to score the ball and see the floor.  The contrast between Hardaway's game and that of Carter-Williams or Wroten is that Hardaway owned a slightly more shoot first mentality.  By no means was Hardaway a slouch in the assist column, but he definitely liked to "get his" as they say.  A year with Hardaway could potentially do wonders for Carter-Williams and / or Wroten's offensive arsenal.  Just like Hakeem "The Dream" Olajuwon taught Lebron James about the low post game, Hardaway could do the same and hopefully make Carter-Williams and / or Wroten into a more aggressive and efficient offensive player. Additionally, from his days in Orlando Hardaway knows what it is like to be a young kid who is the face and future of a franchise.  So he should be able to help MCW1 and / or Wroten deal with the pressures and challenges they theoretically will face as the Sixers emerge from the season of the tank and drive towards respectability.  Again, the only concern about Hardaway as a point guard mentor is that he has very little coaching experience.  But hey, who is that lack of experience holding back these days anyway (Cut to Rasheed Wallace and Jason Kidd nodding their heads in profound agreement). Strickland is also a very strong choice for a possible point guard coach.  At 6'3, Strickland is a little shorter than Carter-Williams and Wroten, but he played a very similar game in his day.  His career averages of 13 PPG 7 APG and 4 RPG are impressive, but it was his pit bull mentality that made Strickland such a success on the court.  Strickland was going to do anything and everything he could to help his squad win a game and his teammates loved him for that approach.  In addition to helping develop MCW1′s and / or Wroten's on-the-court skills, hopefully Strickland can help the Sixers two young point men find their own pit bull mentality. As a bonus, his point guard coaching resume is off the charts.  Again, Strickland was part of the Calipari regime that recruited and developed Evans, D-Rose, John Wall and Knight.  Strickland has seen the success those three players have had and knows the process of developing a successful NBA point guard.  Strickland could put Carter-Williams and / or Wroten on the same path as the prior pupils and there is no reason to doubt that the results will be good. As I mentioned before, Strickland battled some personal problems in the NBA and allegedly fought with a coach or two. Eventually he was labeled as a player with some baggage.  Many will see this as a reason he should not get a job mentoring young point guards.  However those life experiences could also mean that Strickland is capable of helping Carter-Williams and / or Wroten navigate the pitfalls that come with being a player in the NBA. Coach Brown has a long term vision and 76er fans should buy what Brown is selling.  If Brown chooses to hire a point guard coach then you would have to think it would only benefit Carter-Williams and Wroten's future in the NBA.  However if he doesn't hire someone there is no reason to panic,  Brown is still leading the 7-6 in the right direction and its not like he hasn't developed point guards himself (see Manu and Tony Parker).  Still I have to believe hiring a tall and athletic, former all-star caliber NBA point man could be well worth it and I hope coach Brown turns to one of these candidates to help develop his young point men.   Alex Gorge is a scribe for Philadunkia.  You can follow him on Twitter @apg3000. You can follow us @philadunkia.  
Original Story:
http://philadunkia.com/?p=9883&utm_so...
THE BACKYARD
BEST OF MAXIM
RELATED ARTICLES
Is how exhaustive time and effort goes into giving people two seconds of amusement? That was the main question regarding ESPN's complete NBA player rankings, which were released Monday starting at the bottom. There at No. 500, to Twitter's delight, was Sixers forward Royce White, just below former Celtics center Fab Melo, sitting pretty at No. 499. The presence of White, a 2012...
Philadelphia 76ers free agent Damien Wilkins has reached agreement on a straight training camp deal to return to the Atlanta Hawks, a league source told RealGM. Wilkins had been working out in Atlanta for the Hawks, a team that has been in search for players to complete its wing depth. Out of the University of Georgia, Wilkins, 33, has averaged 6.3 points and 2.4 rebounds in nine...
I lament the fact that I ever became emotionally invested in the Philadelphia 76ers. Brushing aside the inherent absurdity of investing any energy whatsoever into a pro sports team –i.e. the assortment of tall, athletic strangers who play their home games within the shortest relative distance from my front door — it's obvious that the fleeting joys of being a 76ers fan pale...
On Monday ESPN.com launched its annual #NBArank series which counts down the Top 500 players in the NBA…according to ESPN's panel of over 100 "experts". As you probably know by now, for the second time in three years, a member of the 76ers was slotted last in the rankings and earned the distinguished title of  "Mr. 500″.  Two years ago, that title belonged to Lavoy...
Royal Ivey will be in the Atlanta Hawks' training camp. Ivey reportedly worked out for the Hawks recently. Ivey has spent nine seasons in the NBA, including his first three with the Hawks. Ivey, 31, has averaged 3.3 points and 1.1 assists in his career.
It's time to take your mind off last night's Eagles debacle for a minute and read the latest edition of Philadunkia 4on4… As a reminder, this Philadunkia question and answer series is "loosely based" on ESPN.com's highly successful, NBA related series of posts titled "5on5″.  Our version of this genre of posts will ask 4 Philadunkia scribes to answer 4 topical,...
NBA News

Delivered to your inbox

You'll also receive Yardbarker's daily Top 10, featuring the best sports stories from around the web. Customize your newsletter to get articles on your favorite sports and teams. And the best part? It's free!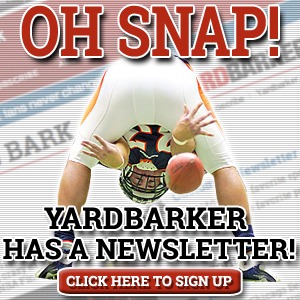 Latest Rumors
Best of Yardbarker

Today's Best Stuff

For Bloggers

Join the Yardbarker Network for more promotion, traffic, and money.

Company Info

Help

What is Yardbarker?

Yardbarker is the largest network of sports blogs and pro athlete blogs on the web. This site is the hub of the Yardbarker Network, where our editors and algorithms curate the best sports content from our network and beyond.