Found December 29, 2012 on NorthWest Sports Beat:
PLAYERS:
Dwight Howard
,
Andrew Bynum
,
Damian Lillard
,
Jrue Holiday
,
Andre Iguodala
,
Darius Morris
,
Kobe Bryant
,
Steve Nash
,
Sasha Pavlovic
,
LaMarcus Aldridge
,
Jason Richardson
TEAMS:
Portland Trail Blazers
,
Los Angeles Lakers
,
Philadelphia 76ers
,
Golden State Warriors
,
Denver Nuggets
Home sweet home The Portland Trail Blazers play host to the Philadelphia 76ers Saturday night, but following the contest at the Rose Garden, the team will take off for a four-game road trip. Matchup: Portland (14-14) vs. Philadelphia 76ers (14-16) Venue: Rose Garden Arena Time: 7:00 PM PT Date: Saturday, Dec. 29, 2012 The 76ers have underperformed this season, but they're a good young team that can challenge anybody on any given night. The Portland Trail Blazers are set to host the Philadelphia 76ers. (Photo: Bruce Ely/The Oregonian) Game Notes/How They Match Up This game is going to come down to one key matchup: Portland's offense vs. Philadelphia's defense. The Blazers, while they've certainly had off nights shooting the ball, have relied on their offense to win them games this year. They don't have a defense strong enough to make up for missed shots, so putting the ball in the basket at a high percentage is key in any game moving forward. Philly, on the other hand, has made their mark with defense. Like Portland, they've had their share of off nights defensively, as evidenced by their sub-.500 record. But with their offense only producing 93.6 points per game, it's their ability to keep their opponents from scoring that has been the upside this season. In a battle of offense versus defense, something has to give, and if you're Portland, you hope you can get off to a fast start. What to Watch: Portland The Trail Blazers struggled all over the board against the Los Angeles Lakers, but one place where they must adjust for Saturday's game is defending the paint. Philadelhpia doesn't have Dwight Howard doing damage down low—heck, they don't even have Andrew Bynum—but they are a team that can get to the rim and challenge opposing defenses. They are fourth in the league in points in the paint, and they 're much more of a slash-to-the-rim kind of team than a back-down group. Despite being undersized, Portland has to clog the middle against the Sixers. If they don't, or if they allow too many backdoor cuts, it's going to be a long game with Philly getting easy looks. What to Watch: Philadelphia Like the Trail Blazers, Philadelphia is playing its second of a back-to-back Saturday at the Rose Garden. Also like Portland, they were down big in the third quarter and ended up losing their Friday-night matchup. However, unlike the Blazers—who pulled their starters early and conceded a loss—the Sixers did everything they could to rally late. For those who watched the game, the near comeback was exciting. They went from down 20 in the third quarter to being within four points late, but it just wasn't enough to make up the difference, as they lost 96-89 to the Golden State Warriors. Damian Lillard will face off against Jrue Holiday Saturday night. Photo: Randy L. Rasmussen/The Oregonian Philly ran their starters hard, and you have to wonder if they'll have the legs in another close contest. Key Matchup With Andre Iguodala gone and Andrew Bynum injured, Jrue Holiday has taken over the role of star player on offense. He is averaging 18.1 points and 8.8 assists per game, and he is the closest thing they have to a No. 1 option. Holiday is an improved defender, but he'll be much more of what Damian Lillard is used to seeing than what he faced against L.A. In the Lakers game Friday night, Damian Lillard was defended by Darius Morris and Kobe Bryant throughout the game. Los Angeles wanted Steve Nash to stay as far away from him as possible, and as a result, he had one of his worst offensive performances of his young career. Against Holiday, he'll have a chance to get back to business. The two point guards have size and speed to challenge one another, and they can both have an impact both shooting and passing the ball. Injury Report Portland: DAY-TO-DAY—Sasha Pavlovic, LaMarcus Aldridge, Wesley Matthews Philadelphia: DAY-TO-DAY—Jason Richardson Prediction The Blazers played an ugly game against the Lakers, and they need a bounce-back performance before hitting the road. Blazers 96 – Philadelphia 93 CLICK HERE TO CHECK OUT THE BLAZERS BLOG IN OUR CLUBHOUSE TODAY AT NWSB!
Original Story:
http://www.nwsportsbeat.com/trailblaz...
THE BACKYARD
BEST OF MAXIM
RELATED ARTICLES
What will 2013 hold? The New Year is upon us, and it's time for the obligatory resolutions that will help us all turn over a new leaf. Everybody can make changes in their lives to help better themselves, and the Portland Trail Blazers are no exception. When the Blazers entered the 2012-13 season, nobody quite knew what to expect. While there are a still a number of questions surrounding...
The Portland Trail Blazers have had a decent season so far this year.  They are 14-13 and currently hold the eighth and final playoff spot in the Western Conference.  A lot can change in the coming months, but Portland may already be looking at how to continue their success while building their team for the future.  J.J. Hickson could be dangled by the Blazers as trade bait this...
Goin Back to Cali The Portland Trail Blazers are headed back down to the state of California to take on the Los Angeles Lakers for the second time this season. Matchup: Portland (14-13) @ Los Angeles Lakers (14-15) Venue: Staples Center Time: 7:30 PM PT Date: Friday, Dec. 28, 2012 Staples Center hasn't been kind to the Blazers throughout the years, but with the Lakers struggling...
Jarret Jack knows that if you aren't cheating you aren't trying.  He tossed 76ers forward Dorell Wright's shoe into the 10th row and then hit a deep 3 pointer to top it off.  Not to mention the Warriors moved to 20-10 with their win over the 76ers last night.  All in all it was a successful night for Jack and his teammates who got a great laugh in after the shoe toss...
Saturday night's game between the Portland Trail Blazers and the Philadelphia 76ers was a dogfight throughout. The game came down to the last half of the fourth quarter before the Blazers finally pulled out an 89-85 victory. The win may have come at a very high cost, though. With 9:01 remaining, Portland center Myers Leonard went up for a rebound and the Blazers No. 11 draft...
SWEEP THE COURT
Tweet How do you slow down an NBA opponent on a fast break? Throw their shoe into the stands, which is what Golden State Warriors guard Jarrett Jack did to former Warriors and current 76ers player Dorell Wright Friday night after Wright lost his right shoe while recovering a lose ball: So does that count [...]
http://youtu.be/RGlXa9PlObk Golden State guard Jarret Jack knows that loose objects on the court are a hazard to players and officials alike, and when you come across a hazardous object like a shoe without a foot in it, you do the the most reasonable thing possible at that moment. You throw it 10 rows deep into the stands. In the name of safety, of course. During the Warriors-Sixers...
While they've struggled to win on the road, the Portland Trail Blazers have had few problems lately at home. The Blazers will seek a seventh consecutive victory at the Rose Garden on Saturday night when they welcome the Philadelphia 76ers, who've lost 10 of 14 overall. After winning six of its previous seven games, Portland (14-14) was hardly competitive in a 104-87 loss...
Seriously, who throws a shoe?That's probably what Philadelphia 76ers forward Dorell Wright was thinking when he had his left shoe thrown into the stands by Warriors guard Jarrett Jack on Friday night.It happened as Wright lost his shoe during fastbreak attempt in the second quarter and keep an eye on Jack as he tracks down the shoe and tosses it into the stands beneath the basket...
By Stephen Alexander, The Sports Xchange PORTLAND, Ore. -- Saturday night's game between the Portland Trail Blazers and the Philadelphia 76ers was a dogfight through the first three quarters. But spurred by a 7-0 run to open the fourth quarter, the Blazers went on to an 89-85 win. "We struggled to score (in the fourth quarter)," 76ers coach Doug Collins said after Portland...
Dorell Wright of the Philadelphia 76ers lost his shoe during a play in their game against the Golden State Warriors and Jarrett Jack took advantage of the situation, sort of. Jarrett picked up the shoe and tossed it in the stands, because he isn't that nice of a guy. [The Big Lead] Article found on: Cosby Sweaters
Sixers' Dorell Wright lost his shoe during the first half against the Warriors and Jarrett Jack made sure to keep him impaired as long as possible as he tossed the sneaker into the crowd only to come down on offense to drill a three pointer:
NBA News

Delivered to your inbox

You'll also receive Yardbarker's daily Top 10, featuring the best sports stories from around the web. Customize your newsletter to get articles on your favorite sports and teams. And the best part? It's free!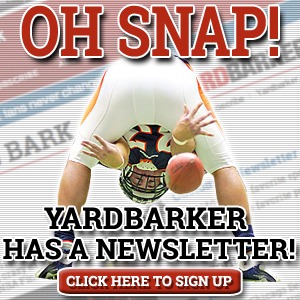 Latest Rumors
Best of Yardbarker

Today's Best Stuff

For Bloggers

Join the Yardbarker Network for more promotion, traffic, and money.

Company Info

Help

What is Yardbarker?

Yardbarker is the largest network of sports blogs and pro athlete blogs on the web. This site is the hub of the Yardbarker Network, where our editors and algorithms curate the best sports content from our network and beyond.