Found September 21, 2012 on CJ Sports NFL Talk:
James White the 4th is 6 foot 7 inches and 205 pounds. James signed a guaranteed contract with the NY Knicks this summer after NY brought him in for a private work out. James was scouted in Europe, where he has built a solid career and fine-tuned his skills. However, the real question is, will James have a roll in the rotation or will he be warming the bench. James attended Florida University and seemed to have a growing role as freshmen. The following year, James transferred to the U of Cincinnati where he started for 3 consecutive years. His scoring average rose every year and topped off at 16.3 a game. He was drafted 31st in the second round of the 2006 NBA draft. His draft team was the Portland Trailblazers, but his rights were traded to Indiana where he was given a chance. Roster spots for 2nd rounder's are non-guaranteed so, Indiana had some tough choices to make and White was one of their last cuts to make and a difficult one it was. White signed a 2 year deal with the Spurs and was assigned to their D-League team. He was up and down in the 2006/7 season and was eventually waived in the summer of 2007. Looking to get regular playing time and make a living, James left for Europe and the Middle East. He joined the Turkish club Fenerbahce and helped them to the Euro League playoffs. In 2009 James joined the Anaheim D-League franchise and eventually signed with the Rockets on a 10 day contract. He impressed enough to sign a multi-year deal with Houston. In early fall of 2009 James was traded to Denver for the rights to a Belgian born player. He was waived by the Nuggets in October of 2009. Click here! to Read More...
Original Story:
http://110sportztalk.com/player-spotl...
THE BACKYARD
BEST OF MAXIM
RELATED ARTICLES
What are two of the hottest topics around the Big Apple right now?You guessed it! Iman Shumpert's knee injury rehab, and the release of Apple's IPhone 5. Our funny friends at "The NOC" give an inside look at both in their latest production.In this spoof review, Shumpert examines the IPhone's features and abilities...as they relate to the physical game of basketball...
VALUED OPINION
Stephon Marbury says he doesn't believe Amar'e Stoudemire and Carmelo Anthony can win together. He also had some interesting things to say about the Knicks' ownership.
The New York Knicks' Iman Shumpert may have a career as a consumer advocate. Watch him take the new iphone 5 for a very destructive test drive. Please Click Here To Watch This Video
For those of you who wanted to know about Stephon Marbury's thoughts about the New York Knicks current duo of Amare Stoudemire and Carmelo Anthony, Marbury recently revealed his thoughts in an interview with ESPN New York. When asked by ESPN writer Ian Bagley about the combo, Stephon stated that he didn't believe the two players complimented each other well in a basketball...
Apple iPhone 5 just released! New York Knicks' Iman Shumpert shatters a new iPhone 5 in an attempt to see how it performs as a basketball. At the end of the video Shumpert says tune in for his iPad 4 review. Carmelo Anthony
The New York Knicks have their fair share of critics and you can count amongs them former All Star Stephon Marbury who does not like what he sees in his former team. Marbury in particular doesn't see any potential with the pairing of Carmelo Anthony and Amare Stoudemire. When asked if the pair could "thrive" [...] [[ This is a content summary only. Visit my website for full...
Shawne Williams wanted to play in New York next season. The Knicks don't appear to want him though. While he's been able to step out and stretch defenses some from his post playing position in the NBA, New York is looking for more of a traditional big to bring off the bench in support of Stoudemire.  Traditional in the sense that those bigs are looking to bang, rebound...
The iPhone 5 just dropped but Knicks Iman Shumpert has a better use for it than talking, texting and flossing for your friends with it. Instead, Shump wants to see what type of basketball-like qualities it has. I think that may have hurt my heart. ::giggle:: Random, doesn't Iman remind you of 80′s rapper Big [...]
Former Knicks' guard and current TV analyst for MSG, Walt "Clyde" Frazier, had some opinions to lend about the current state of the New York Knicks and one of those opinions involves Carmelo Anthony becoming more like LeBron James. The belief is that Carmelo needs to become more of a two-way player, or a jack of all trades, much like LeBron James has been in Miami, or even...
Knicks guard Iman Shumpert tweeted a photo of himself and the original Queen Bee, Lil Kim. Maybe they'll jump on a track together. In the meantime, check out his latest, "Do you love me" Check out his soundcloud to hear more.   photos via Instagram
Who knew? But it definitely must be a change of scenery for Amare, cause he don't get that kind of love in NYC.
NBA News

Delivered to your inbox

You'll also receive Yardbarker's daily Top 10, featuring the best sports stories from around the web. Customize your newsletter to get articles on your favorite sports and teams. And the best part? It's free!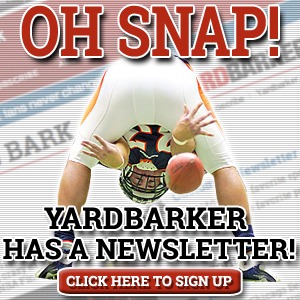 Latest Rumors
Best of Yardbarker

Today's Best Stuff

For Bloggers

Join the Yardbarker Network for more promotion, traffic, and money.

Company Info

Help

What is Yardbarker?

Yardbarker is the largest network of sports blogs and pro athlete blogs on the web. This site is the hub of the Yardbarker Network, where our editors and algorithms curate the best sports content from our network and beyond.