Found February 05, 2013 on Fox Sports North:
MINNEAPOLIS A few weeks ago, ignorance might have been bliss. A few weeks ago, there was just Lazar Hayward on a 10-day contract, not two downright serviceable players in Mickael Gelabale and Chris Johnson. There was no Nikola Pekovic, no Alexey Shved, and Ricky Rubio was even further from form. Under those circumstances, breaking down losses is best left to coaches, best not poked too much into by anyone else, best chalked up to injuries and left as is for the sake of one's sanity. But under these circumstances, these in which the Timberwolves have continued to lose even after signing a 16th player, after getting Pekovic and Shved back from injury and with Rubio's play improving by the day these deserve a closer look. The Minnesota Timberwolves have the fourth-worst record in the Western Conference, 18-27, as Feb. 5 dawns. That's good for 10th-worst in the NBA. They've won just two of their last 14 games and have a minus-6.2 point differential over the streak, and the team that was on New Year's Day in the eighth spot in the West has fallen precipitously off its mark in 2013. This is a team that over-performed, some might say, for the good part of two months, without Rubio for a month and a half and Kevin Love for a month, though neither was anywhere close to form in the games he played in the last months of 2012. This is a team that without those two stars proved it could win, proved it could come close to matching the outsized expectations it faced from Day 1, until all of the sudden, it could no longer. Not with so many injuries. Not with so few scorers. Not when no one's shot and that's barely an exaggeration seemed to fall. There's been buzz recently about the team's rebounding struggles, and it's true. In 27 games this season in 2012, the Timberwolves were out-rebounded in just seven; since, they've won the rebounding battle just four times in 18 games. Rebounding is one trend that comes close to being predictive in terms of wins and losses; 18 of the Timberwolves' 27 losses have come when they've gathered fewer rebounds than opponents, and they've won just three times when being out-rebounded. In wins, the team averages 46.6 rebounds, and in losses, that number falls to 41.4, a full 11 percent drop. In addition to poor rebounding being a predictor of losses, a few more trends have held for the Timberwolves this season: 100-plus-point scoring: Before Jan. 25, the Timberwolves were 9-0 when scoring 100 or more points. They didn't do it often, but when they did, it was foolproof. Since then, though, they're 0-3 in such games, and the value of high-scoring nights has drastically decreased. Forty-five percent or better shooting: Twenty-one of the Timberwolves' 27 losses have come when the team has shot worse than .450. In addition, the team has won just seven times (only once since the New Year) when shooting that poorly. On the flip side, 18 of its 27 losses have come when it has allowed opponents to shoot greater than .450. Forty percent shooting from 3-point range: The Timberwolves have shot better than .400 from 3-point range only seven times this season, and five of those performances have been wins. Thus, 25 of their 27 losses have come with their typically poor long-range shooting. In addition to that, 19 of their 27 losses have come when their opponents make more than five 3-pointers, effectively counteracting any defensive schemes the Timberwolves have attempted to minimize opponents' long-range shooting to mask their own problems. Economy of shooting: The Timberwolves are actually averaging more shots in losses (82.3) than in wins (80.9), and by a healthy margin. They're also, more obviously, making fewer shots in losses (34.3 to 37.7 in wins). Interestingly enough, steals and turnovers haven't been too indicative of winning and losing for the team. In losses, Minnesota is averaging 15.3 turnovers and 8.0 steals, and in wins, its numbers are almost identical: 15.2 turnovers and 7.9 steals. Another interesting tidbit applies to the team's performance when the game is on the line, which STATS defines as in the final 24 seconds of a game that is within three points. In such scenarios, the Timberwolves are shooting 27.8 percent from the field and 63.6 percent on free throws, and they've yet to make a 3-pointer. Only 10 teams shoot worse in such situations the Celtics, Bobcats, Pistons, Warriors, Pacers, Lakers, Bucks, Magic, Suns and Jazz and of those 10 teams, only four are more than two games over .500. And finally, there's the margin of the losses to concern Minnesota. Only five have come by five or fewer points. A full 11 have come by 10 or more points, and another 11 by 5-10. This is not like the team is squandering close games, not all that often. Too frequently, things are completely out of reach by the end. Follow Joan Niesen on Twitter.
Original Story:
http://www.foxsportsnorth.com/02/05/1...
THE BACKYARD
BEST OF MAXIM
RELATED ARTICLES
You know you got some skills with the basketball when you can fake out trained, professional NBA cameramen sitting on the sidelines. That is exactly what happened during Minnesota's recent game versus the Hornets courtesy of, who else, Ricky Rubio. During the third quarter, New Orleans coughed up the ball and Rubio was on the spot to gather the loose ball. Ricky proceeded to...
MINNEAPOLIS Andrei Kirilenko left the Timberwolves game with a right quad strain at the end of the second quarter. At the time of his exit, Kirilenko had two points on four shot attempts. Mickael Gelabale started the third quarter in his place. Kirilenko's return is questionable. If Kirilenko does not return, that will reduce the Wolves' bench to six players. Monday marked...
Will he or won't he be able to return?  That is the question that everyone asks about Brandon Roy, including himself.  The Minnesota Timberwolves guard is trying to recover from yet another knee surgery, but it will be an uphill battle.  He understands this may be his last shot.  If he can recover and play again, great.  If he can't, he may be done for good.Roy suffered...
Remember the power outage during the Super Bowl?  Yep, the one that forced you to sit there and actually talk to the people you were watching the game with.  Or was it the one that enabled you to head back to the table with all of the food to stuff your face some more.  It was also the one that forced us to listen to CBS' failure to investigate anything and let Jim Nantz mumble...
Lou Amundson may be moving on to his 7th team in six years if the Timberwolves decide to keep Chris Johnson and Mickael Gelabale for the remainder of the season. According to the Star-Tribune: Wolves forward Lou Amundson said he has been talking with his agent about the very real possibility that he will be traded or waived Friday if the Wolves intend to make room for both Chris...
The 35-minute blackout during Super Bowl XLVII was the talk of the town (and by "town", we mean America) Sunday, so if you're in a pro sports team's marketing department, why not go with the latest trend in arena/stadium lighting? Some genius in the Minnesota Timberwolves organization did exactly that, scheduling a blackout between the first and second quarter of their game...
MINNEAPOLIS After straining his right quad at the end of the second quarter of Monday's loss to Portland, Timberwolves small forward Andrei Kirilenko is questionable for Wednesday's game against the Spurs. If he were to miss the game, it would be just his fifth missed game this season; he sat for four in late November and early December with back spasms. In other Kirilenko...
Timberwolves News

Delivered to your inbox

You'll also receive Yardbarker's daily Top 10, featuring the best sports stories from around the web. Customize your newsletter to get articles on your favorite sports and teams. And the best part? It's free!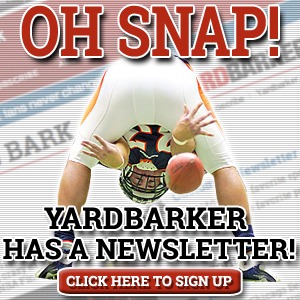 Latest Rumors
The Backyard

Today's Best Stuff

For Bloggers

Join the Yardbarker Network for more promotion, traffic, and money.

Company Info

Help

What is Yardbarker?

Yardbarker is the largest network of sports blogs and pro athlete blogs on the web. This site is the hub of the Yardbarker Network, where our editors and algorithms curate the best sports content from our network and beyond.