Found December 22, 2011 on NBA 24/7 365:
A turnover by Jeremy Evans… that's what happened on this play, according to the box score.  What I want you to do before you watch this video is envision a turnover.  What exactly does a typical turnover look like to you?  Okay, now watch the video.   Did anyone envision that?  Didn't think so.  This is why the official in the lower right hand corner needs to be fired.  How are you going to turn one of the most electrifying plays of the preseason into a goddamn turnover?  A turnover is what happens when Ron Artest tries to play offense, not what happens when Jeremy Evans decides to rest his nutsack on Gerald Wallace's forehead.  Everyone knows there's an unwritten rule in basketball, and it goes like this: there's no such thing as an offensive foul when someone gets dunked on.  Example: remember when Blake Griffin used Timofey Mozgov's face as a launch pad?  Blatant offensive foul.  The call?  Blocking foul on Mozgov.  That's good officiating.  Dunk Turnover rating on the Starbury Nastiness Scale: 10/10 Starbury Nasty Faces Throwback Poster Turnover of the Day: Darrell Arthur on Nick Collison…
Original Story:
http://nba247365.com/?p=4007
THE BACKYARD
BEST OF MAXIM
RELATED ARTICLES
We asked the Blazers players to tell us something about a teammate that most people might not know.
Damn Jeremy Evans. No that dunk didn't count, it was called a charge. Gerald Wallace did have his feet outside the circle, although I think he got them there after Evans took off. That said, we're not going to argue a borderline call in a preseason game. I didn't know much about Jeremy Evans until…
Don't say I didn't warn you. Watch Utah's Jeremy Evans absolutely DESTROY Gerald Wallace with what would have been an early candidate for Dunk of the Year. What do you think: dunk or charge? Follow Aron on Twitter at @the_real_aron. Follow Dime on Twitter at @DimeMag. Become a fan of Dime Magazine on Facebook HERE.
Buzzkilling refs waived off the incredible dunk by calling an offensive foul on Jeremy Evans. Haters … (H/T: YBB)
Call this a charge if you want "rules of the game". As far as I'm concerned, no kid that buys this poster of Jeremy Evans owning Gerald Wallace will ever think this bucket was waived off. And that's the truth Ruth.
A lot of times people say so and so dunked on another so and so but in actuality the dunker slammed in the vicinity of the dunkee. That's not the case with Jeremy Evans of the Utah Jazz completely flushing on Portland's Gerald Wallace. Evans showed his hops from the dotted line when he threw one down in the face of Wallace Wednesday night. Unfortunately for Jeremy...
Welcome the league young man!  As you now know, the restricted area is a dangerous place to hang out on the NBA level.  Players such as Javale McGee may decide to Rob-Gronkowski spike the ball off of your head…  Remember Gerald Wallace's preseason destruction of Boki Nachbar that took place, oh,  maybe about eight or nine years ago?  Or course you do!  It's one of...
Isn't it great knowing the NBA is back? The squeak of sneakers across the court, fans cheering in arenas, your favorite players back in action and players giving fans highlights to drool over.Case in point: Utah Jazz Jeremy Evans absolutely crushing Portland Trail Blazers' Gerald Wallace. Yeah, that Wallace. One of the better defenders in the NBA. Though Evans was called...
The NBA is back and that means so are high flying dunks. The season starts on Christmas Day and each team gets 2 preseason games. Last night the Utah Jazz played the Portland Trailblazers in an exhibition games. In that game Utah's Jeremy Evans had a high flying dunk. Evans literally dunked on or dunked over Gerald Wallace. However, the dunk did not count because Wallace...
The NBA is days away, yet in very limited preseason action there have been some monumental dunks. Here comes another one via Utah Jazz forward Jeremy Evans. Poor Gerald Wallace of the Portland Trailblazers had only one line of defense for this crazy slam, raise his arms and hope for a charge, which he got from the referees. Share this:
Entering last season Charlotte leaned on two proven commodities that have since exited, Stephen Jackson and Gerald Wallace, along with defensive-minded center Kwame Brown, who signed with Golden State as a free-agent.
NBA News

Delivered to your inbox

You'll also receive Yardbarker's daily Top 10, featuring the best sports stories from around the web. Customize your newsletter to get articles on your favorite sports and teams. And the best part? It's free!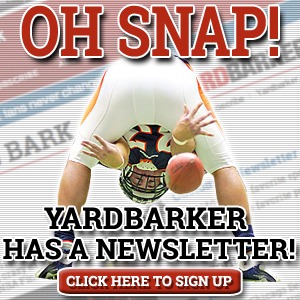 Latest Rumors
Best of Yardbarker

Today's Best Stuff

For Bloggers

Join the Yardbarker Network for more promotion, traffic, and money.

Company Info

Help

What is Yardbarker?

Yardbarker is the largest network of sports blogs and pro athlete blogs on the web. This site is the hub of the Yardbarker Network, where our editors and algorithms curate the best sports content from our network and beyond.