Found January 22, 2013 on NBA 24/7 365:
The day is quickly progressing from late afternoon to early evening, so let's just knock these two posters out before tonight's games begin, shall we?  Alright!  First up is Moe Harkless, who threw down a pair of third-quarter jams over the oft-yammed-on Chris Kaman on Sunday.  While neither two-handed mash is overly spectacular (and only one really constitutes what I consider a "poster"), both are indeed two-handed mashes in the vicinity of Chris Kaman, which is a thing of note because Kaman was yet to appear on the posterized list this season.  Needless to say, I'm shocked that he was able to make it nearly halfway through the campaign — that's got to be a personal best. No honorable mentions, obviously, as Harkless basically won by default. Dunk rating on the Starbury Nastiness Scale: 6/10 Monday's winning poster was significantly more exciting.  With just a minute left in Portland's latest attempt to pull off a miracle, Damian Lillard nearly helped the Blazers do just that by driving past John Wall and destroying Nene.  Unfortunately, Lillard turned the ball over on the ensuing possession, but that doesn't make his one-handed smash any less ridiculous.  Take a look at the little guy… He's got those sneaky ups!  Honorable mentions to Kawhi Leonard, DeMarcus Cousins, Al Horford, and Al Horford. Dunk rating on the Starbury Nastiness Scale: 8/10 2012/13 Daily Poster Stats Throwback Poster of the Day: Bet KG never saw this coming…
Original Story:
http://nba247365.com/?p=9836
THE BACKYARD
BEST OF MAXIM
RELATED ARTICLES
WHAT GIVES, ROOKIE?
Magic forward Glen Davis didn't get his nickname from being scrawny. Before Tuesday's game with the Pistons, "Big Baby" went searching for his pre-game peanut butter and jelly sandwich, which apparently was supposed to be made by rookie Andrew Nicholson. Davis interrupted an interview Nicholson was having with Fox Sports Detroit's Justin White to interrogate.  He was disgusted...
As part of some strange hazing ritual that is as odd as it is chock-full of necessary vitamins and minerals, it appears rookies on the Orlando Magic squad must provide veterans — especially those veterans on the larger size who go by the moniker 'Big Baby" — a daily ration of at minimum one peanut butter and jelly sandwich. Poor Magic rookie Andrew Nicholson learned that...
There is no room for moral victories in the NBA. There are no almosts, no what ifs, no stat lines for nice tries. There are only wins and losses. In the first 41 games of the regular season, the Orlando Magic have lost 13 more games than theyve won. Their 14-27 record includes some highs, such as beating both the Clippers, who have the third-best record in the league, and the...
Just six days after the Denver Nuggets lost in the first round of the playoffs last season, Al Harrington laid in a Denver hospital bed with an IV running to his heart, and his knee swelling by the minute. All season long, Harrington had been described as the key to Denvers success by head coach George Karl. On the court, the 13-year veteran provided the Nuggets with the wisdom...
We are officially one month away from the NBA's trade deadline -- February 21 at 3 p.m. ET. The rumors and the activity will increase dramatically in the next few weeks as Orlando tries to evaluate what it has and position itself for the future. This is a point I feel like I have been hammering in over and over again. It is still not 100 percent clear what Orlando is...
J.J. Redick was inserted into the starting lineup Tuesday, and he was scorching hot, going 9-for-10 from the field, 5-for-6 from deep and 3-for-4 from the line for 26 points. He added two rebounds and three assists in 37 minutes. Redick is playing really well this season, averaging 14.6 points, 2.3 rebounds, 4.5 assists, .5 steals and .1 blocks with 89 3-pointers. Arron...
We are nearing the midway point of the season and largely the teams that are in playoff contention have sorted themselves out. In the next 41 games for Orlando, a lot is going to be determined. But seeing as the Magic are 2.5 games out of the final Playoff spot, the Magic are close enough to keep fighting but struggling enough to think about the future. A 14-26 record with losses...
Tweet Usually rookies go through a hazing period to initiate them to their new team, and Orlando Magic rookie Andrew Nicholson is no different. Veteran big man and resident class clown Glen "Big Baby" Davis interrupted a Nicholson interview recently to make an odd request: Davis wanted his peanut butter and jelly sandwiches or else: I [...]
As we constantly remind folks on here, Glen Big Baby Davis is a different type of cat.  Orlando Magic rookie Andrew Nicholson was giving Fox Sports an interview when Davis interrupted to remind him of something. See Nicholson is a rookie, and in professional sports leagues, rookies go through some sort of hazing whether it be carrying bags, getting breakfast, or in Nicholson's...
It's no secret the Orlando Magic have struggled defensively during their month-long malaise, but they've been particularly bad against teams with losing records. Perhaps facing the Detroit Pistons twice in the next six days will get them headed in the right direction. Orlando will try to avoid an eighth straight loss against a sub-.500 team on Tuesday night at The Palace...
Auburn Hills, Mich. (14-26) vs. (15-25)    Time/TV: 7:30 p.m./FSFlorida Line: Pistons by 5 Tickets: $1-$113 on Vivid Seats Season Series: Won 110-106 in Auburn Hills on Nov. 16; Won 90-74 in Orlando on Nov. 21; Tonight in Auburn Hills; Jan. 27 in Orlando   Pace Off. Rtg. Def. Rtg. eFG% O.Reb.%...
Mired in a lengthy losing stretch, the Orlando Magic can't be happy to see the Toronto Raptors again. Defensively challenged Orlando tries to avoid a four-game season sweep at the hands of visiting Toronto on Thursday night. The Magic (14-27) haven't been able to slow anyone down of late, allowing 106.2 points per game - 7.3 more than their season mark - during a 2-14 skid...
NBA News

Delivered to your inbox

You'll also receive Yardbarker's daily Top 10, featuring the best sports stories from around the web. Customize your newsletter to get articles on your favorite sports and teams. And the best part? It's free!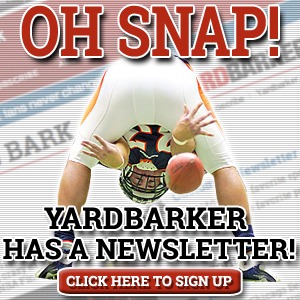 Latest Rumors
Best of Yardbarker

Today's Best Stuff

For Bloggers

Join the Yardbarker Network for more promotion, traffic, and money.

Company Info

Help

What is Yardbarker?

Yardbarker is the largest network of sports blogs and pro athlete blogs on the web. This site is the hub of the Yardbarker Network, where our editors and algorithms curate the best sports content from our network and beyond.