Found December 03, 2012 on Celtics Green ...a boston celtics blog.:
In the wake of Rondo's suspension, not much has been said about the end of his double digit assist streak. We know it had to end sometime and in truth, it had begun to take on a life of its own in recent games. There was the controversy over Doc leaving him in the game to get his last two assists. And there had to be mounting pressure on Rondo and on his teammates. No matter what rondo said, that streak had to be weighing on him. And it had to be putting added pressure on his teammates to make shots when he passed them the ball instead of passing to another teammate who might have been more open. That would just be human nature. I thought it was a good thing for Rondo to get the record, but I'm also glad that it's over and Rondo and the rest of the team can get back to playing basketball instead of chasing a record. And the best thing about it is that Rondo ended it himself and on his own terms. This brings me to my regularly scheduled ref rant. I put that entire fight in the Nets game on the officials. It goes back to the first game against the Nets where they were allowed to literally throttle Barbosa and it was a regular foul. I've watched the latest game over again and they let the Nets get away with a lot of pushing, grabbing and hard fouls while the Celtics were called for everything. Just the fact that the Nets had shot 17 free throws to 2 (plus 3 technical free throws) for the Celtics in the first half bears this out. It's no wonder Rondo was frustrated and went after Humphries. The refs weren't going to do anything and someone was going to get hurt. The last time Rondo was ejected, in the Hawks game in the playoffs, the same thing was happening. The refs were calling the game completely one sided and the frustration built up to where it boiled over in a bump against the ref. As long as the refs are inconsistent or incompetent, players are going to get frustrated and things like this will happen. It's also crossed my mind that this was Stern's aim all along. The Nets and Celtics have a big matchup on Christmas. It's not the rivalry that the Celtics have had with the Lakers over the years. There wasn't much of a rivalry to market. So, he decides to make one. He knows how volatile some of the Celtics can be. He's seen it before. So, instruct the refs to let the Nets get away with all sorts of things from choking Barbosa to pushing and shoving to hard fouls while calling the Celtics for everything. Watch the frustration build and BANG you have an instant rivalry. In a recent quote in the Globe, Danny reinforced what I have been saying about rebounding all along. "It's focus. It's effort. It's five guys doing it. All it takes is one guy to not be doing his job. That's sort of where we are. We are not getting everybody to lock in on every possession, and until we do we'll be ordinary." Rebounding is effort and desire and focus. That's the only way you can explain a 6'1" guard coming out of a game with double digit rebounds. Everyone on the team has to commit to it and they have to put out the effort to box out and beat everyone else to that rebound. Unfortunately we rarely have seen that type of effort out of everyone on this team. It's there in spurts, but not on a consistent basis. Danny's right. Until we get that effort, this team is not going to be anything special. I can't help but feel a little bit warm down inside when I see that the Lakers are under .500 and kind of self destructing. First there was the debacle with Mike Brown, Phil Jackson, and Mike D'Antoni. They sure botched that one. Last night, they allowed the Magic to score over 30 points in just 6 minutes down the stretch. Their defense was the problem with Mike Brown and it's still the problem. And, getting Steve Nash back isn't going to change that since Nash is a defensive liability in his own right. Last night D'Antoni benched Gasol down the stretch. Dwight couldn't hit the broad side of a barn from the free throw line. Gasol recently admitted to having painful and persistent tendinitis in both of his knees, which should throw a monkey wrench into any trade plans the Lakers might have had to ditch him and his weighty contract. So, Kobe called him out. Put your big-boy pants on. Just adjust. Just adjust. You can't whine about it. You can't complain about it . In the meantime, the Lakers are 8-9 and the infighting is beginning. Next Kobe will be chomping at Howard's neck to improve his free throws, and Artest to quit being such a flake, and Nash for being so brittle, and D'Antoni for not coaching defense. To a long time Celtic fan and Laker hater, I can't lie, it's kind of fun to watch. [Discuss on CG Forums!]
Original Story:
http://celticsgreen.blogspot.com/2012...
THE BACKYARD
BEST OF MAXIM
RELATED ARTICLES
There are several reasons Steve Nash was pleased to go to the Los Angeles Lakers in a sign-and-trade this past offseason, the most obvious of which is a chance to win his first NBA championship. In addition to the benefits that come along with joining a talented roster, Nash also said he was looking forward to being closer to his three children. Then how do you explain this? According...
FOR THE KIDS
Steve Nash's breakup has been a bit of a sideshow so far, and the injured Laker's point guard's latest action against his ex will only add to that.
Steve Nash showed up for his first game as a member of the Los Angeles Lakers wearing the outfit you see above. Pink sweater, navy blue bow tie with pink spots, and manbag in hand. That is just not a good look, Steve. Now just in case you're going to tell me it's a Phoenix Suns thing … take one look at Kobe: Even Kobe Bryant carries a man purse European men's carryall...
Steve Nash has made minor improvement with his left leg injury and hopes to return within the next 10 to 14 days.
The reunion between Los Angeles Lakers point guard Steve Nash and head coach Mike D'Antoni keeps getting pushed back. I guess Nash is not healing exactly how the team had planned, but they do not want to rush the 38-year-old veteran back and risk losing him for the whole season. Nash's backup is Steve Blake, who has been out for a few weeks with a torn abdominal muscle. Now...
PAU RIGHT IN THE KISSER
The Lakers star apparently is extremely frustrated with his teammate, saying the following to reporters about Gasol: "Put your big boy pants on."
Los Angeles Lakers star Kobe Bryant changed his attitude towards the ailing Pau Gasol Tuesday saying, "I love Pau like a brother, I really do. I want him to dominate like I know he can." Bryant added: "I want him to dig in and be determined, not discouraged. "We should go to him more on the post because he can dominate from there as he has to the tune of two...
The Phoenix Suns are officially running one of the most intriguing promotions ever, promising a money back guarantee to fans who don't enjoy the experience.  The promotion is due to take place Thursday December 6th against the visiting Dallas Mavericks.  The Suns are guaranteeing the always subjective "good time" to their fans, allowing them to mail in a ticket stub...
NBA News

Delivered to your inbox

You'll also receive Yardbarker's daily Top 10, featuring the best sports stories from around the web. Customize your newsletter to get articles on your favorite sports and teams. And the best part? It's free!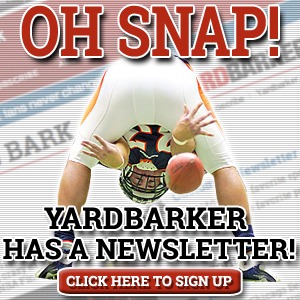 Latest Rumors
Best of Yardbarker

Today's Best Stuff

For Bloggers

Join the Yardbarker Network for more promotion, traffic, and money.

Company Info

Help

What is Yardbarker?

Yardbarker is the largest network of sports blogs and pro athlete blogs on the web. This site is the hub of the Yardbarker Network, where our editors and algorithms curate the best sports content from our network and beyond.