Found October 30, 2011 on SLAM Online:
Even with the status of the NBA lockout looking as bleak as ever, the NY Post is reporting that sources claim a 78-game season may still take place, assuming a deal gets done before next weekend: "The revised schedule listed yesterday on the Knicks' website is as misleading as NBA commissioner David Stern's optimistic tone Thursday night. Following Stern's hatcheting of November's games following another NBA negotiation breakdown, coach Mike D'Antoni's club's season-opener is now listed as Milwaukee on Dec. 2 at the Garden, beginning a 68-game slate. Even if there are no further cancellations and if the sides settle next week, the list and number of games on team websites are inaccurate. Stern proclaimed officially Friday there is no longer a chance of squeezing in an 82-game schedule with a Dec. 1 starting date. However, multiple sources predict a 78-game slate will be staged if the sides compromise on the revenue split by next weekend. The final schedule has to be an e...
Original Story:
http://www.slamonline.com/online/news...
THE BACKYARD
BEST OF MAXIM
RELATED ARTICLES
As predicted, the last round in the negotiations between the NBA and the players' union resulted in another deadlock. As a result, David Stern canceled all the games through November. This development means that it is now mostly impossible to have a full NBA season. This represents the turning point that Stern was waiting for: no full season equals no full salary for the players...
As NBA commissioner David Stern extends his Cobra Clutch over the NBA lockout threatening to eviscerate the 82-game season; one has to wonder what team will rise to the top next year? No I am not talking about the Mavericks, Lakers, or Heat. I am talking about three slept on teams that go what it takes to be next, the next in line for a title.   1.) Portland Trailblazers LaMarcus...
It began clarifying in my head when I was watching NBA commissioner David Stern at his news conference yesterday, pronouncing schedule doom at another two-week interval. After talks with the union broke down yesterday–over the same thing it's always been about, the split of gross... Continue reading...
NBA Commissioner David Stern has canceled all NBA games through Nov. 30.
Over the weekend, Jason Whitlock wrote a column referencing a source who told FoxSports.com that the belief existed amongst the NBA Players Association that Derek Fisher had been co-opted by Commissioner David Stern. He used a lot of references from The Wire in the piece, and essentially said that Fisher promised Stern he could deliver the union at a 50-50 BRI split. In return,...
Well, the good news didn't last for long. Just a day after things were looking up in terms of the NBA lockout, things took a turn for the worse. The NBA owners and NBA players couldn't agree on a BRI split and also disagreed on system issues. The result? No more talks scheduled and commissioner David Stern canceling more games. In other words, this was the worst case scenario...
The glorious baseball season is over. The Eagles are 2 and 4. I am not Canadian. So where is the NBA?Commissioner David Stern just announced the cancellation of all November games and the Player's Union Chief, Billy Hunter, announced no new talks are scheduled. What's the holdup? The league composed of millionaire owners is at 50 per cent of revenues and the millionaire players...
Heat owner Micky Arison is going to be writing a big check to the NBA — $500,000 to be exact. And he can thank some of his fellow NBA owners for that. On Halloween Arison got a trick from the league when David Stern smacked him with a heavy fine for a little twitter rant on…
It's about time we had some non-dreary and depressing NBA lockout news. Actually this is fun, comedic lockout news. NBA Commissioner David Stern issued a gag order on the labor situation. As you know, Michael Jordan broke that rule and was fined $100,000. The gag order prohibits Dallas Mavericks owner Mark Cuban publicly discussing any aspect of the NBA labor situation. However...
NBA News

Delivered to your inbox

You'll also receive Yardbarker's daily Top 10, featuring the best sports stories from around the web. Customize your newsletter to get articles on your favorite sports and teams. And the best part? It's free!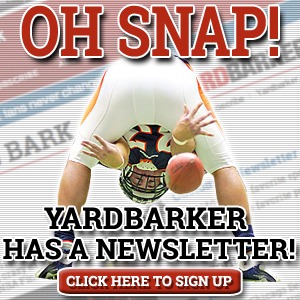 Latest Rumors
Best of Yardbarker

Today's Best Stuff

For Bloggers

Join the Yardbarker Network for more promotion, traffic, and money.

Company Info

Help

What is Yardbarker?

Yardbarker is the largest network of sports blogs and pro athlete blogs on the web. This site is the hub of the Yardbarker Network, where our editors and algorithms curate the best sports content from our network and beyond.