Found July 11, 2013 on NESN.com:
In the ultimatum of Dwight Howard vs. Kobe Bryant, the Lakers chose Bryant, and Howard chose the Rockets. That's the latest scuttlebutt from the post-Howard free agency period, according to Ramona Shelburne and Marc Stein of ESPN. Shelburne and Stein report that, while other factors were certainly in play as Howard picked the next step in his NBA career, the overriding factor in turning down the Lakers was that Bryant was sticking around, which wasn't going to work for Howard. Bryant had originally said that his current deal, which runs through the end of next season, would likely be his last, as he would probably retire after it was complete. That dovetailed well with Howard's ambitions to be the main man in L.A., and the Lakers also promised Howard that he would be the focal point of the team in the future. But this offseason, as the time came for Howard and the Lakers to see whether a long-term contract was in store, the Lakers' commitment to Bryant is what ended up spooking Howa...
Original Story:
http://nesn.com/2013/07/report-dwight...
THE BACKYARD
BEST OF MAXIM
RELATED ARTICLES
Houston Rockets: Dwight Howard Contract Grade By Mike Elworth: Owner and Publisher/Hoopstuff… Contract 4 years, 88 million - Well the Dwight Drama is finally over, as Dwight Howard, after almost three years, has chosen his long term destination, Houston. I am not going to talk about his immature actions, or him hurting the Magic and Laker franchises and all of the annoyances he...
What if Stone Cold Steve Austin and Dwight Howard were to climb in a wrestling ring?What if the two were to actually wrestle? Athletes from other sports have climbed into the ring in the past. D12 is 6'11'' and 265 pounds not to mention the man has some serious guns... Could make for a decent match, right? It's one that will never happen of course...
The Los Angeles Lakers are eyeing a rebuild. However, when you have the pressures that come with being the NBA's premier franchise, a rebuild doesn't necessarily mean the same thing for them as it does to every other team. Rather than breaking the team down to its bare bones and retooling through the draft over several seasons, the Lakers are clearly planning with the 2014 offseason...
                                                                                                                 [2:37 mark] In an interview at his basketball camp Wednesday, Kobe Bryant was asked by Serena Winters of Lakers Nation if he had thought about taking a pay cut in his upcoming contract. The 34-year-old, who is due...
Jeremiah Short, Feature Writer-original linkThe drama that was "Dwightmare" came to a climactic end after Dwight Howard agreed to a four year, $88 million dollar contract with the Houston Rockets. Leaving the 16-time world champion LA Lakers with an uncertain future.The deal puts Howard in a perfect situation. He gets to work with Kevin McHale and Hakeem Olajuwon year round....
ON A WING AND A PRAYER
Royce White, who has a fear of flying and is awaiting his trade from the Rockets to the 76ers, said, "Hell no" to the idea of taking 100 flights during a season.
In the aftermath of Dwight Howard's decision to sign with the Houston Rockets, word began to spread that Rockets center Omer Asik had no interest in playing with or behind Howard and he wanted to be traded.Since then, Brian Windhorst of ESPN has verified that Asik has formally asked the Rockets to trade him. And it was at that moment that Asik found out just how much pull and influence...
  Well... that didn't quite work out the way we all expected.  Dwight Howard turns out to be a 1 year rental, and the Lakers serve as a placeholder for him whilst he recuperates from back surgery.  Now, I realise that's to paint the scenario in pretty much what amounts to the worst possible light, but what there is incorrect?     So... Dwight Howard...
With all the salary cap space the Los Angeles Lakers are expected to have in 2014 after losing Dwight Howard to the Houston Rockets, there has been some speculation that they could make a run at a big name free agent like Carmelo Anthony. Anthony and Bryant have a close relationship, and there have been [...]
I know this is a very controversial topic and we're all here to argue, but if we're going to have this debate, we're going to have to do it right. Let's lay down some ground rules before we get to the topic:  1) Shaquille O'Neal and Kobe Bryant were on the same team at a specific period so… a) I'm not saying Shaq and anybody else would have been a great...
LOS ANGELES With the moratorium on free agent signings over as of 9:01 p.m. PT Tuesday, the NBA has released its salary cap and luxury tax information for 2013-14. The league raised its salary cap just slightly, from 58.044 million last season to 58.679 next. The luxury tax threshold jumped from 70.307 to 71.748. Both numbers had remained constant from 2011-12 to 2012-13. Whats...
NBA News

Delivered to your inbox

You'll also receive Yardbarker's daily Top 10, featuring the best sports stories from around the web. Customize your newsletter to get articles on your favorite sports and teams. And the best part? It's free!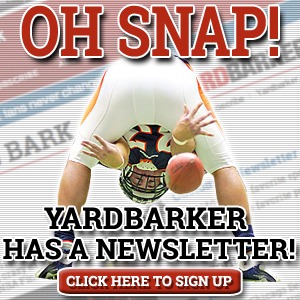 Latest Rumors
Best of Yardbarker

Today's Best Stuff

For Bloggers

Join the Yardbarker Network for more promotion, traffic, and money.

Company Info

Help

What is Yardbarker?

Yardbarker is the largest network of sports blogs and pro athlete blogs on the web. This site is the hub of the Yardbarker Network, where our editors and algorithms curate the best sports content from our network and beyond.