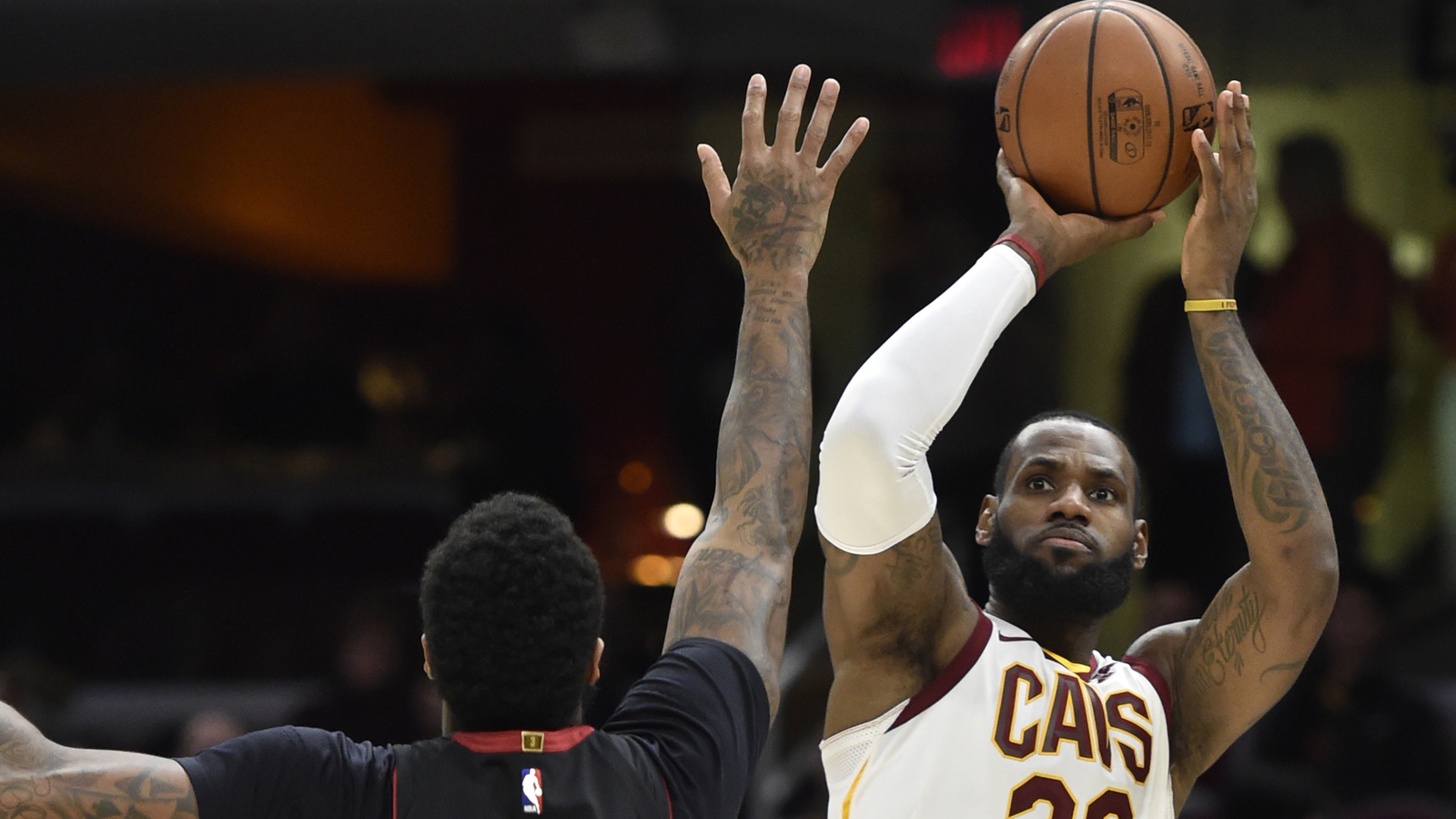 Jan 31, 2018; Cleveland, OH, USA; Cleveland Cavaliers forward LeBron James (23) shoots against Miami Heat guard Tyler Johnson (8) in the third quarter at Quicken Loans Arena. 
David Richard-USA TODAY Sports
LeBron James is now in the fourth season of his current stint with the Cleveland Cavaliers, but the controversy apparently still persists about the fourth season of his previous stint with the Miami Heat.
Speaking on his self-titled ESPN Radio show on Friday, veteran Miami sports journalist Dan LeBatard revealed that the Heat believe James checked out during the 2014 NBA Finals against the San Antonio Spurs.
"Final season with the Heat, LeBron James, the Heat organization believed, knew he was leaving and checked out on the Finals," said LeBatard, according to Dan Feldman of ProBasketballTalk. "It looked like he was trying. The stat sheet looked like he was trying. But the Miami Heat believed that he checked out and was no longer trying."
For reference, James averaged 28.2 points, 7.8 rebounds, and 4.0 assists per game on 57.1 percent shooting for that Finals series, roughly on par with his averages for the playoffs as a whole. The sentiment that he checked out may also be a discredit to the Spurs, who were clearly the superior team that year — they won the series in five games, at least three of which were blowouts.
Of course, the four-time MVP would leave Miami to return to Cleveland after those Finals. It's also worth noting that a similar criticism was levied against James for his performance in an Eastern Conference Semifinals loss to Boston back in 2010, a series after which he would leave Cleveland to go to Miami.
Returning to the present day, it's easy to see the parallels for James and the Cavs the way things currently stand. As he did with the Heat back then, The King is attempting to drag an aging roster to a fourth consecutive Finals appearance, and the physical and mental fatigue have to be enormous. With all of the wild rumors circulating about his future as well, will James be accused of checking out for a third time should the Cavs fall short in this year's playoffs and should he proceed to depart once again in free agency?
MORE FROM YARDBARKER
NBA News

Delivered to your inbox

You'll also receive Yardbarker's daily Top 10, featuring the best sports stories from around the web. Customize your newsletter to get articles on your favorite sports and teams. And the best part? It's free!