Found January 14, 2013 on BlackSportsOnline:
In this day and age of extreme technology, there are people who believe the government, your employer, and anyone else with skills is listening to your conversations. We've heard rumors of the Saints taping what goes on in the opposing teams press box for an advantage.  What happens though when the guy that signs your checks may have you on surveillance, and you can't figure out why. The Star-Ledger reporter Dave D"Alessandro is reporting that knowledgeable source believe New York Knicks owner James Dolan has spies that record every word Carmelo Anthony utters on the court. D"Alessandro: "Two audio technicians were stationed at two corners of the court — one a few feet just behind the Knicks bench, the other diagonally opposite — and they were holding those umbrella-shaped contraptions known as parabola microphones, which fed the audio into a DAT recorder on the truck on the loading dock. These guys had one directive from Dolan: Record every syllable Carmelo Anthony utters and absorbs while he's on the court and on the bench, the Madison Square Garden CEO ordered them, and send the tape directly to me." The report also stated that Dolan may be doing it so he can prove to the NBA that there are guys on opposing teams going out of their way to goat Melo and antagonize him every chance they get. That might be true, and Carmelo needs to do a better job of ignoring negativity and focusing on his job.
Original Story:
http://feedproxy.google.com/~r/blacks...
THE BACKYARD
BEST OF MAXIM
RELATED ARTICLES
Honey Nut Cheerios is apparently the gift that keeps on giving. Today ESPN is reporting that Knicks owner, and certified weirdo James Dolan, has installed two microphones on opposing ends of the court in an effort to 'record all in-game conversations'. According to the article, Dolan's goal is to see if players are going overboard with the trash talk towards Anthony...
This is getting pretty weird. Reports came out that Knicks Owner James Dolan had listening devices set up in the Garden to spy on Carmelo Anthony. Some people thought that was crazy and could never happen, but the Knicks are confirming it somewhat, but their reasoning might surprise you. Here is the report from Pro Basketball Talk. Owner James Dolan ordered Madison Square Garden...
TURN MY MIC UP
Knicks owner James Dolan decided it was a good idea to spy on Carmelo Anthony during games. After the incident Melo had with Kevin Garnett, Dolan wants to know what the All Star is saying during games.
NOT TOO WORRIED ABOUT IT
Knicks forward Carmelo Anthony does not appear overly concerned about the fact he was reportedly being recorded by the team during two recent home games.
As we reported on Monday Knicks owner James Dolan weirdly had huge hidden microphones at each of the Madison Square Garden court last Friday when his team took on the Bulls.   Yesterday amid news of the wire taps, Dolan said it was for Melo's protection so he could show the league how much trash talk his star gets on a nightly basis. As Melo arrived at the team hotel in London...
Listen up! Talk trash to Carmelo Anthony at Madison Square Garden and you may wind up on tape. Days after Anthony's overreaction to some bad words led to an NBA suspension, MSG chairman James Dolan had listening devices monitoring everything said to and by Anthony, according to a report in the Newark Star-Ledger. The report Monday said Dolan had two MSG Network audio technicians...
A Garden technician holds a sensitive mic at Sunday's game to eavesdrop on what Carmelo Anthony and is opponents say. James Dolan ordered two of them to be used at each game to avoid more "he said, he said" situations like the one that arose between Anthony and Kevin Garnett.  There has been a lot said about KG's trash talking since something he said to Carmelo...
  Knicks star Carmelo Anthony may have been responded like a three-year old last week when he went to have a word with Kevin Garnett last week following the Knicks vs. Celtics match up. Now it turns out that Melo may have just been having a temper tantrum because he was really hungry. Melo has [...]
The New York Knicks have been recording Carmelo Anthony during games, and the star forward says he is not bothered by it. Earlier in the week, we told you how team owner James Dolan had ordered someone to record every conversation Anthony has on the court. According to the NY Post, Dolan set up the audio technicians in response to 'Melo being suspended for a game following his...
Ballertainment James Dolan tells Knicks to record audio on MSG court to protect Carmelo Anthony I guess the trash talk against Carmelo Anthony has picked up steam since the Kevin Garnett, cold cereal saga. It seems other players around the league are taking shots at Melo during games in attempt to disrupt his concentration. I can imagine how many variations of the alleged KG Honey...
Tweet After the Honey Nut Cheerios incident between Carmelo Anthony and Kevin Garnett earned Anthony a one-game suspension, Knicks owner James Dolan wasn't going to take any more chances. That's why, according to a report, on Friday and Sunday when the Knicks matched up with the Chicago Bulls and New Orleans Hornets, Dolan had in-house [...]
New York Knicks owner James Dolan is one crazy guy.  After Carmelo Anthony and Kevin Garnett got in their heated on court argument, Anthony waited for Garnett at the team bus trying to straiten things out. Apparently Garnett said his wife La La "tastes like Honey Nut Cheerios."  The verbal fight resulted in technical fouls against each player, and a suspension for Carmelo for...
Knicks News

Delivered to your inbox

You'll also receive Yardbarker's daily Top 10, featuring the best sports stories from around the web. Customize your newsletter to get articles on your favorite sports and teams. And the best part? It's free!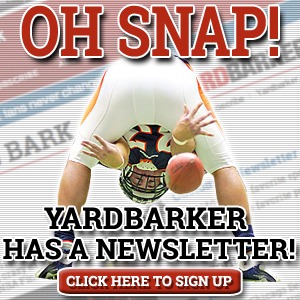 Latest Rumors
Best of Yardbarker

Today's Best Stuff

For Bloggers

Join the Yardbarker Network for more promotion, traffic, and money.

Company Info

Help

What is Yardbarker?

Yardbarker is the largest network of sports blogs and pro athlete blogs on the web. This site is the hub of the Yardbarker Network, where our editors and algorithms curate the best sports content from our network and beyond.