Found September 07, 2013 on NESN.com:
The saga continues to get worse for Lamar Odom. Last week, rumors began to surface about Odom's drug problem and how he his marriage was on the rocks with wife Khloe Kardashian. The stories just continued to build throughout the week, too, as reports of a cocaine habit began to sprout up. He was even said to have spent more than $50,000 on cocaine over the last three years. Now, TMZ is reporting that his crack addiction has gotten even worse. Odom's crack addiction became so bad in recent weeks that his drug dealer had to cut him off, according to TMZ. The report claims that Odom was "calling incessantly" and "demanding more crack" from the dealer, who got scared enough that he had to stop serving the 33-year-old forward. Odom, who is still a NBA free agent, did check himself into a drug and alcohol rehab center earlier this week, which seemed like a solid step on the road to recovery. The TMZ report says that Odom hasn't stopped using crack, though. Filed under: Headlines, NBA, NES...
Original Story:
http://nesn.com/2013/09/report-lamar-...
THE BACKYARD
BEST OF MAXIM
RELATED ARTICLES
It's a good thing Lamar Odom was making millions in the NBA, because he needed that kind of cash to support his drug habit throughout the summer. TMZ reports that Odom often spent around $800 per day on drugs during the summer. They say his habit worsened after he moved out of his home with […]
Lamar Odom's anonymous crack dealer has had enough of Odom's unpredictability, and had to cut him off. TMZ is reporting that Odom's crack cocaine habit has reached such dangerous levels, that his dealer had to cut Odom off from the drug. Sources connected to the dealer tell us, the crack slinger had delivered the drug to Lamar all summer, but last week, Lamar was insatiable...
This is just getting out of control now. Are people just making up things for 15 minutes of fame or is Lamar Odom's life really this strange? While you think about that, here is the latest twist. According to our insider, n freaky-deeky flick featuring Lamar and a hip-hop dancer is making the rounds at adult production companies. The reality star was tipped off to the film by...
Lamar Odom reportedly tried to get some help for himself by checking into an L.A. area rehab. Odom though apparently wasn't ready to get sober, and according to reports has checked himself out of rehab less than a day after checking in. NBA veteran Lamar Odom has checked out of a rehabilitation center after just one day, according to a report on People.com. The report cited...
A man claiming to be Lamar Odom's drug dealer revealed in a video sit-down interview with Radar Online that the former Sixth Man of the Year has spent over $50,000 on cocaine with the New York based dealer.  In addition, the dealer alleges dealing Odom $16,000 worth of cocaine and watching him smoke it before playing the Knicks in February last season.  Thankfully, Odom is seeking...
Lamar Odom has made over $115 million in his NBA career, so $800 a day on crack and other drugs would be like me having a $80 a day Starbucks habit. With that being said, if this report is true by TMZ, maybe Lamar should reconsider going to rehab. Lamar Odom fell deep into the world of hardcore drugs during a wild summer in Hollywood … where he spent as much as $1,000 in a single...
Lamar Odom is receiving treatment for issues related to his recent arrest on suspicion of driving under the influence but he has not entered a rehabilitation facility, according to two people close to the situation who spoke on condition of anonymity because of the sensitivity of the matter. Jeff Schwartz, Odom's agent, did not return a call Thursday seeking comment. Odom,...
This is just sad…just a day after entering rehab for an alleged drug addiction, NBA free agent Lamar Odom has reportedly checked himself out. According to E! Online: Lamar Odom has left rehab. E! News can confirm that Khloé Kardashian Odom's husband is no longer at a treatment facility, barely a day after he opted to check in following his arrest for alleged driving under the influence.
Yes, we have another Lamar Odom update. You have to wonder how much of this is Kardashian spin and people looking to capitalize off of LO's problems. First up, Lamar's rehab stint allegedly lasted just one day according to TMZ – or he never checked in- after checking into rehab on Wednesday. Sources tell TMZ that LO has gone "missing" again and friends are concerned for...
When it comes to knowing what's going on in Lamar Odom's life the answers are far from clear. Such is the case in the latest bit of Odom reporting from TMZ which says that the free agent veteran has not checked into rehab for a drug problem contradicting what People.com reported a day earlier. Odom reportedly has received an ultimatum from wife Khloe Kardashian that he...
I'm not one to judge, but I believe Lamar Odom's life started to spin out of control the moment he said hello to Khloe Kardashian. I'm not sure what it is about the family, but they are good news for some, and bad news for others.  Odom, unfortunately fits in the latter category. Odom reportedly has entered rehab, and steaming mad at the Kardashian clan.  RadarOnline is...
It was reported earlier that Lamar Odom had checked himself into rehab and everyone thought it was a great idea for him to be getting help. It turns out Lamar pulled an okey-doke according to TMZ: Lamar Odom has NOT checked himself in to rehab … sources connected to the NBAer tell TMZ. There are reports out that Lamar checked himself in … we've been making calls for the last...
Clippers News

Delivered to your inbox

You'll also receive Yardbarker's daily Top 10, featuring the best sports stories from around the web. Customize your newsletter to get articles on your favorite sports and teams. And the best part? It's free!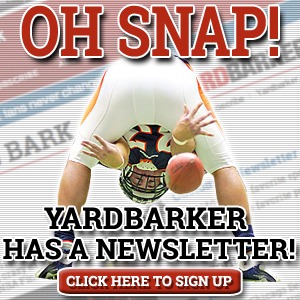 Latest Rumors
Best of Yardbarker

Today's Best Stuff

For Bloggers

Join the Yardbarker Network for more promotion, traffic, and money.

Company Info

Help

What is Yardbarker?

Yardbarker is the largest network of sports blogs and pro athlete blogs on the web. This site is the hub of the Yardbarker Network, where our editors and algorithms curate the best sports content from our network and beyond.