Found January 15, 2013 on NorthWest Sports Beat:
Top Blazers After winning 10 of their last 13 games, the Portland Trail Blazers ran in to a bit of adversity this past week. With three out of their four games at home during the week, Portland was hoping to build on its already impressive season record. The week started out strong with a gutsy overtime victory over the pesky Orlando Magic, a team who played a lot better than their 9 game losing streak would suggest. After a couple days off in the middle of the week, Portland was set to square off against LeBron James and the defending champion Miami Heat on primetime TV. James, in particular, had always shined bright while playing at the Rose Garden so it seemed Portland was set to be on the wrong side of the highlight reel. However, after an abysmal first half, the Blazers, led by Nic Batum and Wesley Matthews, sparked a furious comeback that saw Portland escaping the contest with a 92-90 victory. Some timely three point shooting, and stifling defense, allowed Portland to stay competitive in the second half, sending Miami packing with a loss and leaving the Rose Garden in a frenzy. The high would not last all week as Portland dropped its final two games, a tough road matchup against the surprising Western Conference contending Golden State Warriors, and they also dropped a closely fought battle against the Oklahoma City Thunder at home Sunday night. Nic Batum had an impressive showing this week. (Photo Credit: Don Ryan / Associated Press) Still, Portland sits at 20-17 on the year, 8th in the West, and are starting to come together as a team. Aldridge's play is improving (Portland badly needs this to remain) and as Lillard continues to build on his impressive rookie campaign, the other pieces of the puzzle (Batum, Matthews and JJ Hickson) are showing no signs of slowing down, even with the high amount of minutes each are logging. Question is, how long can they keep it up? A question we'll surely revisit over the last 4 months of the season. Now, onto the awards. First Star: Nicolas Batum (1/10: W vs. Miami) Two straight weeks taking in the top honors, and Nic Batum has made Neil Olshey's decision to match Minnesota's offer seem like a no-brainer. In Thursday's matchup against Miami, Batum paced Portland in the first half to avoid a blowout at the hands of the defending champs. It was his solid play that allowed Portland to trail by just 13 going in to the locker room at half time. Logging 42 minutes on the night, Batum put up 28 points-on 8-15 from the floor, including 3-9 from long range and 9-11 from the charity stripe-while adding 7 rebounds, 5 assists, 2 steals and a block. Talk about stuffing the stat sheet, the frenchman made an impact in any way he could Thursday night. Because of Nic's solid play thus far, Portland is proving to be a more competitive bunch than many critics were willing to give them credit for coming in to the season. If this high level of play continues, Portland could see a playoff berth come mid-April. Second Star: LaMarcus Aldridge (1/7: W vs. Orlando) As noted above, Aldridge's play over the past few weeks has been more reminiscent of his All-Star campaign from a year ago. His scoring efficiency is starting to rise, and his rebounding totals, something he'd struggled with early on, are starting to increase as well. You'd think he was just splitting more of the rebounding totals with glass monster JJ Hickson, but Hickson's numbers have remained relatively the same in that category. Aldridge has had quite a few impressive games this season. In last Monday's game against Orlando, Aldridge once again displayed his knack for recording a double-double, and tormented the Magic all night. While playing in 42 minutes, LA put up 27 points-on 12-22 from the floor and 3-3 from the free throw line-while adding 10 rebounds and 5 assists in Portland's 125-119 overtime victory. While he does still lack a truly dominant post game, Aldridge's ability to hit the mid and long range jumpers is the key to his increased level of play. Third Star: Wesley Matthews (1/10: W vs. Miami) It certainly is nice to have a healthy Wes back in the starting lineup, and his performance, specifically late in the game, against Miami went above and beyond to prove this point. The box score doesn't do Matthews justice to how much of an impact he had against the defending champs. In 40 minutes Matthews had 18 points-on 7-18 from the floor, 3-8 from long range and 1-1 from the line-while adding 4 rebounds, 2 assists and 2 steals. While that is a solid line, it might not scream MVP worthy for the week; however, it was Matthews' late game heroics that give him the nod here this week. With just under a minute to play Matthews buried a 3 point field goal to tie the game at 88 a piece, finishing a furious 2nd half rally led by the Blazers. Then after an easy Chris Bosh bucket at the other end, Matthews executed a timely step back, breaking Ray Allen's ankles, and dropped another 3 point shot that gave Portland a 91-90 lead. A lead they would not relinquish in the final seconds, as they topped the Heat 92-90. Dunk of the Week: Nicolas Batum vs. Miami Batum soars the middle of the key in this high flying dunk last Thursday against the Heat. Enjoy. CLICK HERE TO CHECK OUT THE BLAZERS BLOG IN OUR CLUBHOUSE TODAY AT NWSB!
Original Story:
http://www.nwsportsbeat.com/trailblaz...
THE BACKYARD
BEST OF MAXIM
RELATED ARTICLES
The whispers surrounding the worst kept secret amongst NBA circles are growing increasingly louder. While many fans wonder when the Cleveland Cavaliers will make a move to help win basketball games, it appears that the answer is the summer of 2014 when LeBron James can opt out of his contract with the Miami Heat. In his piece which was filed for the Sunday morning paper, Jason Lloyd...
SETTING RECORDS
Video: Reaches 20,000 points at age 28
Last night LeBron James added another accomplishment to his long list of records. In the Heat's win over the Warriors James became the youngest player in NBA history to score 20,000 points. James did so at 28 years and 17 days. The previous record was held by Kobe Bryant who got to 20,000 at 29 years and 122 days. Of course James did this the fastest because he started his career...
LeBron James was the youngest player in NBA history to win rookie of the year, to record a triple-double, to score 1,000 points, to score 10,000 points, to win MVP honors at an All-Star Game ... You get the idea. His latest youngest-to-do-it milestone could come as early as Wednesday. He needs 18 points to become the 38th NBA player to score 20,000 in his career. If it happens...
LeBron James added a few more accolades to his already illustrious career Wednesday night as his Miami Heat took the Golden State Warriors. He reached two career milestones, becoming the youngest player to ever reach 20,000 career points while also recording his 5,000th assist.  But it wouldn't be enough if that was all he did, right? So, he gave us two ridiculous dunks in the...
LeBron James was the youngest player in NBA history to win rookie of the year, to record a triple-double, to score 1,000 points, to score 10,000 points, to win MVP honors at an All-Star Game ... You get the idea. His latest youngest-to-do-it milestone could come as early as Wednesday. He needs 18 points to become the 38th NBA player to score 20,000 in his career. If it happens...
SALT LAKE CITY -- LeBron James had big compliments for the Utah Jazz's crowd before and after Monday's game. The EnergySolutions Arena faithful had reason to return the praise to Miami's superstar after a wild contest. Al Jefferson scored 23 points and grabbed 11 rebounds, and Gordon Hayward added 22 points off the bench for the Jazz as they held off a furious fourth...
OAKLAND,Calif. -- If there's one thing LeBron James has learned in his NBA career, it's that sometimes the best things aren't scripted. On a night that might have been called "The Milestones" if he'd been allowed turn a mid-January regular-season game in a place called Golden State into a made-for-TV extravaganza, James crashed through two historic NBA...
Remember back in the summer of 2010 when LeBron James decided to take his talents to South Beach?  Remember when the Miami Heat then held a pep rally and LeBron James himself stated that they're going to win "not 2…not 3…not 4…not 5…not 6…not 7″ NBA championship titles?  They claimed [...]
OAKLAND, Calif. (AP) -- LeBron James became the youngest player in NBA history to score 20,000 points and also surpassed 5,000 assists on a milestone night Wednesday, leading the Miami Heat to a 92-75 victory over the undermanned Golden State Warriors. On a road trip that has had more bad news than good, James rewrote the headlines and the record books. He finished with 25 points...
SALT LAKE CITY (AP) -- LeBron James once scored 51 points against the Utah Jazz, and needed 50 on Monday night to become the youngest player to reach 20,000 for his career. He almost got there. James scored 32 for the Miami Heat, but the Jazz held on after nearly blowing a 21-point lead and won 104-97. "We're trying to learn how to push a lead from 20 to 30 and close...
NBA News

Delivered to your inbox

You'll also receive Yardbarker's daily Top 10, featuring the best sports stories from around the web. Customize your newsletter to get articles on your favorite sports and teams. And the best part? It's free!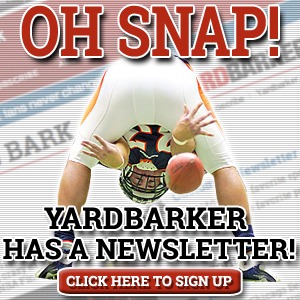 Latest Rumors
Best of Yardbarker

Today's Best Stuff

For Bloggers

Join the Yardbarker Network for more promotion, traffic, and money.

Company Info

Help

What is Yardbarker?

Yardbarker is the largest network of sports blogs and pro athlete blogs on the web. This site is the hub of the Yardbarker Network, where our editors and algorithms curate the best sports content from our network and beyond.