Found November 29, 2012 on NorthWest Sports Beat:
Portland continues East Coast slide The Headline: squaring off with the winless Wizards, Portland continues its East Coast losing streak with this new 82-84 loss. Portland Trail Blazers vs. Washington Wizards When: 7:00 ET, Wednesday, November 28, 2012 Where: Verizon Center (Washington D.C.) Officials: Derrick Stafford, David Guthrie, James Williams Attendance: 14,114 Love 'em Batum back alive Nicolas Batum has been mired in a slump over his last four games, but it looks like he's finally breaking through. Batum had a solid night, putting up 20 points, four rebounds, three steals and a block. After shooting 36 percent over his cold streak, Batum showed improvement with a 6-15 night. The biggest improvement was from behind the arc, where Batum was 5-10. He was shooting 20 percent on threes during his slump. Hopefully with Batum heating up again, the Portland offense can start rolling again. And hopefully that will result in a win, because Portland could sure use one. Batum's finally breaking his slump. (Photo: Alex Brandon/AP) Hickson owns With another double-double in the bag, this might have been J.J. Hickson's best performance of the year. Hickson put up a solid 15 points on 6-8 shooting. He finished the night with a season high 19 rebounds, including nine offensive boards. He tacked on a block and steal for good measure. After some trouble in the paint, Hickson finally had a solid defensive effort under the basket. The Wizards had just 18 points in the paint, the lowest Portland's given up in quite some time. Hate 'em 1. East Coast swing woes With their third loss in a row, Portland continues to suffer through its East Coast swing. The Blazers are currently on a seven game East Coast roadtrip, and have kicked things off 0-3. They have been outscored by opponents 268-290. Next up for Portland is Boston (Nov. 30), Cleveland (Dec. 1), Charlotte (Dec. 3) and Indiana (Dec. 5). Only two of those games actually look winnable, but after this game nothing is certain. 2. Matthews hitting cold streak While most of Portland's starters looked pretty solid in this game, Wesley Matthews had quite a disappointing night. The hot-handed shooting guard shot a putrid 2-10 on the night and was 1-8 from downtown. He finished his night with six points, two rebounds and two steals. CLICK HERE CHECK OUT OUR TRAIL BLAZERS BLOG AT THE NWSB!
Original Story:
http://www.nwsportsbeat.com/trailblaz...
THE BACKYARD
BEST OF MAXIM
RELATED ARTICLES
STATUE OF LIMITATION
Portland Trail Blazers rookie Damian Lillard tweeted that while he enjoyed a visit to Washington D.C. and would like to return, the "historic statues" there frighten him.
With LaMarcus Aldridge and the Portland Trailblazers coming into Boston, The Oregonian posted an interesting article about the matchup: Does Garnett's style of play, and irritation, bring out the best in Aldridge? Can I quickly dispel this and say no? According to article, Aldridge has a list of people who really bring out the aggravation in him. Guys like A'mare Stoudemire,...
PDX needs this one The Portland Trail Blazers  are coming off arguably their most disappointing loss of the season; a contest against the Detroit Pistons that was considered one of the easier games on the schedule through this point in the year. Matchup: Portland (6-8) @ Washington Wizards (0-12) Venue: Verizon Center Time: 4:00 PM PT Date: Wednesday, November 28, 2012 Losing to...
  It's finally happened. The Wizards have won their first game of the NBA season. Following 12 straight losses, Washington beat the the Portland Trailblazers 84-82 on Wednesday night. Injured point guard John Wall was so happy about the Wizards first win that he posted this photo on his Instagram with the caption, "Bow-tie coolin [...]
Part of you has to feel bad for Blazers fans. The team is just bad. How bad? Some of the worst teams in the league look forward to playing Portland so they can get a win. *cough*Washington*cough* They should get some sympathy because it wasn't so long ago the Celtics were a laughing stock even though they had plenty of talent on paper. Needless to say, there was not a whole...
The Washington Wizards earned their first victory after starting the season with 12 straight losses, getting 19 points from Jordan Crawford in an 84-82 win over the Portland Trail Blazers on Wednesday night. Washington survived a scoreless 6:47 in the fourth when Crawford hit on a 3-pointer with 2:06 to play, and the Wizards finally took the 84-82 lead on Emeka Okafor's two...
Trail Blazers 78 – Celtics 96 No Rondo. No problem. In the first of two games without their suspended All-Star point guard, the Celtics cruised to an easy home victory, 78-96, Friday night over a hapless Portland Trail Blazers team. Boston got off to a strong start thanks to the play of their guards, Jason [...]
After their worst start in history, the Washington Wizards became a national punch line. On TNT, Charles Barkley compared them with the Washington Generals, and a local newspaper had photos of fans wearing paper bags over their heads at Monday's 26-point loss to San Antonio.
I managed to catch Randy Wittman's post game press conference following the Washington Wizards first win of the season, which came against the Portland Trailblazers. He answered questions about the team team's struggles this season and the feeling in the locker room.
Just when the Charlotte Bobcats thought it was safe to claim the NBA's worst record ever, the Washington Wizards rise up, and attempt to lay claim to the thrown. Here is the latest update for the NBA's worst teams, NBAwful 2012-13, Vol. II.Washington Wizards: Breaking news!! The Wizards won a game! The Wizards beat the Trailblazers Wednesday night to break into the win column...
Portland Trail Blazers 78, Boston Celtics 96 - FINAL - November 30, 2012 Quarter Breakdown Team1234TOTAL Portland Trail Blazers1815261978 Boston Celtics2531192196 Portland Trail Blazers (6-10) PlayerMinsFGM/A3FM/AFTM/A+/-OREBDREBT-REBASTPFSTLTOBSBAPTS 88Batum, Nicolas33:102-111-64-5-92353023109 12Aldridge, LaMarcus32:598-160-07-9-1026802151023 21Hickson, J.J.25:323-70-05-8-1721301220111...
After enduring the worst start in team history, the Washington Wizards finally got in the win column their last time out. Another victory could be hard to come by with a visit to Madison Square Garden in store. The Wizards try to build on their latest result Friday night against the New York Knicks, who look to stay unbeaten at home and continue their recent domination in the series...
NBA News

Delivered to your inbox

You'll also receive Yardbarker's daily Top 10, featuring the best sports stories from around the web. Customize your newsletter to get articles on your favorite sports and teams. And the best part? It's free!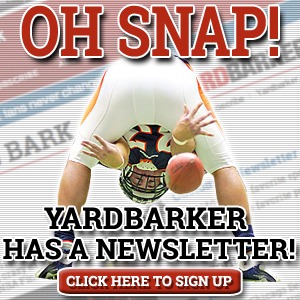 Latest Rumors
Best of Yardbarker

Today's Best Stuff

For Bloggers

Join the Yardbarker Network for more promotion, traffic, and money.

Company Info

Help

What is Yardbarker?

Yardbarker is the largest network of sports blogs and pro athlete blogs on the web. This site is the hub of the Yardbarker Network, where our editors and algorithms curate the best sports content from our network and beyond.