Found July 13, 2014 on The Lottery Mafia:
Taken with the 14th and final lottery pick of the 2013 Draft, Shabazz Muhammad rarely got off the bench during his rookie year. What could he do to change that? Shabazz Muhammad's career is veering dangerously close to the kind of arc that a villain in a PG-rated sports movie would follow. Once a high school prospect of astounding value, the sheen on Muhammad's abilities wore off awful quick when it was revealed that he was a full year older than his claimed age. Instead of being taken with a top-3 overall pick, the slot where he was long projected to go, Muhammad not only went 14th overall in a notoriously weak class, but he was traded on Draft night from one snowy, small-market climate to another, getting dealt from Salt Lake City to Minnesota. Like a difficult kid getting sent home from summer camp, Muhammad couldn't obey the rules during last the rookie transition program last August. That's a look that may have been in vogue in the early 2000s, but today's successful young draftees are all focused, diligent, and give little for their coaches to worry about during nights on the road. In 2013-14, Muhammad only played 7.8 minutes per game over just 37 games, with the vast majority of missed games being healthy scratches. It's a lot less playing time than the Timberwolves' other first-round pick, Gorgui Dieng — picked 21st overall — received: 13.6 minutes per game over 60 games, including over 30 minutes per game and starts in all of Minnesota's April contests. Muhammad even got less playing time than rookie Robbie Hummel (12.4 minutes per game, 53 games), who was Minnesota's second-round pick in 2012. As a 6'6″ guard, Muhammad is an excellent option on the low post, where he usually provides a size mismatch against the usually-smaller guard who must defend him. As a left-handed shooter, Muhammad thrives best on the left block, where he will rely on a little hook/push shot that, while not highlight reel fodder, is a deceptively difficult two points to prevent: Muhammad runs into problems if he tries to create offensively in any other context than this. His long-distance shooting is not a serious threat, and his attempts to drive usually end with him well short of the basket. Muhammad will resort to attempts to replicate that same left-handed floating shot while in motion, which usually results in a fairly low-percentage look: Defensively, any size advantage that Muhammad has is, for all purposes, lost whenever he takes a long, looping route under a screen in a not-quite full-spirited attempt to keep up with his man. In the play below, Muhammad's assignment is Wesley Matthews, who receives the ball from Nicolas Batum after running off a Thomas Robinson screen on the left post. By wandering a fair distance away from the cutting Matthews, Muhammad runs right into the Robinson screen. Now a step behind the play, Matthews is able to easily deke Muhammad into a shooting foul: In the middle of the season, Muhammad was assigned to the NBDL's Iowa Energy for a four-game stretch. Muhammad's term against fringe prospects went resoundingly well: Muhammad scored 24.5 points per game on 57.1% shooting for the Energy, grabbing 9.8 rebounds per game as well. That is: he comfortably dominated the competition. In the 2013-14 season, Muhammad was in a rare and uncomfortable limbo — too great to spend very much time traveling around the NBDL, not versatile enough to see consistent NBA playing time. If Shabazz's season goes in a more positive direction in 2014-15, it will likely be because he has diversified his offense and sharpened the focus on his defensive game.
Original Story:
http://thelotterymafia.com/article/ro...
THE BACKYARD
BEST OF MAXIM
RELATED ARTICLES
The Minnesota Timberwolves have been an extremely active team this offseason, and they are expected to move superstar forward Kevin Love at some point before the season begins. According to a report from Chuck Myron of Hoops Rumors, the Timberwolves are interested in acquiring power forward Ryan Anderson from the New Orleans Pelicans. It would certainly be an interesting pickup for...
Looking at game two for the Minnesota Timberwolves there are many places where they can improve.  I was looking for the defense to be tight and the rebounding on the defensive end to be better. Also I want to see if Alexey Shved can be consistent, and if Shabazz Muhammad could keep up with his great first game.  Additionally, I wanted to see what Glenn Robinson III has in him...
LAS VEGAS -- As the questions about Kevin Love's future with the Minnesota Timberwolves swirl, the team -- now fully under the command of second-year president and first-year head coach Flip Saunders -- is looking to strengthen its growing core of young talent in the NBA Summer League in Las Vegas. Coming off of last Wednesday's scrimmage which drew 6,000 fans to Minnesota...
Dan Fegan is aiming high for client Ricky Rubio in rookie scale extension talks with the Timberwolves, asking for a five-year, maximum-salary deal, reports Darren Wolfson of 1500 ESPN Twin Cities (Twitter link). It's unclear how steadfastly Fegan will stick to that price, but it seems an indication that he and Rubio are in no mood to accept a discount after a season in which the...
The Minnesota Timberwolves and Ricky Rubio's camp have been in contact on a contract extension. Rubio's agent, Dan Fegan, is seeking a five-year max contract. David Kahn now infamously gave Kevin Love a four-year extension in order to keep his five-year extension for Rubio. Love's future with the Wolves is now in serious doubt as he can become a free agent in 2015. If...
MINNEAPOLIS -- Shabazz Muhammad appeared in 37 NBA games during his rookie season, averaging a menial 7.8 minutes per contest. But when he was on the floor, the swingman from UCLA was productive -- albeit a good chunk of his game repetitions came during garbage time. Per 48 minutes, Muhammad averaged 23.7 points and 8.8 boards. His slashing, at-times frenzied style of play didn&...
K Love gone? Kevin Love wallpaper removed at Target Center. (Via @SamuelEGordon) #Timberwolves pic.twitter.com/krotQJsho0 — Kari Van Horn (@KariVanHorn) July 13, 2014
(Photo credit www.blacksportsonline.com) Well for Kevin Love the writing sure is on the wall, or should I say off the wall.  The image above shows a member of the Timberwolves staff removing what it looks to be Kevin love's picture from the Target Center. Love has been mentioned in at least a half a dozen trade rumors in recent weeks.  The last one had him landing in Cleveland with...
NBA News

Delivered to your inbox

You'll also receive Yardbarker's daily Top 10, featuring the best sports stories from around the web. Customize your newsletter to get articles on your favorite sports and teams. And the best part? It's free!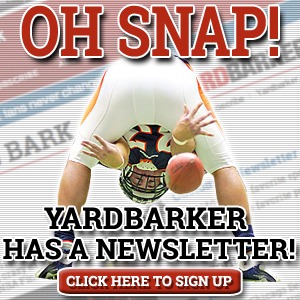 Latest Rumors
Best of Yardbarker

Today's Best Stuff

For Bloggers

Join the Yardbarker Network for more promotion, traffic, and money.

Company Info

Help

What is Yardbarker?

Yardbarker is the largest network of sports blogs and pro athlete blogs on the web. This site is the hub of the Yardbarker Network, where our editors and algorithms curate the best sports content from our network and beyond.