Found October 01, 2012 on Project Spurs:
It's been written for what feels like two years now that the San Antonio Spurs need a mobile big man that score and play some defense.  After seeing some of his highlight reel, a lot of people thought 2010 second round pick Ryan Richards could, in time, be that guy.  Then, when Richards turned up on the Spurs Summer League team in July, people thought that time could be sooner rather than later.  Richards had his ups, downs and meh's, mostly meh's, but enough ups to maybe get an invite to Spurs training camp. Yet, here we are a day away from the start of camp and Richards' name is nowhere to be found on the Spurs' roster.  Instead, their are undersized, mobile forwards like Derrick Brown, Tyler Wilkerson and Josh Powell.  So what's the hold up?  Did the Spurs not see enough in Richards to give him an invite?  Even if he isn't good enough to make the Spurs' roster wouldn't the Austin Toros be the perfect place for him to go?  The short answer is yes, but it's not that simple. Sending a guy to Austin but keeping his exclusive rights is what the Spurs might want to do with Richards, but it's actually a tricky process to get him there and make sure no one else can get to him without giving him an NBA contract (and roster spot).  As Scott Schroeder of Ridiculous Upside wrote last March, the Oklahoma City Thunder went through a similar process with second round pick Ryan Reid in 2011.  The Spurs can't invite Ryan Richards to camp without giving him a roster spot because if he's cut, they lose his rights.  Schroeder laid out the alternatives with Andrew McNeill of 48 Minutes of Hell.  First, they could have Richards enter the D-League draft, assuming they get a high enough draft pick to take him.  That still might be too risky.  Alternative number two is to wait until after the draft and have him sign a D-League contract when the Toros are at the top of the waiver wire.  Then the Spurs would keep his NBA exclusive rights. Schroeder and I also talked briefly about this during Summer League and he told me that there's nothing to keep Richards from working out at the Spurs' practice facility up until training camp if the team is serious about keeping him in the program.  That may or may not have happened, we don't know for sure because Coach Pop won't let us use any of old CIA surveillance equipment to monitor the practice facility.  Just don't think the Spurs have given up on Richards, they probably haven't.  Short of signing him to a guaranteed contract, there just isn't a quick, clear cut way of getting him to Austin without risking another team plucking him from the Spurs' system.  So patients friends, you could be hearing more about Richards as the leaves begin to change colors in the coming months (figuratively of course, since leaves in South Texas don't really change colors).
Original Story:
http://www.projectspurs.com/2012-arti...
THE BACKYARD
BEST OF MAXIM
RELATED ARTICLES
The San Antonio Spurs may not have made many roster changes over the offseason but they did reveal new alternate jerseys and will be showing off their new homecourt at the AT&T Center this season. Check out a photo of what might be the new Spurs' court with changes to the mid-court logo which is now just the word "Spurs" less the background shield and solid...
Nando De Colo comes into this year's San Antonio Spurs season with a great deal of expectations on his shoulders. Even though the team is stacked at the guard position, he's going to be expected to contribute right away because Spurs fans have been waiting to see what he can do since he was drafted back in 2009. No doubt Coach Popovich will ride the hot hand at the guard...
The San Antonio Spurs kick off their 2012-13 training camp today and look to rid themselves of the nasty taste left in their mouth from last season's playoff debacle against the Thunder. Speaking to the media yesterday at Media Day, Tony Parker weighed in on this season's squad and likes what he sees. Check out TP weighing in on the Spurs chances this season, his...
Eddy Curry has played in just 24 games over the past three seasons as he has struggled to be in game-condition.
On this episode of the Project Spurs-News 4 WOAI San Antonio Spurs Roundtable, Paul Garcia and I speak about the Spurs upcoming training camp which is set to kick off this week. Who will make it? Which player should Spurs fans keep an eye on? We break it down. Also on the show, we discuss the future of DeJuan Blair, go in-depth about the newest Spur Nando De Colo and much more.
Project Spurs attended today's San Antonio Spurs' media day as the players gathered to kick off the new season and push for title number five. There were new faces, familiar faces and of course a few surprises along the way. Here are five things to note from media day: Eddy Curry. Perhaps the biggest surprise was to see Curry was on the training camp roster and...
We've gotten a lot of news and interviews lately from NBA 3X events, which are put on by the NBA around the world to spread the game of basketball. Several current and former NBA players have been involved, including former San Antonio Spurs defensive-ace Bruce Bowen, who is in Spain. Bowen did an interview with a local Spanish news outlet while he was there. It seems like...
The San Antonio Spurs' mascot, the Coyote, is lending a helping paw for the NBA to promote the game as part of the NBA 3X out in Japan. The Coyote was up to his usual antics Spurs fans are used to seeing at the AT&T Center in Japan as he took to the trampoline to tear down the rim for the fans.
A few interesting things happened at Spurs media day Monday.  Eddy Curry turned up in a San Antonio Spurs uniform, DeJuan Blair blew off WOAI's Don Harris, and Tim Duncan admitted Stephen Jackson's rap albums and Tony Parker's bar fight add to the Spurs' street cred.  But to me, the most interesting quote came from guard Manu Ginobili, who admitted the end was near...
The San Antonio Spurs offseason was relatively quiet as the team stood pat and (as of right now) only added guard Nando De Colo. Clearly, the Spurs are looking at stability and keeping the chemistry strong heading into the new season. Spurs GM R.C. Buford spoke about the offseason and much more with our friend, Don Harris, over at News 4 WOAI. Buford touched on offseason moves...
The Spurs have added Eddy Curry and Sherron Collins to their training camp roster.
Flopping can be an effective tool and annoying at the same time. If your favorite player on your favorite team does it and draws the call, you love it. If it's done against your favorite team, it is aggravating. And for many seasons, San Antonio Spurs' Manu Ginobili has mastered the art of the flop. Spurs fans have seen him flop countless times and for the most part,...
NBA News

Delivered to your inbox

You'll also receive Yardbarker's daily Top 10, featuring the best sports stories from around the web. Customize your newsletter to get articles on your favorite sports and teams. And the best part? It's free!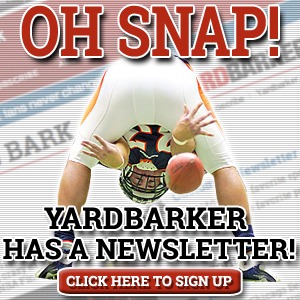 Latest Rumors
Best of Yardbarker

Today's Best Stuff

For Bloggers

Join the Yardbarker Network for more promotion, traffic, and money.

Company Info

Help

What is Yardbarker?

Yardbarker is the largest network of sports blogs and pro athlete blogs on the web. This site is the hub of the Yardbarker Network, where our editors and algorithms curate the best sports content from our network and beyond.