Found June 09, 2012 on NBA 24/7 365:
With all three of its NBA teams eliminated, the state of Texas currently features a wide variety of disgruntled sports fans.  It's been a really rough couple of days for one particular Texan, though.  Not only did a Spurs fan by the name of Phillip Lozano have to watch his team lose four games in a row to miss out on a trip to the NBA Finals, but he's also had his Ginoborcyle (new term I'll be using to describe any motorcycle with Manu Ginobili's face on it) seized in a drug raid.  Via mysanantonio.com…
The owner of a highly customized Spurs theme motorcycle was arrested Thursday on charges that he intended to deliver drugs and was found in possession of less than a gram of cocaine and marijuana.

Phillip Lozano, 34, was released that same day after posting a $3,000 bond to cover the felony charge.

He was arrested when Bexar County Sheriff's deputies raided a home on Blonde Canyon Thursday morning, seizing $10,000 in cash, an all terrain vehicle, car and that motorcycle — a 2009 Suzuki Hayabusa, which Lozano covered with various Spurs' logos and Manu Ginóbili's face.

His girlfriend was also arrested.

An image of his motorcycle was featured in the San Antonio Express-News as part of the paper's coverage of Spurs' playoff run.
Also according to mysanantonio.com, Lozano had just begun the transformation of his bike this week.
Well, at least he got to be the coolest motorist in San Antonio for a day or two.  Here are some more pictures of the bike, which features remarkable craftsmanship and attention to detail.
On a positive note, Phil, you're about to get a fantastic rating on the Swag-O-Meter!
Official –Swag-O-Meter– Rating:
5/5

Original Story:
http://nba247365.com/?p=6883
THE BACKYARD
BEST OF MAXIM
RELATED ARTICLES
The 2012 Olympic games are fast approaching and for San Antonio Spurs fans, it will give them a chance to see some of their favorite Spurs players (and possible future players) in action before the new season kicks off. One possible player is Ryan Richards, who was drafted by the Spurs in 2010, who was set to play for the host country Great Britain, but has shocked the British national...
Crime doesn't pay whatsoever and for the owner of a San Antonio Spurs inspired motorcycle, it cost him one pricey, yet extremely cool, chopper. A San Antonio man was arrested for charges of intent to deliver drugs and the price was one very detailed motorcycle, a 2009 Suzuki Hayabusa, depicting Spurs' Tony Parker and Manu Ginobili. How detailed are we talking about? Check...
The San Antonio Spurs' season wasn't even finished for 24 hours and already there are rumors left and right about what could be a busy offseason.  First came reports that the Spurs have taken interest in former Syracuse guard Antonio "Scoop" Jardine (great name).  Now comes something juicier.  According to a tweet from Yahoo!'s Marc Spears, the Spurs are...
San Antonio Spurs' Danny Green had a solid season despite a lackluster series in the Oklahoma City Thunder in the Western Conference Finals. He averaged 9.1 points, 1.3 assists, 3.5 rebounds, shot 44% from the field, and shot 43% from the three-point line in 23.1 minutes during the the regular season. He later would find himself inserted into the starting lineup and became a...
Today's just a normal summer day here in San Antonio, but it could have been game seven of the Western Conference Finals at the AT&T Center. Instead it's a gloomy cloudy day outside where the sun is battling through thick clouds and scattered showers to shine. As far as sports in the city go, the quiet day is a resemblance of the state the San Antonio Spurs are in right...
The Spurs are interested in re-signing Boris Diaw this offseason.
The San Antonio Spurs' season is over as they fell to the Oklahoma City Thunder (4-2) in the Western Conference Finals but Game 6 wasn't without its controversy. When the Spurs were surging back after losing an 18-point lead, the referees made two questionable offensive foul calls (both on Manu Ginobili) which may or may not have cost the Spurs a chance to tie the series...
Following a devastating loss in the Western Conference Finals after leading the series 2-0, San Antonio Spurs head coach Gregg Popovich addressed the media in an attempt to define what went wrong: ''We faced a team that beat us fair and square. We reached our limit,'' Popovich said. Pop, famous for his...shall we say, brevity...has dropped another gem on us.  With...
If there's anything sports fans love it's a narrative. Remember: Kevin Durant is humble. Gregg Popovich is cool. Phil Jackson is zen. The San Antonio Spurs are boring. Russell Westbrook is selfish. Lebron isn't clutch. A real sports fan would never let the truth get in the way of what they already think. Though I must admit that last night Lebron did an awful lot (for the 100th...
San Antonio Spurs fans are probably still stunned over how the Spurs 2011-12 season came to a crushing end. After sweeping their way to the Western Conference Finals and going up 2-0, San Antonio lost four games in a row to the Oklahoma City Thunder in one grand implosion. The bench disappeared, shots were not falling, players were not stepping up their game and much more happened...
The Spurs may consider signing Kevin Garnett this summer, according to a person within the organization.
Spurs News

Delivered to your inbox

You'll also receive Yardbarker's daily Top 10, featuring the best sports stories from around the web. Customize your newsletter to get articles on your favorite sports and teams. And the best part? It's free!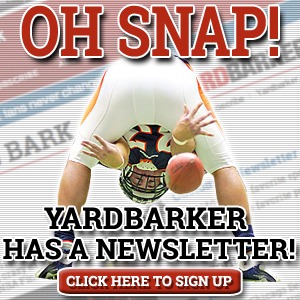 Latest Rumors
The Backyard

Today's Best Stuff

For Bloggers

Join the Yardbarker Network for more promotion, traffic, and money.

Company Info

Help

What is Yardbarker?

Yardbarker is the largest network of sports blogs and pro athlete blogs on the web. This site is the hub of the Yardbarker Network, where our editors and algorithms curate the best sports content from our network and beyond.