Found July 16, 2012 on Project Spurs:
PLAYERS:
Ryan Richards
,
Eric Dawson
,
Kawhi Leonard
,
Cory Joseph
,
DeJuan Blair
,
Tiago Splitter
,
Luke Zeller
,
Dirk Nowitzki
TEAMS:
Atlanta Hawks
,
San Antonio Spurs
,
Dallas Mavericks
,
Los Angeles Lakers
The day, August 7, 2011. San Antonio Spurs draftee Ryan Richards led Great Britain to a 96-70 victory over the Netherlands in exhibition play as both teams were preparing for the 2011 Eurobasket.


I have fond memories recapping that game because it was the one game where I saw a lot of potential in Richards. He led the team by scoring 16 points in a short amount of playing time.

It wasn't the points that were impressive, it was the way that he scored them. 

Richards displayed his versatility on offense by making 3-pointers, squaring up his defender and sinking a jumper in his face, finishing in the post with a left-handed hook shot and attacking the rim with force.

Defensively, he was so quick that when he was switched onto small forwards or guards, he could match up with them relatively well.

Fast forward to Richards' Summer League game on Sunday, in which the Spurs defeated the Atlanta Hawks 82-76, Richards once again displayed those same skills, but he also showed why he's still a very raw prospect.
Through the course of the Spurs' five games in Vegas this week, I'm going to be analyzing Richards' game on both sides of the ball and I'll have a final assessment next week on whether or not I think he's ready to play at the NBA level.

Against the Hawks, Richards didn't play in the entire first half. He was finally inserted into the game at the 7:05 mark of the third quarter.

One of the first noticeable attributes of Richards is his size. Yes he's got the height and length at 6'11", but his body looked very lanky, it didn't look like he had a lot of muscle compared to the rest of the players on the court. Our own Trevor Zickgraf, who was at the game, said Richards does look a little smaller in body size, but with Eric Dawson playing at 250-pounds, it made Richards look a lot thinner. Almost "Kevin Durant" thin.

One of his first plays was a turnover. As Kawhi Leonard was holding the ball at the top of the key, Richards was trying to gain position in the paint, he was called for a three-second lane violation. 

A few plays later, Richards was given the ball in the post. He received the ball about 8-feet away from the basket, posted his defender two feet in, then spun around his defender quickly to attempt a left-handed hook shot. He missed the shot, but his quickness and ability to spin so fast made it clear his defender had no chance of blocking the shot.

A few plays later, Richards was trying to get position in the paint and he got called for an offensive foul for pushing his defender. Though it was another turnover, you have to like that Richards never stops moving. He's constantly either in the paint trying to get post position, or rotating around the perimeter to attack from the top. 

On the next play, he made a bad read on defense. As he was involved in a pick-and-roll, he hedged toward the guard, but left his player with too much room to cut in for an easy dunk. 

A few plays later, Richards displayed his quickness on defense. He was involved in a screen-and-roll and had to defend a small forward on the perimeter. As the small forward tried to cross Richards and drive at the basket, Richards was so quick to prevent the move that the offensive player was called for a travel. Having this skill to rotate and guard any player on the floor can be a real plus for Richards as long as he continues to work on his decision making and footwork on defense.

Richards' only two points came on a play where he set a screen, and rolled to the basket and got fouled. After Richards set the screen for Cory Joseph, Joseph quickly fed Richards the ball, Richards immediately used a hop-step to get into the paint and draw contact from two defenders.

On another play when a Spurs guard was trapped on the perimeter, Richards made his way up to the top of the key, he received the pass and shot a long 18-foot jumper, he missed the shot. It's not that he missed the shot that's to note, it's that he knows how to get the ball in his hands. He'll first go into the paint area and try to get position in the post, if that's not working and the guards are having trouble feeding the big men, he's lucky enough to have a perimeter game that he runs right to the 3-point line so the guard can feed him the ball. That's a skill DeJuan Blair and Tiago Splitter lack, the ability to play inside and outside.

One area I noticed where he needs improvement is in his anticipations when defending the pick-and-roll. He had trouble hedging either too little or too late on several plays when he had to be involved in defending a pick-and-roll.

One of his last plays touching the ball was in the third quarter. He tried to post his defender from 15-feet outside the paint. A double-team came when he was posting, and he almost lost the ball. A teammate picked the ball up to save him from another turnover. 

Richards played half of the fourth quarter before Luke Zeller and Dawson finished the game in the frontcourt. But in his five-minute fourth quarter stint, Richards displayed his ability to draw contact. He caught the ball at 18-feet above the key, similar to where Dirk Nowitzki of the Dallas Mavericks catches the ball, and Richards immediately started  to post his defender. After throwing a few shoulder fakes and shaking his defender, he drew a foul because he was so quick to make a move and get free.

One of his last plays of the fourth quarter was a missed wide open 3-pointer before being pulled out of the game. Again it's not the miss that's intriguing, it's his ability to know where to go on the floor to get open shots or points of attack.

One area he also needs to improve on is his rebounding. He either doesn't seem aggressive at trying to nab boards, or just doesn't have the physical frame to grab them from the post players with more strength. The reason I'm going to analyze each game is because if you didn't see the game, you'd think Richards did nothing by looking at his stat line.

11:07 minutes, 2 points, 0/3 shooting (0/1 3-PT), 2/2 FT, 2 rebounds, 1 foul, 2 turnovers.

Yes it doesn't look like he did much, but Richards finished the game with a +/- rating of +5. Richards is very raw, he had two early turnovers on his part, but once he got settled in, he looked more comfortable on both ends of the floor.

It's just a one-game sample of Richards in Summer League play, but as the Spurs prepare for the Los Angeles Lakers on Tuesday, it'll be interesting to see what kinds of strides or setbacks Richards has in his next game.
Original Story:
http://www.projectspurs.com/2012-arti...
THE BACKYARD
BEST OF MAXIM
RELATED ARTICLES
The San Antonio Spurs kicked off their Summer League with a game against the Atlanta Hawks. Many Spurs fans tuned in to the game to see possible future Spurs such as Ryan Richards but it was current Spur Kawhi Leonard who put on a show finishing with 23 points as the Spurs went on to win 82-76. Make sure to check out Project Spurs' Trevor Zickgraf's (who is at the Summer...
LAS VEGAS - Most Spurs fans know James Anderson's story by now. He's a former Big 12 Player of the Year drafted by the San Antonio Spurs, was injured during draft workouts so he missed Summer League. Anderson started the 2010-2011 season showing promise until he went down with a stress fracture in his foot after six games. He wasn't the same when he came back two months...
• Cory Joseph, the reporter?Spurs guard Cory Joseph took over the mic from our friends at Spurs.com and interviewed Spurs draftee and Summer League teammate Marcus Denmon."You just gotta get out there and get some rythm going," Denmon answered about Joseph's question regarding adjustments for tonight's game. "You gotta come in and be ready when your name...
LAS VEGAS - Game one of the San Antonio Spurs 2012 Summer League is in the books and it was a very succesful debut for a couple of players entering their sophomore seasons.  Going in to Summer League, we knew Kawhi Leonard would be the focal point of the offense, and while it took him a little while to get going, he did not disappoint.  The Spurs other Soph, Cory Joseph came in...
Fans love him for the way he acknowledges the community and has brought a winning professional culture to San Antonio.  Players enjoy playing for him because he treats everyone the exactly same way, even his superstars. Some media members hold themselves on a pantheon of some sort if they get chewed out by him.Who is he? Gregg Popovich of course.The San Antonio Spurs head coach...
Team USA has gotten themselves a lot of attention over the weekend with numerous players predicting that their current team could have defeated the 1992 Dream Team. But for the first quarter of U.S.A.'s 80-69 victory over Brazil, it seemed like they had no right to make such guesses. San Antonio Spurs site with blogs, weekly podcasts, on location video, photo and desktop wallpaper...
Eric Dawson is no stranger to the Vegas Summer League. He's been here before with the Spurs. Vegas may not have led him to a multi-year contract like it did with former Summer league teammate Gary Neal, but Dawson is giving it everything he's got to land back where it all started for him, San Antonio. A Sam Houston High School graduate, Dawson is a D-League veteran who has played...
LAS VEGAS - Here's something about Summer League that makes it a unique experience. You're crammed in to this relatively tiny gym where the "locker room" is actually a section next to the bleachers divided by some drape and piping.You also enter in the same place as some team scouts and executives. This leads to overhearing conversations in an elevator about whether or not...
"We're learning him as much as he's learning himself," San Antonio Spurs General Manager R.C. Buford said during the third quarter of the Spurs' 92-81 Summer League victory over the Los Angeles Lakers on Tuesday evening in Las Vegas.Leonard once again led the Spurs to victory with 27 points, though he had the opposite type of  game compared to Sunday when the Spurs defeated...
There's a lot of turmoil going on in Orlando. Their franchise player clearly wants out but the Magic can't seem to get a deal done. On top of all that, they're still looking for a new head coach. They seemingly had it narrowed down to two candidates, Golden State Warriors assistant coach Michael Malone and Indiana Pacers assistant coach Brian Shaw, but now it appears both of...
As a lot of focus in the NBA has been put on Argentine forward Luis Scola, who was released by the Houston Rockets via the amnesty clause on Friday, San Antonio Spurs guard Manu Ginobili recently discussed his other Argentinian teammate who will be making his way into the NBA at 35-years-old, Pablo Prigioni.Despite his age, Prigioni is going to play out his career by at least giving...
LAS VEGAS - Before the Spurs tipped off with the Atlanta Hawks, i had the privilege to be sitting next to ESPN analyst David Thorpe (we just call him Coach Thorpe).  Coach had a chance to talk about the Spurs' Summer League roster.  He didn't realize that Kawhi Leonard was on the Spurs Summer League squad and said he thinks it's great oppurtunity for both the Spurs...
NBA News

Delivered to your inbox

You'll also receive Yardbarker's daily Top 10, featuring the best sports stories from around the web. Customize your newsletter to get articles on your favorite sports and teams. And the best part? It's free!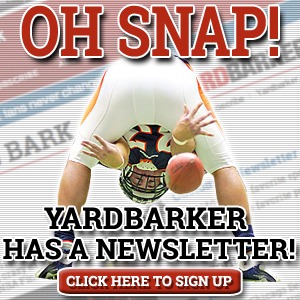 Latest Rumors
Best of Yardbarker

Today's Best Stuff

For Bloggers

Join the Yardbarker Network for more promotion, traffic, and money.

Company Info

Help

What is Yardbarker?

Yardbarker is the largest network of sports blogs and pro athlete blogs on the web. This site is the hub of the Yardbarker Network, where our editors and algorithms curate the best sports content from our network and beyond.