Found August 31, 2013 on isportsweb.com:
The fourth installment of the Detroit Pistons season breakdown sees them matched up against the new look Milwaukee Bucks. The Bucks made the playoffs a year ago, but their team's roster has seen a major overhaul this offseason. The Bucks swapped point guards with the Pistons (Jennings for Knight) and also added guard O.J. Mayo to the mix. Even as of yesterday, the Bucks were still making moves when they acquired two-time All-Star forward Caron Butler from the Phoenix Suns, who will likely start at the small forward position. The Bucks franchise has struggled for decades. The team just hasn't seemed to find their way out of mediocrity and it has showed. Despite the struggles, the team does have a promising frontcourt that consists of Ersan Ilyasova and Larry Sanders and a pretty talented young bench. Last season, the Pistons took three of four meetings against the Bucks. How will the team's with retooled rosters match up this season? Let's break it down. Same point guards, but different teams this upcoming season. (Photo Credit: Rick Osentoski-USA TODAY Sports) Projected starting lineups: Point Guard: Detroit- Brandon Jennings Milwaukee- Brandon Knight These two players were traded for one another this offseason. Both point guards, particularly Jennings, were in desperate need of a new situation. Jennings became a distraction in Milwaukee and was obviously disgruntled with the team. Jennings having a clean slate in Detroit will give him the fresh start he needs and should elevate his overall game. Knight has struggled so far in his career being a natural point guard. Knight isn't a great passer and doesn't seem comfortable at that spot. In Milwaukee, Knight will have less pressure leading his new team since the Bucks seem to be in mediocrity/rebuilding but not rebuilding mode…like usual. This will give him extra time to try and hone his craft and learn on the job, something the Pistons weren't willing to wait for. Jennings was an obvious and immediate upgrade for the Pistons and should really control this matchup in the series. Advantage: Pistons Shooting Guard: Detroit- Kentavious Caldwell-Pope, Rodney Stuckey, Chauncey Billups? Milwaukee- O.J. Mayo Mayo came into the league with high expectations, but hasn't quite lived up to the bill. Mayo, at best, is a middle of the pack shooting guard, but signing with the Bucks could really rejuvenate his career. Mayo has averaged 15.2 points per game throughout his career on 44 percent shooting and will give the Bucks a nice three-ball threat. On a young, retooled roster, Mayo will have the opportunity to carry the brunt of the load offensively and that could serve him well. The Pistons shooting guards will match up well with Mayo, but Mayo will still be the best shooting guard on the floor. This is the only advantage the Bucks should have on the Pistons in the starting lineup, so I expect the Bucks to try and take advantage of Mayo's scoring ability. Advantage: Bucks Small Forward: Detroit- Josh Smith Milwaukee- Caron Butler Another new position, yet again different faces filling them for both teams. Smith is younger and more athletic than Butler. What Butler brings to the table is a veteran presence and floor leader for a young Bucks team. Butler, 33, is coming off a pretty good season with the Clippers where he averaged just over 10 points per game, but as the years have gone on his minutes have decreased and efficiency has dropped. Smith should dominate Butler, who isn't a great defender and doesn't have the overall game Smith does. Advantage: Pistons Power Forward: Detroit- Greg Monroe Milwaukee- Ersan Ilyasova Two power forwards with two completely different styles and skill sets. Monroe is more of a bruiser and Ilyasova is more of a skilled big man. Ilyasova, as a stretch four, can really shoot the three ball. Monroe isn't a great defender, so Ilyasova stretching the floor and playing a lot on the perimeter could prove to be tricky for 'Moose'. Monroe will own the physical side of the matchup from the post and will have to try and keep the matchup between the two there. I believe the Pistons will play Smith at the power forward spot primarily against the Bucks because Smith matches up much better against Ilyasova. Smith exceeds Ilyasova athletically and would give him fits on both ends of the floor. Either way and each matchup still favors the Pistons. Advantage: Pistons Center: Detroit- Andre Drummond Milwaukee- Larry Sanders Sanders is a dynamite defender out of the post and perennial shot blocker. Drummond is well on his way to becoming that same sort of post defender for the Pistons. Both Sanders and Drummond are terrific athletes for big guys and are their team's energy source who eat up the boards at a high rate. On the other hand, don't expect a whole lot of offensive production from either player unless it's by way of a dunk. Sanders and Drummond have room to improve on the offensive end of the floor and will have years to figure that out in their respective cities since both are being groomed as the future. This particular matchup is interesting, but I'll take Drummond since this year will be his coming out party. Drummond will turn a lot of heads this season. Advantage: Pistons Bench: I've said it and I'll say it again: the Pistons have one of the deepest benches in the league and it got even better this offseason. The Bucks had a decent bench a year ago in terms of offensive production, but had one of the best in terms of rebounding (fourth), blocked shots (third)  and overall efficiency in the league. They also went out and added guard Gary Neal and forward Zaza Pachulia (for an egregious amount of money, I may add) who will further add to the bench production along with Jon Henson, Carlos Delfino, Ekpe Udoh and Luc Mbah a Moute. I foresee the bench matchup being quite even this season, but, the Bucks bench should see much more playing time this season in comparison with the Pistons. Advantage: Push Detroit- Maurice Cheeks Milwaukee- Larry Drew Cheeks and Drew are both entering their first season with their new teams. Drew had a successful run in three years with the Atlanta Hawks garnering three straight playoff appearances, but the team decided to go in a different direction when his contract expired. Cheeks has had similar success in spurts and is inheriting a team that could be the most talented he has head as a head coach in the NBA. Cheeks' stint in Oklahoma City as an assistant will only help his future success as a head coach once again. Being a part in building a young and successful franchise may have been contagious and hopefully he can bring that same momentum to the Motor City. Advantage: Pistons Projected Outlook: The Pistons will sweep the season series taking all four games. The Pistons overall talent pool far exceeds that of the Bucks. The Pistons starters will control the matchup and the Bucks will need a strong bench effort each game to try and counter that attack.   Related articles: Kentavious Caldwell-Pope: Rookie of the Year candidate? Season breakdown: Detroit Pistons vs. Indiana Pacers Season breakdown: Detroit Pistons vs. Cleveland Cavaliers
Original Story:
http://feedproxy.google.com/~r/isport...
THE BACKYARD
BEST OF MAXIM
RELATED ARTICLES
It appears that Detroit Pistons center Andre Drummond's efforts to flatter Nickelodeon star Jennette McCurdy have been successful. The NBA player who stands 7-feet tall is actually younger then McCurdy, 21, who has appeared on Nickelodeon shows such as 'iCarly' and 'Sam and Cat.' In July Drummond began posting photos of McCurdy for #WCW or "Woman Crush Wednesday" on...
After weeks of flirtatious Twitter banter between Pistons Andre Drummond and TV actress Jennette McCurdy, the two finally met Thursday night! McCurdy tweeted a photo of herself and Drummond with the caption "With [Andre Drummond] ahhhh!" followed by the Pistons big man uploading one his own, giving McCurdy a piggy-back ride.
Thanks to the realm of Twitter, dreams can come true. Recently, we told you about a Twitter flirtation between Detroit Pistons big man Andre Drummond and actress Jennette McCurdy which became the talk of our fair interwebs. Yesterday, the flirtation turned into a real thing as they finally met each other in person and below are photos to prove it: With @DRE_DRUMMOND_ ahhhh!!! pic...
I guess Nate Robinson's Instagram video of him crossing strangers up in the airport must have inspired Detroit Pistons' big man, Andre Drummond. Drummond posted two videos to his Vine account where he's in the airport dribbling with an imaginary ball like Nutzo from "Above the Rim."   Most recently Andre was on Instagram using "Woman Crush Wednesday" to get close...
Pistons News

Delivered to your inbox

You'll also receive Yardbarker's daily Top 10, featuring the best sports stories from around the web. Customize your newsletter to get articles on your favorite sports and teams. And the best part? It's free!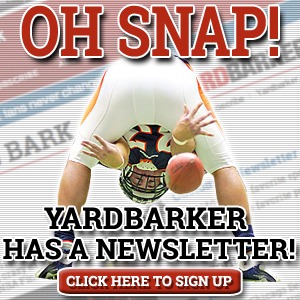 Latest Rumors
Best of Yardbarker

Today's Best Stuff

For Bloggers

Join the Yardbarker Network for more promotion, traffic, and money.

Company Info

Help

What is Yardbarker?

Yardbarker is the largest network of sports blogs and pro athlete blogs on the web. This site is the hub of the Yardbarker Network, where our editors and algorithms curate the best sports content from our network and beyond.