Second-year NBA stars who can salvage the season
By Yardbarker Contributors | Last updated 2/16/17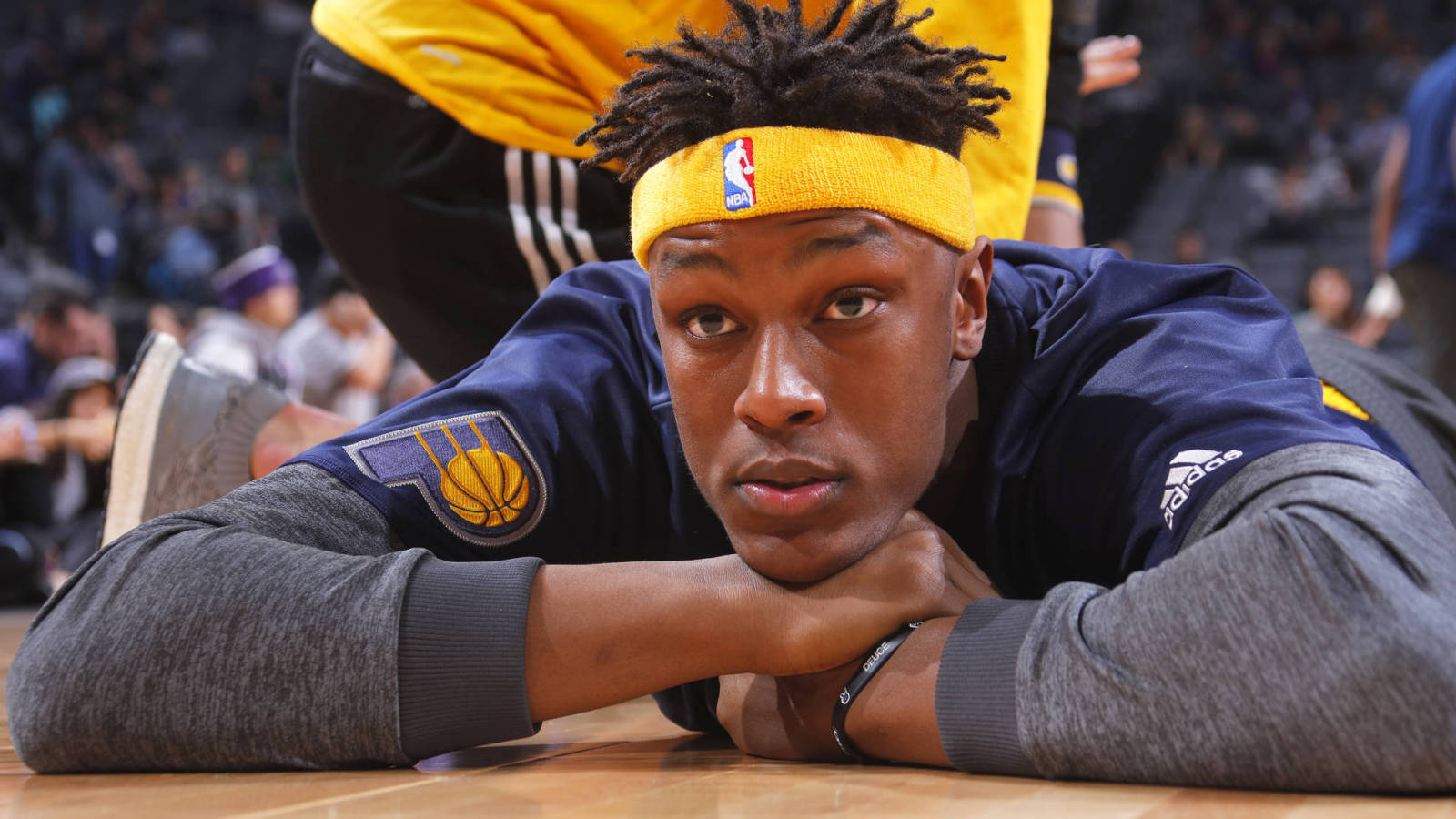 Myles Turner of the Indiana Pacers has a playoff run in his sights which could help push him to the next level in the NBA. 
Rocky Widner/NBAE via Getty Images
Anyone who follows sports knows all about the sophomore slump, but not all second-year players take a step fact. In fact, year two is often a stepping stone toward NBA stardom.
Welcome back to the Yardbarker roundtable, where we look at some of last season's rookies to see how they're doing in their sophomore campaigns. So:
Which second-year players will stand out in the second half?
Alex Wong: Devin Booker. The Suns are the worst team in the West, but don't sleep on the Kentucky guard who is averaging 21.1 points per game this season and just came off a January where he averaged 25.4 points in 14 games. Phoenix is going nowhere fast, but my bet is we'll be hearing about Booker plenty for the remainder of this season.
Sam Greszes: In thinking about the answer to this question, I came upon some knowledge that may be surprising and disturbing to most readers: Kristaps Porzingis is only in his sophomore year in the NBA. How is this possible? Has he just been so good that we forget he was a rookie last year? Have we been blinded by his adorable charisma? Maybe.
But the fact remains that the Knicks are in shambles right now, and it's not the fault of anybody on the floor. Carmelo Anthony is the leader of this team, granted, but Porzingis has a unique chance here in the second half of the season to, through amazing, unicorn-esque play, change the headlines from Dolan-focused hit pieces to fawning profiles on how the players on the floor overcame the hurdles placed in front of them by their front office (and head coach). If anyone can do that, it's Porzingod.
Jason Clinkscales: It feels like the Indiana Pacers are starting to get themselves together despite playing in the same division as the Cavaliers. Because of that, I think Myles Turner is going to get a lot more attention. After a very good but limited rookie campaign, he really took hold of the starting center job this year with per-game averages of 15.6 points, 7.1 rebounds and 2.1 blocks (the blocks are fourth among all starting centers). Since Turner is one of the few sophomores who is truly in the playoff mix, his profile will have some added luster compared to guys like Karl-Anthony Towns, Booker, Kristaps Porzingis and D'Angelo Russell, who have to rack up more stats with struggling teams.
Daniel Tran: NBA defenses will eventually find a way to weed out one-year wonders from the real stars. One year after Devin Booker's rookie season, and he still has defenses trying to figure him out.
Given nearly seven more minutes, Booker is scoring nearly seven more points per game and showing that he is going to be a real force to be reckoned with. The Suns are likely out of playoff contention, which gives him more opportunity to get game experience and rack up points.
Sean Keane: I think Nikola Jokic will continue to shine, especially after the Nuggets relieved the Balkan tension in the locker room by moving the Bosnian Jusuf Nurkic to Portland. Norman Powell is about to get a lot more consistent minutes in Chicago with Terrence Ross gone. Myles Turner is going to put up numbers as the Pacers make the playoffs in spite of themselves. Your dad is going to love T.J. McConnell's grittiness. And D'Angelo Russell is due to release another secret video any day now.
Shiloh Carder: Hmmm. It could be Kristaps Porzingis, especially if the Knicks can deal Carmelo Anthony away and the franchise becomes his. Devin Booker is having a great season for a bad Suns team. You never know what Jahlil Okafor could turn into if the 76ers end up dealing him.
I'm going with Myles Turner. If the Indiana Pacers are going to be the threat in the East as we thought they'd be, then Turner will be a major part of that. He's already a big deal in Indiana, but most haven't kept up with the Pacers this season. He's averaging 15.6 points, 7.1 rebounds and 2.1 blocks per game in the first half and is a strong defensive presence.
Demetrius Bell: It feels like a cop-out to say that the Rookie of the Year from last year will be a standout performer in his next season, but I feel like Karl-Anthony Towns could jump back into the spotlight in the second half. Granted, he's had a "weird" year so far, but he hasn't been playing all that bad and I'm sure that any team would take him right now. If he steps it up, then maybe he'll turn some of those same heads that he turned last year.
David Matthews: Besides Towns and Kristaps, I imagine that Willie Cauley-Stein, Myles Turner and Devin Booker should continue on their trajectories. I think Booker's well on his way to being one of the league's next stars. Of the less-heralded players, Willy Hernangómez and Richaun Holmes are doing well as legit second-round finds, though Hernangomez is in just his rookie season despite being drafted in 2015.
MORE FROM YARDBARKER:
QUIZ: Name the top three picks in the NBA draft since 1985
Since the start of the lottery era, we've seen 96 players get selected as the top three picks of the NBA draft. How many can you name?
MORE FROM YARDBARKER
NBA News

Delivered to your inbox

You'll also receive Yardbarker's daily Top 10, featuring the best sports stories from around the web. Customize your newsletter to get articles on your favorite sports and teams. And the best part? It's free!