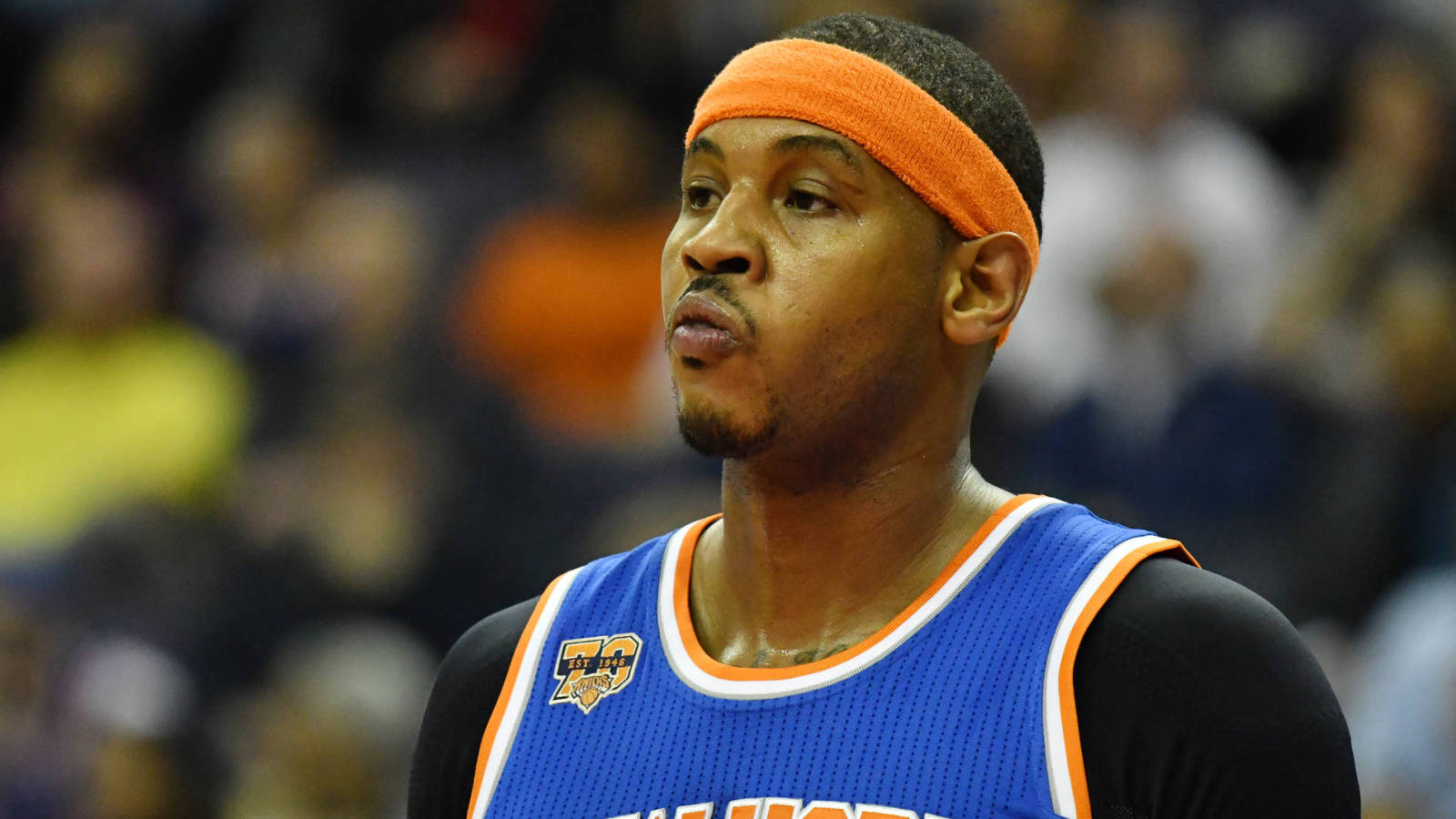 The Knicks have very little leverage with Carmelo Anthony.
Tommy Gilligan-USA TODAY Sports
The New York Knicks clearly want to move on from Carmelo Anthony this offseason, but they may end up having to pay his salary whether they keep him or not.
Frank Isola of the New York Daily News reports that there are "a lot" of teams with interest in Anthony, but none of them want to pay the aging superstar the more than $25 million he is owed in each of the next two seasons.
A lot of NBA teams would like to add Carmelo, but not at $25 million per. They're all hoping the Knicks cut him/buy him out.

— Frank Isola (@FisolaNYDN) April 21, 2017
The Knicks don't have much leverage here. Carmelo still has a no-trade clause and for some reason Phil decided to bury him last week.

— Frank Isola (@FisolaNYDN) April 21, 2017
As Isola notes, Jackson has forfeited any leverage he may have had by saying publicly that Anthony would be better off elsewhere. The relationship between Jackson and Anthony is damaged beyond repair, so teams would rather just wait for the 32-year-old (he'll soon be 33) to be waived or negotiate a buyout with the team.
One team that was linked to Anthony at the trade deadline was the Boston Celtics, and a recent report claimed they were very close to working out a deal with the Knicks. Still, Isola sees that as a long shot this summer.
FYI: if the Celtics are going to use their cap space on anyone it would be Jimmy Butler or Paul George and not Carmelo.

— Frank Isola (@FisolaNYDN) April 21, 2017
Now, if you want to get the Celtics attention when it comes to picks & players the Knicks would have to talk Kristaps with Carmelo.

— Frank Isola (@FisolaNYDN) April 21, 2017
Anthony is owed $26.2 million next season before he can opt out of his deal, but he has no reason to opt out of the nearly $28 million he is owed the following year. Carmelo will turn 35 before the 2018-2019 season, and no one else is going to pay him a salary like that.
Given what Jackson said about Anthony recently and how Carmelo responded on Instagram, a buyout or release seems like the most likely outcome.
MORE FROM YARDBARKER
NBA News

Delivered to your inbox

You'll also receive Yardbarker's daily Top 10, featuring the best sports stories from around the web. Customize your newsletter to get articles on your favorite sports and teams. And the best part? It's free!