Found April 02, 2013 on Pass The Pill:
Dwight Howard and Shaquille O'Neal have a lot in common. Both players have dominated the center position. They're both flamboyant, lovable big men. They were both drafted by the Orlando Magic. Both of them eventually ended up in Los Angeles, as members of the Lakers. But the legendary Shaq seems to be Howard's biggest critic. Is it because Dwight recycled Shaq's alias as Superman, or because Howard has taken a very similar NBA path? Or, is it simply because Shaq does and says what he wants? The two have taken jabs back-in-forth at each other over the years, but despite all of their squabbles, Shaq says he "loves Dwight". "I love Dwight and I see his potential. Hopefully when I say these things he gets mad," O'Neal said. "Just think about it. At the dunk contest, he dunked on that thing when it was 15 feet. Remember that? OK, so why can't you back people down [in the post]? Because if you think I didn't play against great centers, he's not playing against nobody, you know what I mean? "So he should be able to back people down and jump-hook them to death. That's why I envision in him as a player." Shaq has a point. Why hasn't Howard's post game developed into something special? He has more athleticism than most wing players in the league do, and yet he settles for 15 to 20 points per game in an era where he isn't really challenged at the center position. Some of Howard's shortcomings are likely due to the way the center position is utilized in today's game, and the other half can probably be attributed to the fact that Howard gives his own coach a fit from the line down the stretch. Howard is just too unpredictable at the end of games to rely on posting him up late. Team employ the "hack-a-Howard", much like they did with the "hack-a-Shaq" in Shaquille's day. Shaquille is just using tough love in order to fire the big fella (Dwight) up. He claims it's a thing that former Laker greats do. "Same thingKareem [Abdul-Jabbar] did to me, the same thingWilt [Chamberlain] did to me,"O'Neal said."I can remember one time reading an article and I'm averaging 37 [points] in the playoffs and we lose and somebody asks Kareem, 'Hey, what do you think about Shaq? He's a great player.' And Kareem says, 'Yeah, he's OK, but he hasn't won any championships.' I didn't respond, I didn't cry, I just stepped up and got to the next level. So I'm always going to stay on [Howard] because I actually see him being one of the best Lakers ever if he steps up." This sort of hazing, or prodding seems like par for the course when you suit of as a Lakers' center. It appears to be a tradition, passed down the line when you arrive in Hollywood. Perhaps this sort of criticism can help Dwight develop into the big man we all believe he can one day be. How does Dwight feel about all of the extra attention he receives from Shaq, you ask? "I understand he thinks making me mad in that kind of way is going to push me, but I just feel like if he wants to do that the best way to go about it is to come talk to me personally,"Howard said."Because when it gets out to the public, they just view it that we just have this big feud going on and that's not fair to me or him. I just think that he should come to me man to man and say, 'Hey, this is how I feel." Dwight also talsk about eras and size difference. People see that Howard plays the center position and automatically think he's the same size as Shaq, not realizing Howard only goes about 6-10 and is easily 40 or 50 pounds lighter than Shaq in his Lakers days. "The rules are different,"Howard said."When Shaq played, you could be more of a bulldozer down in the paint. Nowadays, you see it, if I hit somebody just a little bit, they call offensive foul. Plus, I'm 6 [feet] 9, 6-10. If I could play the way he played, it would be a lot of fun."       The post Shaq aims to motivate Dwight Howard with negative comments appeared first on Pass The Pill - Kings of Hoops.
Original Story:
http://sports-kings.com/passthepill/s...
THE BACKYARD
BEST OF MAXIM
RELATED ARTICLES
Shaquille O'Neal has always prodded Dwight Howard, if not overtly criticized him. Why? The Big Aristotle provided a Big Reveal before returning to Los Angeles to have his Lakers jersey retired Tuesday at halftime against Dallas. "I love Dwight and I see his potential. Hopefully when I say these things he gets mad," O'Neal said in an interview. "Just think...
Dwight says a lot of things, but they don't necessarily come true. At least he has confidence that the Lakers, who have barely shown the ability to put together three or four wins in a row, can string together nine at the end of the season. Here is his quote via Sports Glory. "We need every game," Howard said after practice Monday. "We just got to come out and play with...
Ever since arriving in Los Angeles to play for the Lakers, there have been incessant comparisons between Shaquille O'Neal and Dwight Howard.  Aside from sharing the same "Superman" nickname, their [...]
On the night Shaquille O'Neal's No. 34 jersey was retired, the former Los Angeles Lakers center challenged the Lakers new big-man Dwight Howard to average 28 and 10 a night. "I would like to see him average 28 (points) and 10 (rebounds)," O'Neal said. "That's the number that was thrown in my face, 28 and 10, so that's the number I'm always going to throw in his...
The magic number for the Laker's hope for the playoffs is now down to 8. Well, actually 5 and 12. After basking in what used to be a solid 2-game lead over the Utah Jazz for the 8th and final seed in the west, the Lakers now see themselves back outside looking in. The Jazz have won their last 4 games while the purple and gold, as well witnessed, gave up 4 of their...
Shaquille O'Neal was able to be his easygoing, entertaining self Tuesday night at halftime of the Lakers' win over the Mavericks. He hammed it with the crowd, telling jokes and going to his reliable schtick. He thanked the Buss family, his old coach Phil Jackson (in attendance and also soaking in lots of appreciation from the fans in attendance, shouting "We want Phil...
((HT: AJC/Garner)) It has been a fall of prolific and quick proportions for former Atlanta high school, college, and NBA'er Javaris Crittenton... He was a teammate of Dwight Howard, played at Georgia Tech, and was drafted in the first round by the Los Angeles Lakers. Now, he's up on charges that'll keep him in prison for a long time if convicted. Fulton County...
Los Angeles Lakers guard Kobe Bryant moved into fourth place on the NBA's all-time scoring chart in the second quarter of Saturday night's Lakers' 108-98 win over the Sacramento King's, passing Wilt Chamberlin. Bryant pulled-up from the foul line with
Louisville guard Kevin Ware has begun his road to recovery in the wake of suffering one of the most gruesome injuries you will ever see in sports. The sophomore is a long way away from playing basketball again, but he has undergone successful surgery and already begun moving around on crutches. The amazing amount of support he has received has undoubtedly helped accelerate the...
NBA News

Delivered to your inbox

You'll also receive Yardbarker's daily Top 10, featuring the best sports stories from around the web. Customize your newsletter to get articles on your favorite sports and teams. And the best part? It's free!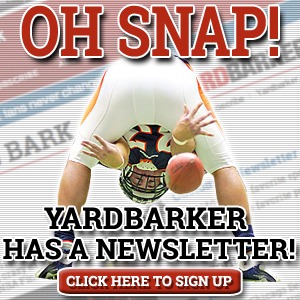 Latest Rumors
Best of Yardbarker

Today's Best Stuff

For Bloggers

Join the Yardbarker Network for more promotion, traffic, and money.

Company Info

Help

What is Yardbarker?

Yardbarker is the largest network of sports blogs and pro athlete blogs on the web. This site is the hub of the Yardbarker Network, where our editors and algorithms curate the best sports content from our network and beyond.