Found October 11, 2012 on Fox Sports West:
ONTARIO, CA -- Just a day after deflecting retirement rumors, Kobe Bryant had something much more immediate to deal with Wednesday -- a sore shoulder. An hour and a half prior to the Lakers' 93-75 exhibition game loss to the Portland Trailblazers, there was Bryant, sitting in the home locker room at Citizen's Business Bank Arena with a contraption looking much like a vacuum cleaner pumping air into a therapeutic sleeve attached to his arm. The official diagnosis was a strained shoulder, suffered while dunking near the end of Tuesday's practice. A smiling Bryant said he'd be fine for Saturday's game at Staples Center against the Utah Jazz. Coach Mike Brown wasn't so sure, saying he didn't know how serious the injury is, and that it's wait-and-see time for Bryant. Brown, of course, is notoriously close-to-the-vest when it comes to talking in depth about player injuries, although he did admit it was he and trainer Gary Vitti who decided to hold Bryant out of the game. "He's a competitor and he wanted to play," Brown said after the game. "At this point we didn't think it was the right thing to do." If you listen to Bryant, though, there's really nothing to worry about. "I'll be fine," he said, "and I'll be back soon." Then Kobe turned comedian after someone brought up the legendary William "Smush" Parker, Kobe's sometimes thinking-challenged Laker teammate from 2005 through 2007. "And people wonder why I had to take 45 shots a game," Bryant said laughingly to his now-captive audience. "With Smush, what was I supposed to do? Let Chris Mihm shoot?" By now, reporters were hysterical and Kobe had accomplished his goal -- taking the spotlight off of his right shoulder. Even if Bryant's injury is more serious than thought, don't expect the 34-year-old to let it stop him from playing. After all, this is the true Superman of the Lakers. Kobe has played through broken bones, torn knees, arthritis, wrist injuries, severe ankle sprains, yet will close on on 45,000 regular-season minutes played by the end of the campaign. He'll probably also surpass the 9,000 minute-mark for playoff performances, a stunning total of nearly 55,000 minutes played in a career defined by toughness and absolute intensity. Bryant said that he's put himself through the pain -- physical and mental -- because of the unbridled love he has for his profession. "It's really all I've ever wanted to do since I was a kid," Bryant said. "A lot of dedication goes into being as good as you can be, and for me that means playing through injuries if I can possibly do so." Bryant admitted, though, that the tenacity and the mileage have taken a devastating toll on his body. "I feel like I'm sixty years old some days," he lamented, "but that just makes it more challenging, more exciting. Then there are the people out there who say 'It's OK if he's not the same player he was. He's lost a step. That's fine. That's the way it's supposed to be.' That stuff drives me crazy. "You always want to continue to challenge yourself and to accept the challenge that others bestow upon you. It's very easy to say 'I've had a great career. I can just chill now.' But that wouldn't make me happy just to be content. I want to try and answer those challenges and answer those critics. "Trust me. I'll be OK." NOTES: Brown put the Lakers through a nearly three-hour workout Wednesday prior to the game. "Our legs were a little tired out there," said point guard Steve Nash, who scored 13 points with running mate Bryant on the bench along with Dwight Howard....Brown admitted that he's not worried about wins and losses right now -- the Lakers are 0-2 in the pre-season. He' just wants to see how his team "meshes. Guys are going to get playing time in different situations so I can see what we've got out there," Brown said. "We know who is going to be starting; we have to decide who will get the minutes as backups."....The TrailBlazers won their first exhibition game under new head coach Terry Stotts. Rookie guard Damian Lillard had 14 points and 7 assists in his NBA debut and LaMarcus Aldridge added 14 points and 8 rebounds.
Original Story:
http://www.foxsportswest.com/10/11/12...
THE BACKYARD
BEST OF MAXIM
RELATED ARTICLES
I JUST CALLED TO SAY...
Kobe Bryant wasn't thrilled when he heard about how Alex Rodriguez was pulled for a pinch hitter during Wednesday's game and plans to speak to the Yankees slugger.
RIGHT BACK AT YA
Former Laker Smush Parker, upon hearing Kobe Bryant ripped him by calling him "the worst," Parker fired back, referring to Kobe as a "diva."
TAKES ONE TO KNOW ONE
Kobe Bryant, admitting that it proved effective for both himself and Shaq, suggested that new teammate Dwight Howard "just needs to bring it out."
Yesterday, news broke that Kobe Bryant was planning to retire after two more seasons.  The superstar guard for the Los Angeles Lakers indicated that his retirement will likely coincide with the end of his current contract, and that contract expires after the 2013-2014 season.  He did not say for certain that he would retire, but he made it all but clear that it would be very unlikely...
The Los Angeles Lakers expected to have their star, Kobe Bryant, on the floor Wednesday against the Portland Trailblazers.  However, Bryant was a late scratch from the game with a shoulder injury. According to Ramona Shelburne of ESPN Los Angeles, Bryant has a right shoulder strain.  He thinks he hurt the shoulder Tuesday during practice while dunking over a teammate.  The injury...
Kobe Bryant has a complete a-hole persona on the floor. He bosses his teammates around, takes control of games when he feels he needs to, and he calls out teammates on a regular basis. It's all part of that "killer instinct" so many says he has. Bryant believes Howard has a lot of great tools, but he wants the young center to be more of an a-hole like him. "Shaq was a goofball...
Kobe Bryant struggled to contain his laughter. Following practice Friday at the Lakers' training facility in El Segundo, reporters wasted no time informing him that Smush Parker was offended about comments Bryant made regarding why his former teammate doesn't belong in the NBA. "There's really nothing else to say," Bryant said with a smirk. "I said what...
Smush Parker and Kobe Bryant (Getty Images)Kobe Bryant has no qualms with letting his mouth run wild, even when it is regarding the poor performance of past teammates. The competitiveness of Kobe Bryant is as top notch as it gets, but sometimes his mouth gets the best of him and it happened last night following sitting out the Lakers preseason game with an injury. Kobe went off...
One of man's greatest, most consistent pursuits is the effort to stop the hands of time. We, in America alone, spend one billion dollars a year on wrinkle creams. That is a BILLION dollars. On just one product aimed at pretending we do not get older. But we all do. Always. Even freakish, once-in-a-generation athletes with access to every possible health advantage and seemingly...
  Back in the grand NBA season that was 2005-2006, Kobe Bryant nearly won the MVP and almost helped the Lakers upset the Phoenix Suns in the first round of the playoffs.That Lakers squad wasn't exactly the greatest of all-time and included such notable members like Brian Cook, Chris Mihm, Kwame Brown, and Smush Parker. Kobe in an interview with the OC Register decided to rift...
EL SEGUNDO, CA -- Tuesday was quite a day at Laker headquarters in El Segundo. Kobe Bryant confirmed an internet report that he is indeed retiring. And he happily pointed out how good the Lakers seem to be and how much he truly enjoys playing with Steve Nash. First, as far as starting his five-year countdown to enshrinement in basketball's Hall of Fame, it's definitely...
Recently, Kobe Bryant indicated that Dwight Howard needed to step up his a$$hole game to get to the next level in the NBA. "Shaq was a goofball. But Shaq was a big a——. I was a little a——. It worked well. Dwight has a lot of that in him. He just needs to bring it [...]
NBA News

Delivered to your inbox

You'll also receive Yardbarker's daily Top 10, featuring the best sports stories from around the web. Customize your newsletter to get articles on your favorite sports and teams. And the best part? It's free!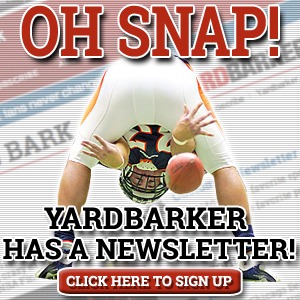 Latest Rumors
The Backyard

Today's Best Stuff

For Bloggers

Join the Yardbarker Network for more promotion, traffic, and money.

Company Info

Help

What is Yardbarker?

Yardbarker is the largest network of sports blogs and pro athlete blogs on the web. This site is the hub of the Yardbarker Network, where our editors and algorithms curate the best sports content from our network and beyond.