Found May 05, 2012 on Fox Sports West:
PLAYERS:
Ty Lawson
,
JaVale McGee
,
Kenneth Faried
,
George Karl
,
Andrew Bynum
,
Kobe Bryant
,
Al Harrington
,
Danilo Gallinari
,
Corey Brewer
,
Ramon Sessions
TEAMS:
Denver Nuggets
,
Los Angeles Lakers
,
Phoenix Suns
DENVER (AP) -- The Denver Nuggets climbed back into their series with the Lakers thanks to an energy and enthusiasm that was missing from the first two games in Los Angeles. Ty Lawson scored 25 points and the Nuggets raced to an early 24-point lead on their way to a 99-84 victory on Friday night in Game 3 of their first-round series. The Nuggets, who will try to even their best-of-seven series Sunday night at the Pepsi Center, got monster performances from two of their young big men: JaVale McGee and Kenneth Faried, both of whom tasted their first playoff success Friday night. "The game for us is all about our energy and our enthusiasm," Nuggets coach George Karl said. "It's not complicated for us. When we play poorly we don't play with enough energy, we don't push the pace and we take too many jump shots. "It was a fun win for me. I can't remember a win as much as I enjoyed this thing." Neither could McGee. "I was real timid in the first two games and I just wanted to be extremely aggressive in this game," said McGee, who had 16 points and 15 rebounds to go with Faried's 12 points and 15 rebounds. Together, they hounded Andrew Bynum, who finished with 18 points and 12 rebounds but was shut out in the first half, when the Nuggets raced to a 41-17 lead in the second quarter thanks to an astonishing 28-2 run. "It was huge," Lawson said. "Every game we played against the Lakers we were down. We were down early. We were down big. We were trying to fight our way back into the game, so we made a point that we wanted to come out early and see how they did with a deficit. "They reacted kind of well to it but we hung on." Denver led 55-39 at halftime. Then Bynum and Kobe Bryant got it going as the Lakers never got closer than four points and they faded in the fourth quarter, when they made just 3 of 14 shots. "That's a big hole to put yourself in, to be down 24, especially in the first half, is tough playing against a team that's desperate," Lakers coach Mike Brown said. Bynum's putback with 1:18 left in the third quarter not only pulled the Lakers to 68-64 but his inadvertent elbow on the play broke Al Harrington's nose. He didn't return, but the Nuggets went on a 12-5 run to regain their composure and control of the game. "I felt like they played really well," Bryant said. "They played with a lot of intensity and for us it was good learning experience. I'm proud of the way we battled to get back into the game. We just couldn't get over the hump." Karl said he wasn't sure but suspected Harrington will be back for Game 4. Bryant finished with 22 points on 7-of-23 shooting after scoring 31 and 38 points in the two wins at the Staples Center. The Lakers never trailed in the games in Los Angeles, but once Danilo Gallinari's reverse layup with 8:07 left in first quarter gave Denver its first lead of the series, the Nuggets looked unstoppable. "It's been tiring always having to come from a hole and having to dig out of a hole, and the energy of the game becomes fatiguing mentally," Karl said before tipoff. Finally, it was the Lakers doing the chasing. The Nuggets used a 28-2 run spanning the first and second quarters to take a stunning 38-14 lead. Lawson scored 13 of the Nuggets' points as they scored 20 of the final 22 points of the first quarter, then teamed with Corey Brewer and Harrington on a trio of 3-pointers to stretch Denver's lead to 41-17. "Everything was going right," McGee said. "We were passing the ball the right way, we were running, everything was working." And McGee shared the starring role, too. "Coach was trusting me with this game," McGee said, "and I feel like I didn't let him down." The Lakers had a lot of fight left in them, though. Bynum's second three-point play made it 67-60, and when his next shot was blocked, Ramon Sessions grabbed the deflection and swished a short jumper to make it a five-point game. Bynum's putback made it a four-point deficit, but the Nuggets pulled away again as Bryant, bothered by Gallinari's length, kept misfiring. "I wasn't on my sweet spots," Bryant said. "They tried to keep me more on the perimeter. I wasn't in the post a lot. I lived at the elbow the first two games and we got away from that a little bit in the second half. Pau (Gasol) as well. We saw him on the perimeter way too much. We can't do that. We have to stick to our ground and pound game." McGee said the young Nuggets are getting the feel of playoff basketball. "And we're in Denver, we're high altitude and we're playing at a high level," he said. "So, it's just a great feeling." NOTES: Brown said he expects F Metta World Peace to be rested, not rusty when his suspension is over: "He's working hard. He's engaged. I think he'll be fine. Obviously, you never know, but he's working his tail off and he is engaged and that's all you can ask for during this period." ... The Lakers have only squandered one 2-0 series lead, losing to the Phoenix Suns in 1993. ... Denver's seven turnovers were one shy of their all-time playoff low.
Original Story:
http://www.foxsportswest.com/05/05/12...
THE BACKYARD
BEST OF MAXIM
RELATED ARTICLES
AERIAL ATTACK
The Denver Nuggets aren't going out like the New York Knicks and Dallas Mavericks. The Nuggets faced off against the Lakers Friday night in Denver. Nuggets rookie, Kenneth Faried whose known as The Manimal, JaVale McGee and Ty Lawson were huge for the team. Our dunk of the night is courtesy of The Manimal Nuggets [...]
Al Harrington to wear protective mask after breaking nose in Lakers vs. Nuggets series
FINALLY, WWE comes back to Denver! To the Pepsi Center of course. Which, you may or may not know was the arena they were booted from because of a NBA Denver Nuggets playoff game back in 2009. The event will be a RAW SuperShow and will take place on July, 9th of this year. In other news, it seems that WWE is attempting to fill the void of the now ex divas, The Bella Twins. There is...
DENVER (AP) -- Speedy point guard Ty Lawson believes more running and better rebounding will get the Denver Nuggets back into their first-round series with the Los Angeles Lakers. And coach George Karl thinks it boils down to controlling the paint, preventing Lakers center Andrew Bynum from dominating down low. Or the trick to turning this series around could be something as simple...
The Denver Nuggets bounced back in Game 3 over the Los Angeles Lakers with a 99-84 win at the Pepsi Center in Denver. The Lakers lead the series 2-1 with Game 4 set for Sunday night in Denver. The Nuggets started the game slow but Ty Lawson picked the team up with 13 first-quarter points.  The Nuggets finished the first with 17 rebounds and led by 16 points.  Andrew Bynum finished...
DENVER – The Nuggets played the first two on the Lakers terms. They allowed them to set the pace and could not beat them by their rules. Please click the link below to finish the rest of this article and to watch a recap video from the game.
Speedy point guard Ty Lawson believes more running and better rebounding will get the Denver Nuggets back into their first-round series with the Los Angeles Lakers. And coach George Karl thinks it boils down to controlling the paint, preventing Lakers center Andrew Bynum from dominating down low. Or the trick to turning this series around could be something as simple as this: Playing...
By Payton Wales  Denver, Colo. -- The Denver Nuggets found out there is nothing like a little home cooking as they took a step toward climbing back into their series with the Los Angeles Lakers Friday night. The Nuggets exploded to an early 24-point lead and never looked back as the Pepsi Center crowd cheered on feverishly to the 99-84 end. Rookie Kenneth Faried set the...
– DGUSA has announced that former TNA personality Johnny Fairplay will be appearing at the May 11th and May 12th EVOLVE shows in Charlotte and Concord, respectively. Fairplay will be replacing Larry Dallas in managing The Scene's Caleb Konley. In addition, the May 11th show's matches will be ordered at random, with the fans voting on the best match after the show to decide...
Buckeye (Ariz.) High linebacker DeAndre Miller brings offer total to six
The playoff game between the Los Angeles Lakers and Denver Nuggets was briefly interrupted when a female fan walked out onto the court in the second quarter Sunday night. The woman walked several steps onto the court as Nuggets point guard Ty Lawson brought the ball past half-court. Officials blew the whistle to stop the play with 1:10 left before halftime and the woman was escorted...
NBA News

Delivered to your inbox

You'll also receive Yardbarker's daily Top 10, featuring the best sports stories from around the web. Customize your newsletter to get articles on your favorite sports and teams. And the best part? It's free!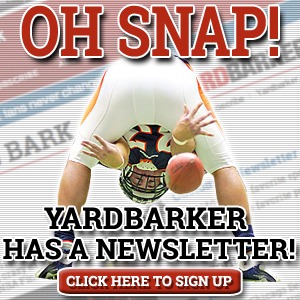 Latest Rumors
The Backyard

Today's Best Stuff

For Bloggers

Join the Yardbarker Network for more promotion, traffic, and money.

Company Info

Help

What is Yardbarker?

Yardbarker is the largest network of sports blogs and pro athlete blogs on the web. This site is the hub of the Yardbarker Network, where our editors and algorithms curate the best sports content from our network and beyond.