Rants -To New York Knick fans who keep bashing Carmelo Anthony. I will be the first to tell you I thought the Knicks gave up way too much when they traded for Carmelo Anthony way back when. I thought there were better players in the league than carmelo to give up so much for. I got into some interesting conversations with a few friends over it. But once the trade was made. I realized that Carmelo was the best scorer the Knicks have had since Patrick ewing walked out the door for the last time as a Knick. Let's understand something Knick fans once and for all, Carmelo isn't Lebron, no one is. But he is on most nights the best player wearing a Knick uniform and will for some time. Stop trying to run the man out of town. The were real stiffs who wore the Knick color less than proudly (Marbury, Eddy Curry, Jerome James) Melo isn't one of them. Rants-Orlando Magic fans…in case you forgot while Dwight Howard has been a pain in the neck in his time in Orlando and his exit was less than stellar, you could have been stuck with Andrew Bynum like the Sixers are. How's that working out? By the way the Magic are 18-47 maybe the fans there should save the booing for the team on the floor and not the visting player. Rants-Richard Sherman – it's one thing to have a belief in yourself that you are good at what you do but being rude and crude on a interview won't win you fans. When ESPN's First Takes host Skip Bayless asked "OK, do you think you are better than Darrelle Revis is right now?" a simple yes or no would do. He instead made it personal. Bayless can be a bit much sometime (then again who on ESPN isn't?) but this was a simple case of answer the question yes or no…better yet if you have nothing nice to say…don't come on the show. Raves- Miami Heat- You know the Knick fan in me is hating this… the Heat have won 20 in a row and are now in that rare place in NBA History only 3 teams have won this many: The 1971 Milwaukee Bucks with Oscar Robertson and Kareem Abdul Jarbar won 20 in a row before losing to the Bulls. The The 2007-08 Houston Rockets led by Tracy Mc Grady and Yeo Ming had 22-game winning streak. And the all time record is held by the 1971-72 Los Angeles Lakers led by Wilt Chamberlin and Jerry West 33 in a row on their way to win the NBA title. Raves- Denver Broncos for signing Wes Welker. John Elway has pushed his chips to the middle of the table he's all in. He has seized the opportunity to get Peyton Manning another weapon to use in their quest to win a Super bowl. of all the signings in the free agent period this one has the potential to tilt the fortunes of both the New England Patriots and the Denver Broncos. We will find out who was right on this one. But as it sits for now I like the Broncos. Raves-March madness with the Knicks hurting and the Jets gutting their team and the Mets rebuilding but won't exactly tell you that at least I have some momentary relief. Big east play for the last time. March Madness until a winner and champion is crowned.
Original Story:
http://intheneutralzone.com/?p=12001
PLAYERS:
Carmelo Anthony
,
Eddy Curry
,
Jerome James
,
Dwight Howard
,
Andrew Bynum
,
Darrelle Revis
,
Jerry West
,
Wes Welker
,
John Elway
,
Peyton Manning
,
Tracy McGrady
TEAMS:
New York Knicks
,
Orlando Magic
,
Los Angeles Lakers
,
Philadelphia 76ers
,
New York Jets
,
Miami Heat
,
Milwaukee Bucks
,
Houston Rockets
,
Denver Broncos
,
Atlanta Hawks
,
New England Patriots
MORE FROM YARDBARKER
NBA News

Delivered to your inbox

You'll also receive Yardbarker's daily Top 10, featuring the best sports stories from around the web. Customize your newsletter to get articles on your favorite sports and teams. And the best part? It's free!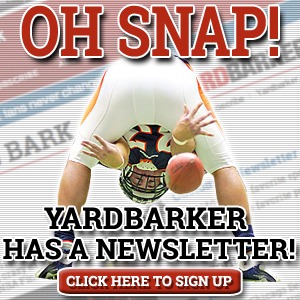 Latest Rumors
Best of Yardbarker

Today's Best Stuff

For Bloggers

Join the Yardbarker Network for more promotion, traffic, and money.

Company Info

Help

What is Yardbarker?

Yardbarker is the largest network of sports blogs and pro athlete blogs on the web. This site is the hub of the Yardbarker Network, where our editors and algorithms curate the best sports content from our network and beyond.