Found February 15, 2013 on Celtics Life:
In an earth shattering move, Miami Heat coach Erik Spoelstra has picked Chris Bosh to replace Rajon Rondo as all-star starter. Of just there's just a little sarcasm there, but it is an obnoxious choice. For those keeping track at home, the starters for the East this year are Kevin Garnett (6'11"), Chris Bosh (6'11"), Lebron James (6'8"), Carmelo Anthony (6'8") and Dwyane Wade (6'4"). Four big forwards and a guard. So much for getting rid of the center position. Sure, Spoelstra wants his guys to get all the accolades, but it also seems like Spo wants to coach a team at least once this year with some size. I know it's just an exhibition game and doesn't really matter, but come on, replacing a point guard with a near-seven-footer just flies in the face of logic. I'm sure Spo will play his guys all of five minutes then let the bench, Melo and KG put in all the effort. Follow Eric @ericblaisdell13
Original Story:
http://www.celticslife.com/2013/02/sp...
THE BACKYARD
BEST OF MAXIM
RELATED ARTICLES
Before Rajon Rondo was lost for the season he was dominating the NBA in triple doubles, with 5 (no other Celtic had any).  Since Rondo's been gone Paul Pierce has taken over that role by recording 2 triple doubles of his own (the only player in the NBA with more than one in that time span), which puts him tied for second in the league on the season behind Rondo.   Over the...
The Boston Celtics have two guards with torn ACLs.  They received updates on both.  Fortunately, the news on Rajon Rondo's knee is positive.  However, Leandro Barbosa who tore his ACL just a couple days ago, did not get quite as encouraging news.According to Gary Washburn of the Boston Globe, Rondo's knee surgery went well.Danny Ainge tells Globe Rondo underwent ACL...
Rajon Rondo underwent successful surgery to repair his "torn" ACL this past Tuesday, and there is already talk about him making a quick return. Doc Rivers spoke with the media about Rondo, and joked that he could possibly make a quick return like NFL player Adrian Peterson. Rondo chose to have his knee operated on by the same surgeon, Dr. James Andrews, that worked on Peterson...
The Celtics host the Bulls tonight at the Garden (7:30 tip), in the 4th and final meeting between the clubs this season. So far this year the Bulls have won 2 of the 3 match-ups, including the only game in Boston. Here's what rounds 1-3 have looked like. Nov. 12th: Celtics 101, Bulls 95 - Celtics win in Chicago behind Rajon Rondo's near triple-double (20 points, 10 assists...
Ken Berger of CBS Sports has this blockbuster report: However, CBSSports.com has learned that the Lakers have engaged in preliminary trade discussions with an unlikely trade partner regarding Howard: their fierce rival, the Boston Celtics. The centerpieces of the possible deal, which hasn't gained any traction, would be Howard and Rajon Rondo. The imagination runs rampant with...
The Dwight Howard era in Los Angeles hasn't exactly started off as expected. There's been nothing but drama, infighting, rumors and a lot of losing too. There's been speculation that the Lakers could try to move Howard, with all of the aforementioned things seemingly likely to keep him from signing an extension with the storied Los Angeles franchise. Those have been...
Last night unleashed a frenzy of trade rumors, most notably a report from CBS' Ken Berger that the Celtics and Lakers were in discussions about a Rajon Rondo - Dwight Howard swap. While the other rumor of sending Kevin Garnett to the other LA team, the Clippers, in exchange for DeAndre Jordan and Eric Bledsoe also got a lot of traction, this one stirred maybe the most controversy...
As of late, the injury gods have not been kind to the Celtics. First Rajon Rondo is gone for the season with a torn ACL along with Jared Sullinger who has a bad back and needs surgery. Now, less than a month later it's Leandro Barbosa, also with a torn ACL, and Paul Pierce with a pinched nerve. Luckily, these injuries have not seemed to heavily impact the success of the team so...
OK, Internet. This is your time. Less than one full week remains before the NBA trade deadline, and now is the time when all semblance of sanity flies out of the window. So-called "anonymous sources" are about to work overtime. Even by the usual crazy standards of trade deadline season, though, Friday's report that the Celtics and Lakers had engaged in preliminary talks for...
Ken Berger of CBS Sports reported last night that the Los Angeles Lakers and Boston Celtics have had "preliminary discussion" regarding a trade that would send Rajon Rondo to the Lakers and Dwight Howard to the Celtics. This despite what we've heard from both organizations regarding their young stars. Earlier this month, Lakers GM Mitch Kupchak told the LA Times that, "We...
The Celtics are conducting "preliminary talks" with the Los Angeles Lakers about swapping Rajon Rondo for Dwight Howard, according to CBSSports.com's Ken Berger. While Berger points out that the deal "hasn't gained any traction," it seems like, at the very least, the Lakers and Celtics are talking about the possibility of trading two of their biggest stars.
Although it hasn't exactly slowed them down, the injury bug struck again in Boston, as Leandro Barbosa became the latest in a disconcertingly long line of Celtics who will miss the remainder of the 2012-13 campaign with an injury. Will it be enough to slow the momentum the franchise has built over the course of the past few weeks, gaining traction in the Eastern Conference and...
NBA News

Delivered to your inbox

You'll also receive Yardbarker's daily Top 10, featuring the best sports stories from around the web. Customize your newsletter to get articles on your favorite sports and teams. And the best part? It's free!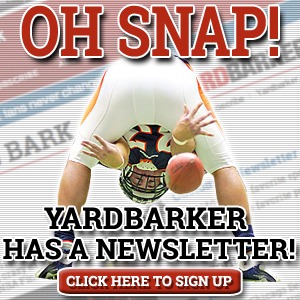 Latest Rumors
Best of Yardbarker

Today's Best Stuff

For Bloggers

Join the Yardbarker Network for more promotion, traffic, and money.

Company Info

Help

What is Yardbarker?

Yardbarker is the largest network of sports blogs and pro athlete blogs on the web. This site is the hub of the Yardbarker Network, where our editors and algorithms curate the best sports content from our network and beyond.